Rico, Colorado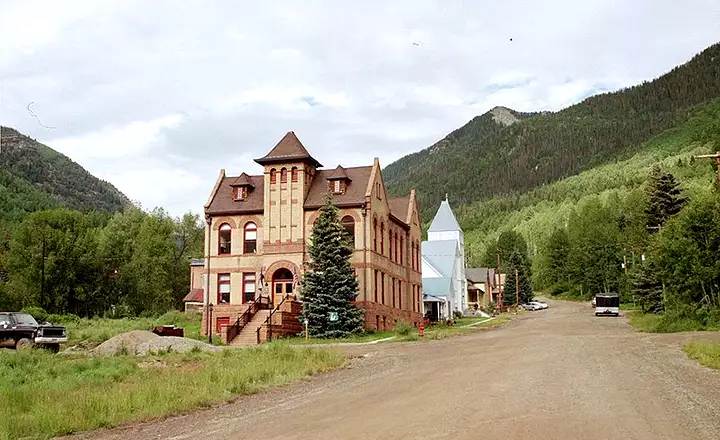 Rico Town Hall, formerly the Dolores County Courthouse
Rico was founded near the site of some heavy precious metals mining activity in the late 1800's. The first recorded fur trappers in the area were here in 1832-1833. Next was a group of gold prospectors from Texas in 1866. Although they were successful in discovering a good vein of ore, they also attracted the attention of the nearby Utes who killed them all. Two miners headed for Montana, Joseph Fearheiler and Sheldon Shafer, came through the area in 1869 and discovered the mine started by the Texans. Word got out and miners rushed in from everywhere. But so did the Utes. The troubles didn't end until the Utes signed the Brunot Agreement in 1878 and gave up all their claims to land in the San Juan Mountains.
A lode of rich oxydized silver was discovered on Blackhawk and Telescope Mountains in the spring of 1879. That caused the platting and incorporation of Rico. Saloons, cabins, a general mercantile and the Pioneer Hotel & Restaurant were quickly built. 1887 saw the discovery of the Enterprise Lode and the arrival of the Rio Grande Southern Railroad as it built a line from Dolores to Ridgway. In 1893, Dolores County was separated from Ouray County and Rico became the county seat, an honor that Rico held until 1946 when the county seat was moved to the larger town of Dove Creek.
Rico probably peaked in 1892 with a population around 5,000. There were 2 newspapers, 2 churches, several boardinghouses, a theater, 23 saloons and 3 blocks of red light district. Then came the Silver Panic of 1893 (when Congress decided to put the U.S. dollar on the gold standard rather than the silver standard). By 1900, there were only a few more than 800 people left in Rico, most of them supported by the mining of zinc.
The mining business was revived a bit starting in 1926 and 1937 saw the construction of a new silver ore mill. World War II brought a resurgence in the mining of lead and zinc. Then a sulfuric acid mill was built in 1953. 1965 saw the focus of local mining shift from silver almost exclusively to lead and zinc ores but even that stopped in 1971 and the population dropped off again.
Today, Rico is seeing something of a renaissance as interest in retiring and living in the mountains and forests picks up. The population of Rico more than doubles in the summer as many of the homes in town are second (or third) homes.
Photo is in the public domain