Alamosa, Colorado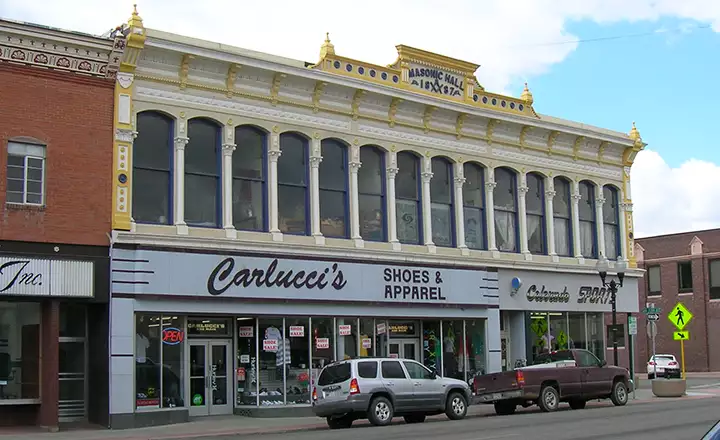 The Masonic Temple in downtown Alamosa
Alamosa is a pretty little town in the center of the San Luis Valley. It was founded in May, 1878, as a railroad center when the Denver & Rio Grande Western first came into the San Luis Valley. The Denver & Rio Grande Western headquartered a lot of its narrow gauge service for northern New Mexico and southwestern Colorado in Alamosa and had a large construction, repair and shipping facility here for many years. With its prime location right on the Rio Grande in the heart of the valley, Alamosa is at the center of everything in the valley.
As Alamosa is the primary shopping center in the valley (Monte Vista runs a reasonable second), most of the sales taxes accumulate here and make this a more prosperous area than places like Costilla, Conejos and Saguache Counties. As part of this, Alamosa is also the arts, culture, entertainment and education center of the San Luis Valley. On the other hand, a couple years ago Alamosa County passed a tax measure to build a Convention Center in town but the plan was torpedoed through infighting among the business, religious and political leaders. Part of the argument went like this: Every town in southern Colorado is building a Convention Center and competing for the same business. It's a valid argument.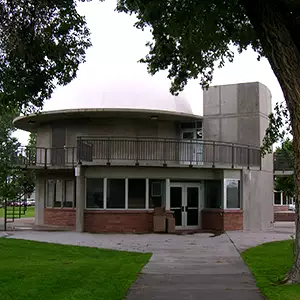 The planetarium at
Adams State College
Every year on the first weekend in June, Alamosa plays host to the "Sunshine Summerfest on the Rio Festival." The Alamosa train station has been refurbed and is now the Alamosa Welcome Center. Alamosa also went through the process of turning Main Street into a one way street (westbound), with the eastbound counterpart being one block south, right against the railroad tracks.
Alamosa is located at the crossing of US 160 (east and west) with US 285/State Highway 17 (north and south). As the city is in the heart of the San Luis Valley (the largest intermountain valley on Earth), there are views of high mountains in all directions, with access to mountains topping 14,000' just 23 miles east of town in the Sangre de Cristo Mountains.
Adams State College is a four year college that is home to 2,500 on-campus undergraduates and 7,000 extended study students. The College offers associate's, bachelor's and master's degrees in 50 areas of study. Trinidad State College also has a satellite campus in town.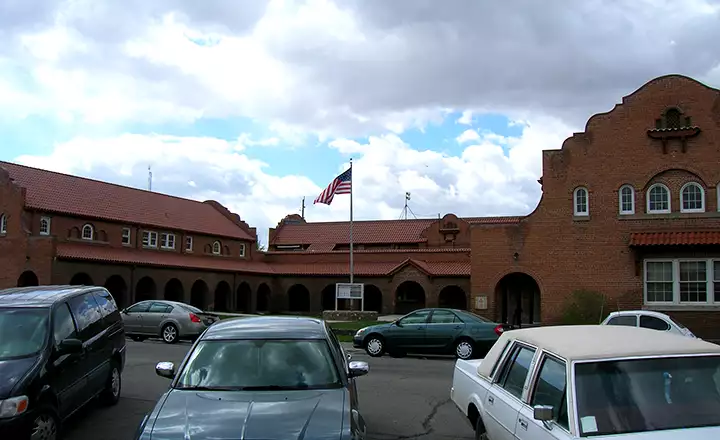 Alamosa County Courthouse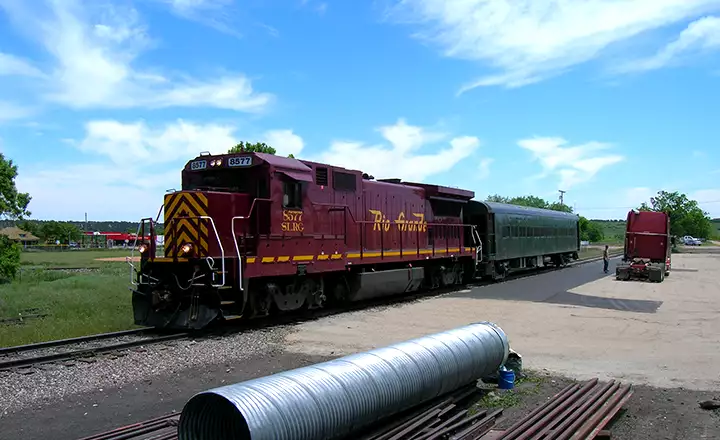 Vintage locomotive of the Rio Grande Scenic Railroad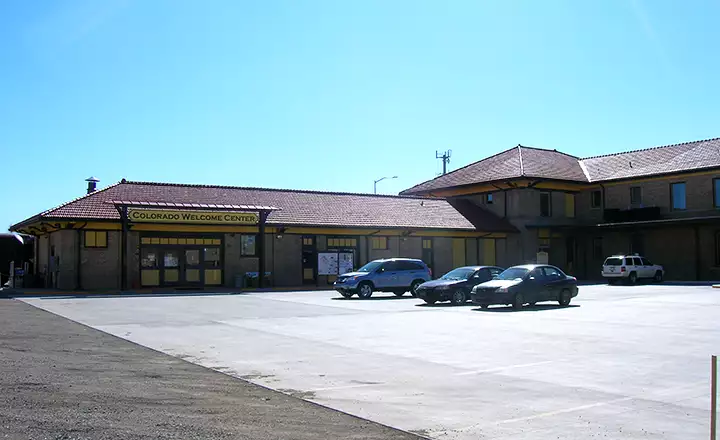 The Alamosa Train Station, now Welcome Center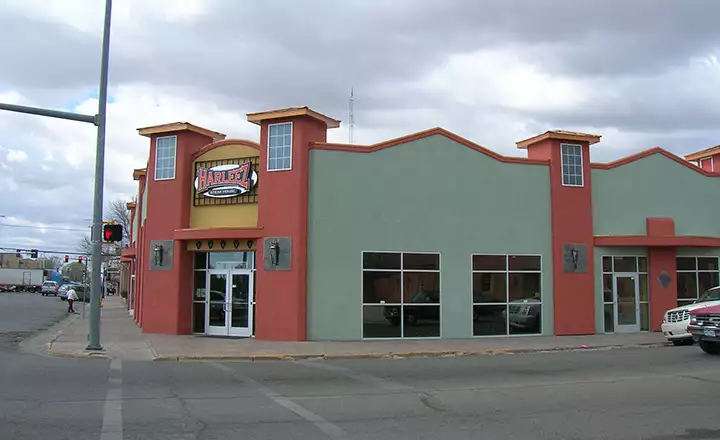 Restaurant row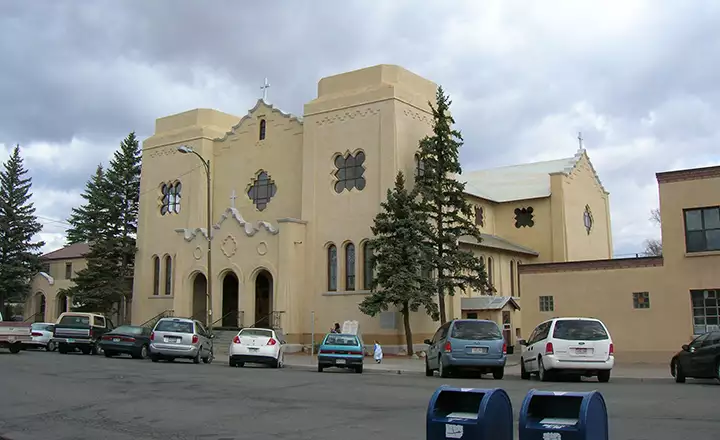 The main Catholic church in town, across from the courthouse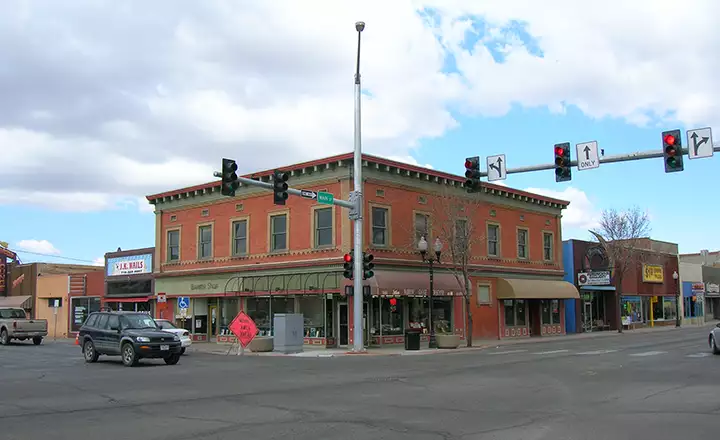 The Narrow Gauge Newsstand, on Main Street
Trinidad State College Campus in Alamosa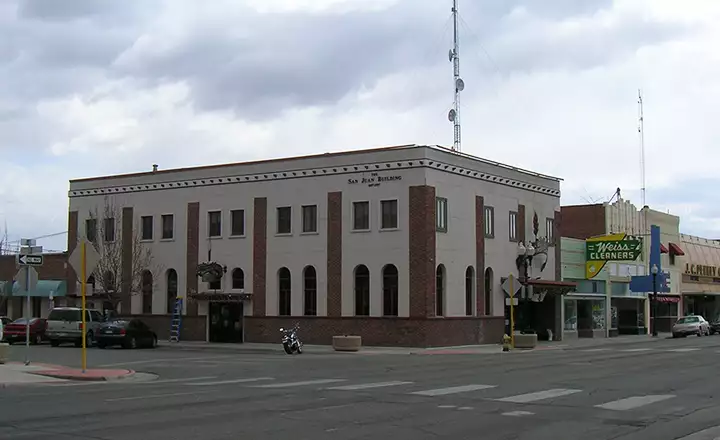 The San Juan Building on Main Street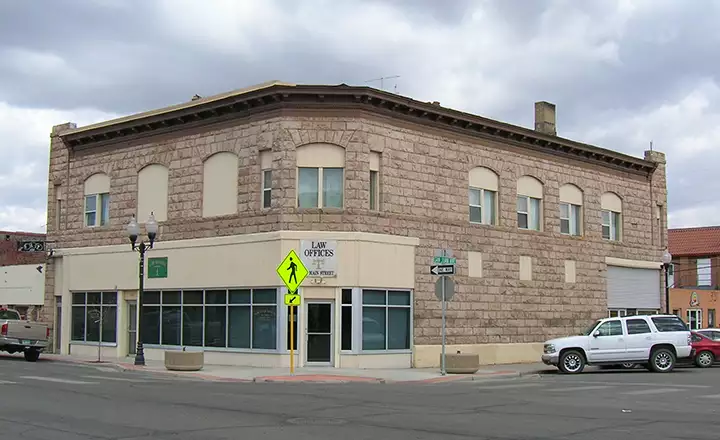 Territorial style on Main Street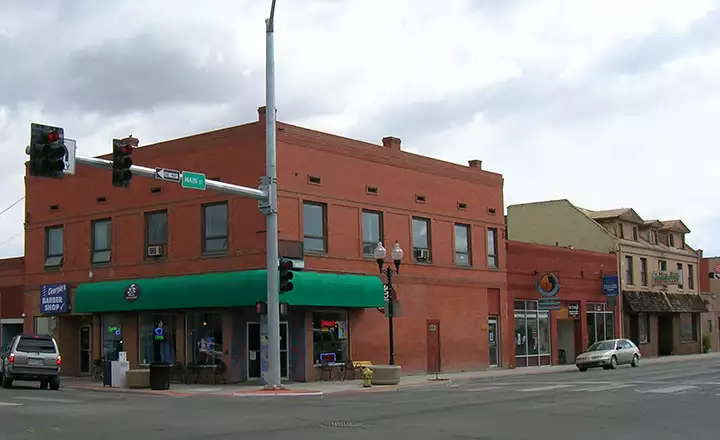 Looks like 1920s style
Looks like early 1900s next to Territorial brick