Pike National Forest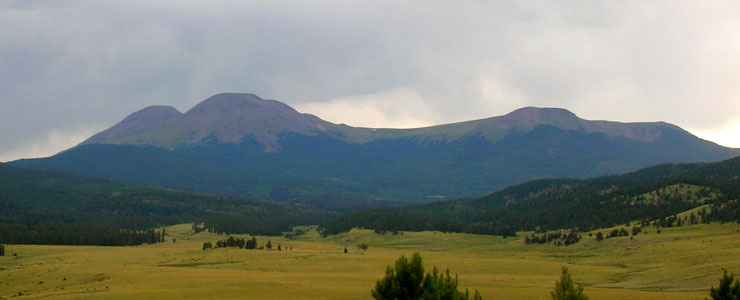 The Buffalo Peaks in Pike National Forest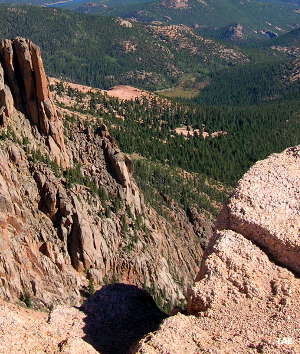 Pike National Forest is comprised of 1,110,482 acres located in the Front Range and Mosquito Mountains. The Mount Evans and Lost Creek Wildernesses take up more than 140,000 acres of the Forest. Mounts Evans, Bierstadt, Democrat, Lincoln, Cameron, and Bross are on the Forest, as is the most famous peak of them all: Pikes Peak.
The Pike and San Isabel National Forests host about 5 million recreation visitor days annually; placing them in the top five most visited urban national forests. Located within a short drive of three major metropolitan areas, the Forests are the playground for visitors from Colorado (80%) and from out-of-state (20%). Together, they have nearly 500 developed recreation sites, 1,750 miles of System trail, 3,600 miles of System roads, 9 Wilderness Areas (444,000 acres), four Scenic Byways, and half of the 54-14ers in the State. Gold medal fisheries also bring anglers to the South Platte and Arkansas Rivers and various reservoirs offer an experience for boaters and water play.
The landscape of Pike National Forest varies from desert-like foothills littered with pinon and juniper woodlands to majestic Ponderosa pine and Douglas fir forest in the montane zone. High elevation areas (from about 9,200 to about 11,000 feet) are abundant with Engelmann spruce and subalpine fir. Alpine areas (above 11,000 feet) are devoid of trees but are often covered with short scrubby bushes and tough alpine grasses. Wildflowers abound throughout the subalpine zone and mid-summer displays in high mountain meadows are a riot of color. Aspen groves are scattered throughout the forest and bring forth golden bands of foliage during the fall.
Pike National Forest encompasses the upland watersheds for the North and South Platte River systems. These systems provide water for the metropolitan areas along Colorado's Front Range. Fact is, nearly 60% of the Denver metro area gets its water from the South Platte River. It is important that the US Forest Service manage these systems to provide a balance of clean water, recreational opportunities, fish and wildlife habitat, and healthy watershed conditions. And the 150,000-acre Hayman fire event in 2003 continues to have a prolonged catastrophic impact on these watersheds.
Pikes Peak is named for Zebulon M. Pike, leader of an expedition to explore the southwestern part of the Louisiana Purchase in 1806-07. He attempted to climb the mountain with a small group of followers but was forced back by waist-deep snow. This failure convinced Pike that the mountain was unclimbable but he was soon proven wrong by Dr. Edwin James. There were attempts to rename the mountain James Peak but Pike's name was too firmly stuck. In 1883 a horse-drawn carriage road was completed to the top of the mountain. The Pikes Peak Cog Railroad was completed in 1890. These days, folks who want to drive to the top of Pikes Peak can do so on the Pikes Peak Toll Road, a well-maintained gravel road that also plays host to an annual road race...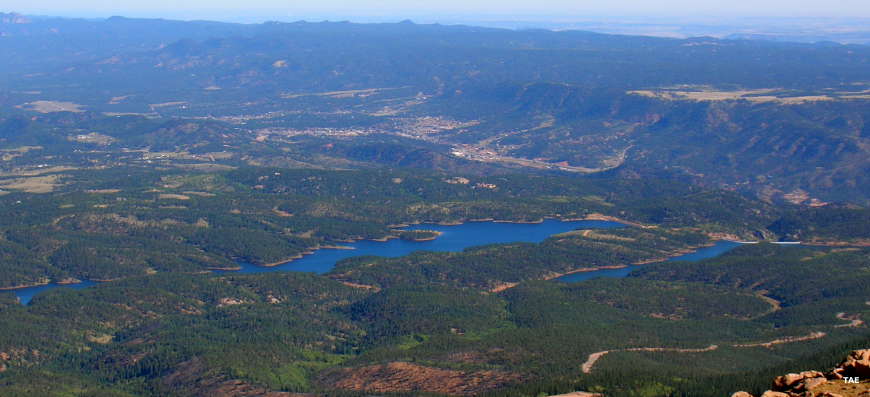 Looking north from the upper part of Pikes Peak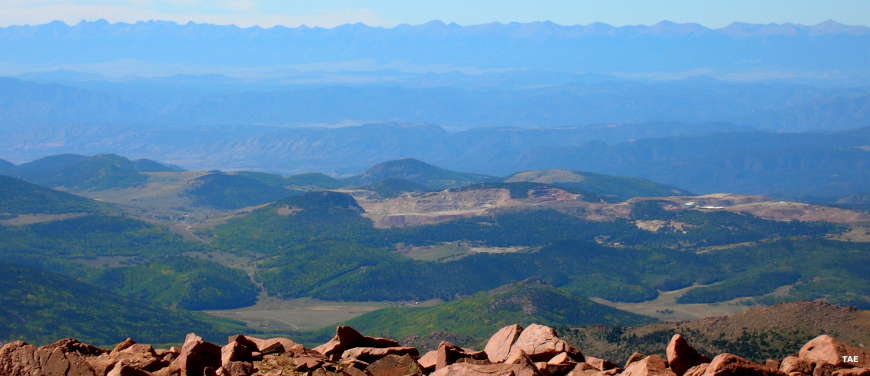 The view west from the upper west side of Pikes Peak
In 1859, gold was discovered to the north and northwest of Pikes Peak, leading to the gold rush and the rallying cry of "Pikes Peak or Bust." These discoveries led to the first permanent Anglo settlements in the state. It was 1891 when gold was discovered in the Cripple Creek area on the western slopes. Overnight the area became known as the "Bowl of Gold" and produced nearly a half billion dollars worth of gold before the rich veins played out. Today there is still some mining going on in the area but most of it is done in the low stakes casinos of Cripple Creek.

The Crags, a rock formation on the west side of Pikes Peak
Things to see and do on the Forest
Barr National Recreation Trail - beginning in Manitou Springs, this trail climbs 7,300 feet and ends after 12.6 miles at the summit of Pikes Peak. Most folks who climb this trail tend to take two days going up and one day coming back
Pikes Peak - 14,110 feet of elevation, good climbing.
Manitou Park - the premier recreation area of the Pikes Peak Ranger District. 8 miles north of Woodland Park on State Highway 67, there are campgrounds, picnic areas, group facilities, a fishing lake, hiking trails, and a paved bike/hiking trail.
Rampart Reservoir Recreation Area - a 400 acre reservoir with 2 campgrounds, several picnic areas, numerous hiking-biking-horseback trails, even a braille trail.
Gold Camp Road - this 49.5 mile road follows the historic route of the Short Line Railway between Colorado Springs and the gold rush towns of Victor and Cripple Creek.
Windy Ridge Bristlecone Pine Scenic Area - Windy Ridge is home to many of those gnarled and twisted trees that lure so many painters and photographers.
Boreas Pass - a historic railroad grade that has been converted to a road/mountain bike trail.
Buffalo Peaks Wilderness - these 13,000 foot peaks dominate an area with a wide variety of plants and animals. With many trails, this area is a favorite of backpackers, hikers, campers and fishermen.
Buffalo Creek Mountain Bike Area - 40 miles of trails developed especially for mountain biking. Mild winters allow riding 8 to 10 months of the year.
Guanella Pass Road - a 22-mile road that travels between the historic towns of Georgetown and Grant through Guanella Pass (11,669 feet).

On the Pikes Peak Toll Road

Echo Lake, along the Mount Evans Scenic Byway
Pike National Forest
US Forest Service
2840 Kachina Drive

,

Pueblo

,

CO

81008
719-553-1400
- TDD: 719-553-1404
Photo of Echo Lake courtesy of byways.org
Other photos courtesy of TheArmchairExplorer,
CCA-by-SA 4.0 License