Bay Creek Wilderness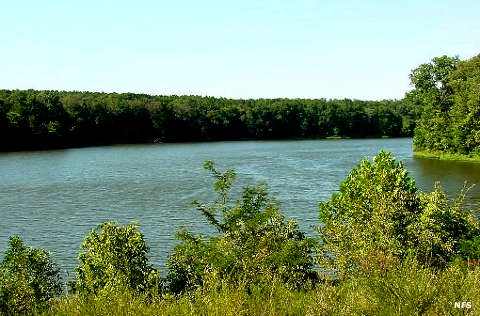 Bay Creek Wilderness
Bay Creek Wilderness is a 2,759-acre property on Shawnee National Forest in southern Illinois. Bay Creek is the centerpiece of the parcel and Bay Creek is being considered for "Wild and Scenic River" designation.
Until the mid-1930's, some of this land was being actively farmed. The whole area had been cleared of timber for use as agricultural land but the soil was very marginal for Euro-American ways of farming and the Federal government condemned everything in 1936, then formed Shawnee National Forest in 1939.
At first, the Forest Service tried to plant the area with conifer seedlings. Conifers didn't take all that well but before too long, whatever had been growing on the land before the farmers came began to reassert itself and today, the second-growth forest is mature with oak, cedar, ash, dogwood, plum, wild cherry, redbud and hand-planted pine. In 1990 the Illinois Wilderness Act was signed into law and seven small parcels of land in southern Illinois became bona fide wilderness areas. Bay Creek Wilderness was one of those, as is Burden Falls Wilderness, across an abandoned road to the northwest. Across the southwest boundary is the Bell Smith Springs National Natural Landmark.
Wildlife in the area includes deer, fox, coyote, wild turkey, bobcat and many different types of songbirds. This is a rolling countryside with many exposed limestone and sandstone bluffs and odd rock formations scattered around. Camping is allowed everywhere, hunting and fishing are allowed in season for those who carry a valid license for it. Be watchful of any plants with leaves in threes: poison ivy is rampant in the area, growing as vines, small plants and tall shrubs. The Forest Service has established no trails in Bay Creek Wilderness but many individual users have...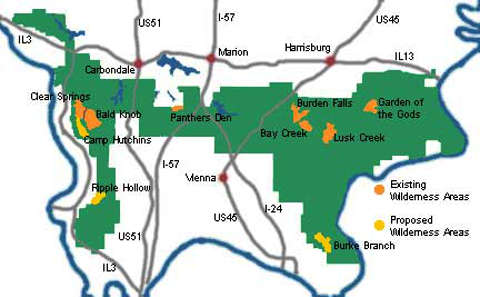 Shawnee National Forest Wilderness Areas