Burden Falls Wilderness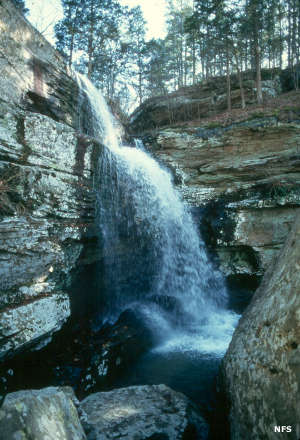 Burden Falls
Burden Falls Wilderness is a 3,964-acre property on Shawnee National Forest in southern Illinois. Immediately across an abandoned dirt road on the southeast is Bay Creek Wilderness.
The topography is the rolling countryside cut with steep bluffs above deep canyons. Burden Falls itself exemplifies that: the longest vertical drop of the water is about 20 feet but the total drop of the water is close to 100 feet. The Burden Falls Trail passes close by the falls in its 3.5-mile journey across the center of the wilderness.
Hiking and camping are allowed everywhere, just don't camp within 300 feet of a trail or water source. Access to Burden Falls Wilderness is relatively easy with old roads along two sides. This is a second-growth forest, mostly composed of blackjack oak, red cedar, white oak and farkleberry. There are white-tailed deer, red fox, wild turkey and many small mammals in the woods.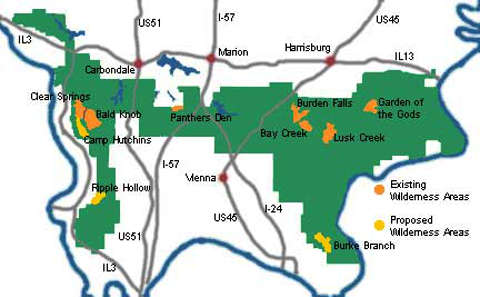 Shawnee National Forest Wilderness Areas