Midewin National Tallgrass Prairie

Midewin National Tallgrass Prairie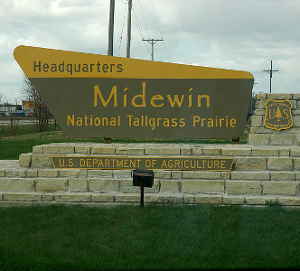 Midewin National Tallgrass Prairie is an 18,226-acre property established in 1996 on the site of the former Joliet Army Ammunition Plant. As the property is recovering after being a munitions factory, trail and feature development is an on-going process as areas of the property are certified clean enough for public use. Today that includes almost 8,000 acres of the site.
Midewin is in the heart of an area known as the "Chicago Wilderness" and is the centerpiece of a 40,000-acre conservation effort about an hour's drive from downtown Chicago. Adjacent to the Tallgrass Prairie is the 5,000-acre Des Plaines Fish and Wildlife Area. Nearby are numerous smaller state and county protected areas.
In 2015 1,200 acres were set aside for an experiment with bison. In October that year 4 bulls and 23 cows were set loose to study the ecological relationship between the large mammal and the prairie it used to rule.
The Midewin Welcome Center is open from 8 am to 4:30 pm Monday through Friday from November to March. The rest of the year add 8 am to 4:30 pm on Saturday to the schedule. The hiking trails are open year round from 4 am to 10 pm. While there are about 22 miles of hiking, biking and equestrian trails, camping on the property is not allowed.