Cheaha Wilderness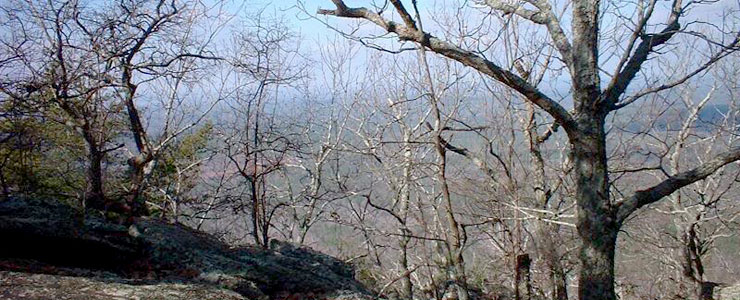 Cheaha Wilderness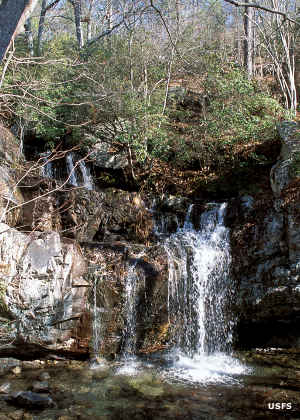 High Falls
The Cheaha Wilderness is a 7,245-acre property in Talladega National Forest in eastern Alabama. This is in the most elevated region of Alabama with Cheaha Mountain (2,407' - Alabama's highest point) nearby. Cheaha Wilderness was first designated by Congress in 1983, then expanded in 1988.
Cheaha Wilderness is crossed southwest to northeast by the 100-mile-long Pinhoti Trail, which also crosses the nearby Dugger Mountain Wilderness and then passes into Georgia, eventually connecting with the Appalachian Trail. (Pinhoti is a Creek word meaning "turkey's home.") The Pinhoti Trail follows a connecting ridge system across the Talladega National Forest, summiting Cheaha Mountain along the way. Talladega National Forest at this point in time is a second-growth woodland, the timber having been clear-cut everywhere at least once.
Elevations on Cheaha Wilderness vary from about 1,100' along the bottoms of the eastern slopes of the Talladega's to the high at Odum Point (2,342'). You'll find Virginia pine, chestnut oak and scattered longleaf pines along the ridges in the upper elevations of the property. Lower down on the slopes are longleaf and loblolly pine, while the drainages and lower northern slopes are occupied by hickories and oaks. Along the upper edges of the cliffs, rock outcroppings and bluffs you'll find dwarf Virginia oaks (they look a lot like weathered bonsai trees). The understory in the drainages and on the north slopes is mostly flowering laurel. Southern exposures offer scattered patches of huckleberry. Some of the upper drainages are filled with scrubby hardwoods. This is an area that has a full four seasons, and the fall colors can be spectacular.
Bordering the Cheaha Wilderness is Cheaha State Park. The summit of Cheaha Mountain (which is not part of the wilderness area) can be reached via paved road. The Chinnabee Silent Trail heads east from Lake Chinnabee Recreation Area and enters the wilderness to connect with the Pinhoti Trail and the Odom Scout Trail about 5.3 miles in from the lake. From there, the Odom Scout Trail runs due south for four miles. About one mile south of that trail junction you'll come to the four-mile-long Nubbin Creek Trail which heads northeast from there, then southeast to end at Clay County Road 61. At the Cheaha Trailhead in Cheaha State Park you'll find the Cave Creek Trail. That's a 3.3-mile trail that also heads south into the heart of the Cheaha Wilderness, ending at a junction with the Nubbin Creek Trail.
Wilderness camping and campfires are allowed in the wilderness, unless they are specifically banned because of fire danger. At the intersection of the Chinnabee Silent Trail and the Talladega Scenic Drive (Highway 281) is the Turnipseed Campground, just west of the wilderness boundary. Just to the north, Cheaha State Park offers a motel, rental cabins and campsites with full hookups.
Cheaha Wilderness is administered by the US Forest Service as part of Talladega National Forest.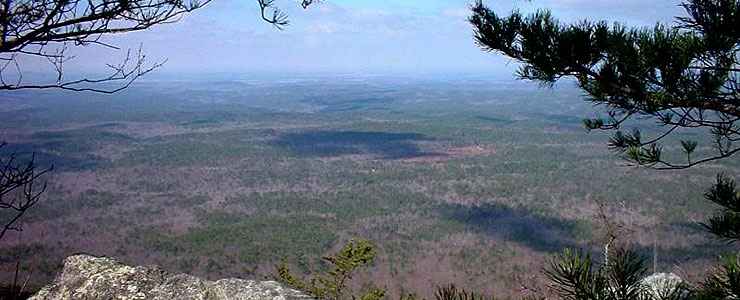 The view near Odum Point