Talladega National Forest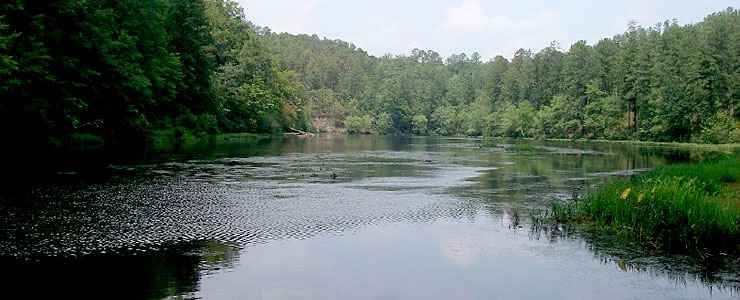 Chinnabee Lake
Located in central and northeastern Alabama at the southern edge of the Appalachian Mountains, Talladega National Forest contains some 392,567 acres in two non-contiguous parcels.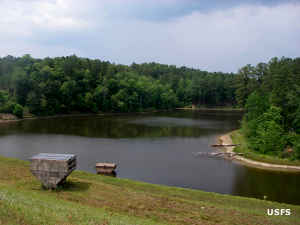 Before the land was purchased by the federal government in the 1930's, most of it had been clear-cut and was among the most eroded and abused wasteland in Alabama. Now, almost eighty years later, the forest is a full regrowth of pines and oaks that hosts a diverse and abundant eco-system.
The forest is managed through three ranger districts: Oakmulgee in the central part of the state and Shoal Creek and Talladega in the northeastern part of the state.
Talladega National Forest is home to the Cheaha and Dugger Mountain Wilderness areas and the Talladega Scenic Drive.
Talladega Ranger District - Recreation Sites
| Sites | Amenities |
| --- | --- |
| Lake Chinnabee | |
| Pinhoti National Recreation Trail | |
| Kentuck ORV Trail | |
| Chinnabee Silent Hiking Trail | |
| Odum Scout Hiking Trail | |
| Shepherd Branch Shooting Range | |
| Lake Virginia | |
| Lake Wills | |
| Turnipseed Campground | |
| Lake Howard Mountain Bike Trail | |
| Hunter Camps (7 sites) | |
Ockmulgee Ranger District - Recreation Sites
| Sites | Amenities |
| --- | --- |
| Payne Lake Recreation Area | |
| Vick Shooting Range | |
| South Sandy Shooting Range | |
| Hunting Camps (10 sites) | |
Shoal Creek Ranger District - Recreation Sites
| Sites | Amenities |
| --- | --- |
| Coleman Lake Recreation Area | |
| Pine Glen Recreation Area | |
| Warden Station Horse Camp | |
| Hunting Camps (4 sites) | |
| Big Oak Physically Disabled Hunting Camp | |
| Pinhoti National Recreation Trail | |
| Sweetwater Lake | |
| Morgan Lake | |
| High Rock Lake | |
| Talladega Scenic Drive | |
| Henry Creek Shooting Range | |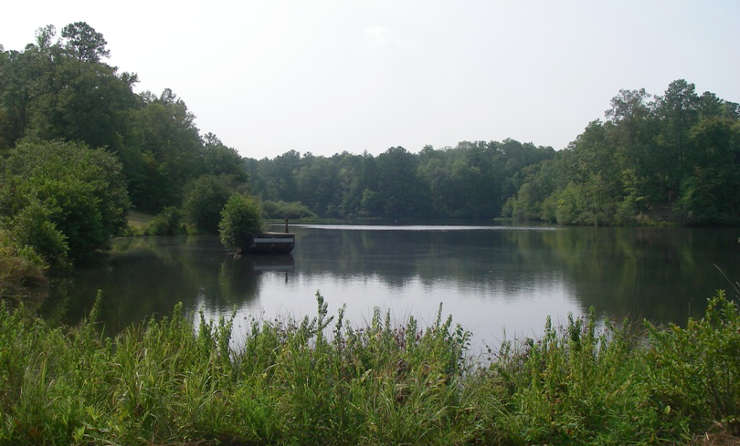 Little Wills Reservoir
Talladega National Forest
US Forest Service
Photos courtesy of the US Forest Service