Collegiate Peaks Wilderness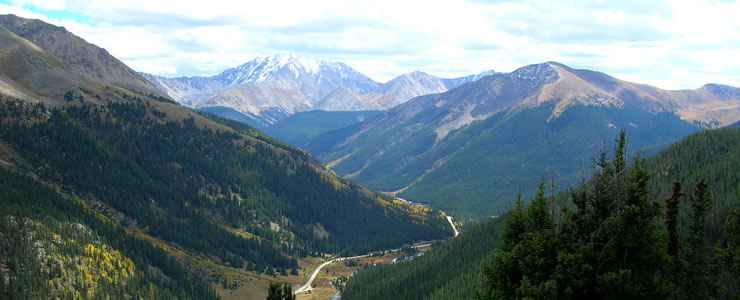 The view from the top of Independence Pass at the edge of the Collegiate Peaks Wilderness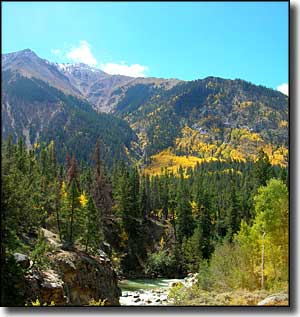 The Collegiate Peaks Wilderness covers some 166,938 acres and overlaps three National Forests: the Gunnison, the White River, and the San Isabel. The name comes from the many peaks within the wilderness named after famous universities.
The Collegiate Peaks Wilderness has eight peaks over 14,000 feet in elevation (more than any other wilderness in the 48 contiguous states): Huron Peak (14,005'), Missouri Mountain (14,067'), Mt. Columbia (14,073'), Mt. Oxford (14,153'), Mt. Yale (14,196'), Mt. Belford (14,197'), La Plata Peak (14,340'), and Mt. Harvard (14,420'). This many 14er's so close together means the weekends and holidays in this area can be pretty crowded.
With lots of timberline lakes and high mountain streams, the fishing and scenery are world-class. The Brown's Pass, Red Mountain Creek, Texas Creek and Magdalena Trails are in this Wilderness. There's also about 40 miles of the Continental Divide National Scenic Trail through this Wilderness. And about the Continental Divide: in the Sawatch, the Continental Divide reaches its highest point in its "run" between the Arctic Circle and the Isthmus of Panama.
The headwaters of the Arkansas, Gunnison, and Roaring Fork Rivers drain in all directions from the Continental Divide here. Expansive alpine tundra, high lake basins, glacial river valleys and beautiful forests compose the landscape. One thing though: with more than a dozen trailheads leading onto the Wilderness, at no point are you more than 5 miles from a road.
Recommended Maps:
US Forest Service Maps: San Isabel, Gunnison, White River
Trails Illustrated Maps: Collegiate Peaks, Independence Pass, Pearl Pass
USGS Quadrangles: Independence Pass, Mt. Harvard, Mt. Elbert,, Pieplant, Tincup, Winfield, Mount Yale, Harvard Lakes
Trailheads:
Highway 82 - So Fork Lake Creek; Sayers Gulch; No. Fork Lake Creek; Graham Gulch
Clear Creek Rd (390) Colorado Gulch; Missouri Gulch; Pear Lake (Rockdale); So. Fork Lake Creek (Winfield) No. Fork Clear Creek
Highway 24- Pine Creek; Frenchman Creek; Three Elk
Fast Facts about Collegiate Peaks Wilderness
Size: 166,938 acres
Designated: 1980
Elevations: 8,500' to 14,420'
Miles of Trails: 105
Game Management Units: 48, 481, 471, 55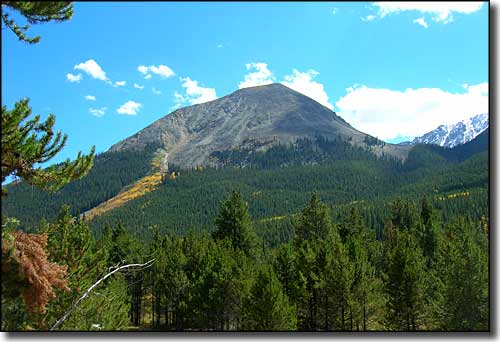 In the Collegiate Peaks Wilderness
Collegiate Peaks Wilderness
San Isabel, Pike & Gunnison National Forests -

US Forest Service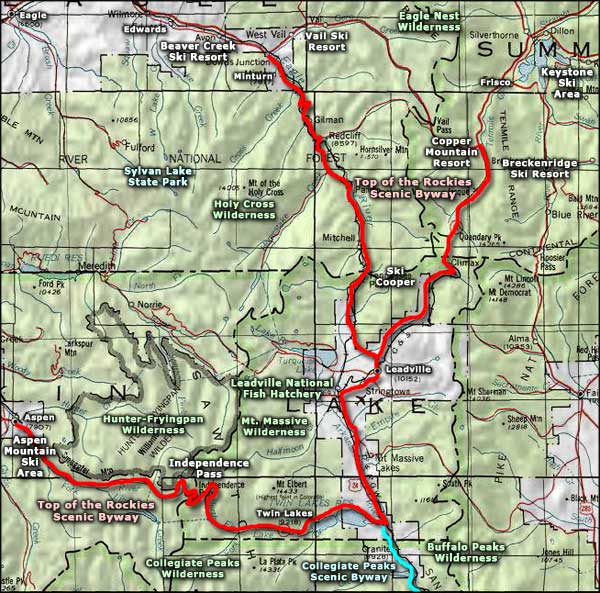 Related Pages
Map courtesy of National Geographic Topo!