Holy Cross Wilderness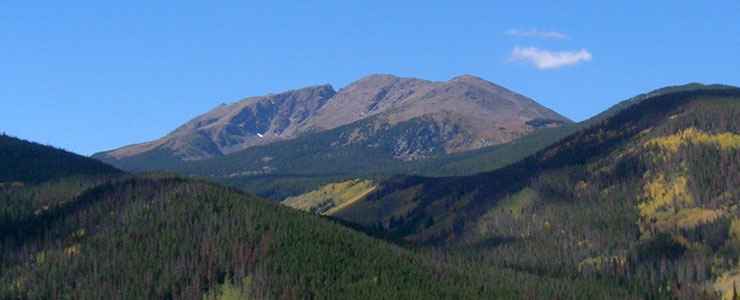 Notch Mountain, in the heart of Holy Cross Wilderness
Holy Cross Wilderness encompasses 122,797 acres. Of this, only 9,489 acres is within the Leadville Ranger District of San Isabel National Forest. The rest of Holy Cross Wilderness is on White River National Forest.
The name comes from Mt. of the Holy Cross (14,007'), which dominates the north end of the Sawatch Range and has a 1,150 foot tall "cross" of snow facing to the northwest. The area has dense timber from 8,500 to 11,000 feet interspersed with open meadows full of wildflowers and with magnificent vistas everywhere. Mount of the Holy Cross and Holy Cross Ridge are two of the 100 highest peaks in Colorado.
With wide valleys watered by snowmelt and the runoff of hundreds of cascading streams feeding into dozens of emerald lakes, Holy Cross is an alpine and sub-alpine wilderness of tremendous beauty. Centered around Mount of the Holy Cross, this Wilderness has about 25 peaks that rise above 13,000', long ridges that rise above U-shaped, glacier-carved valleys, and aspen groves everywhere that glisten with gold in the fall color season. Wildlife in the woods includes deer, elk, black bear, bobcat, mountain lion, and lynx, and the streams and lakes are full of rainbow, brook, brown, and cutthroat trout.
About 164 miles of trails traverse the area, several of them forming loops if you don't mind a short shuttle to connect the trailheads. One of them, the Cross Creek Trail, runs up a glacial valley to cross Fancy Pass and then drops slowly down the valley of Fall Creek, and is rated as one of Colorado's finest short backpacking trips (about 28 miles). The Colorado Trail passes through the southeastern corner of the Wilderness, near the boundary along the Continental Divide. Holy Cross Wilderness is also a favorite among the cross-country skiers in season. Most folks access Holy Cross Wilderness via Sylvan Lake State Park. There are also a couple of Forest Service Roads that end just down the hill below the ghost town of Holy Cross City.
Recommended Maps:
National Forest Maps: San Isabel, White River
Trails Illustrated: Holy Cross Ruedi Reservoir, Vail Frisco Dillon (Available at Leadville District Office) Eagle Avon (Available at the Holy Cross District Office)
USGS Quads: Homestake Reservoir, Mt. of the Holy Cross (Available at Leadville District Office) Mt. Jackson, Grouse Mountain, Minturn (Available at the Holy Cross District Office)
Fast Facts about Holy Cross Wilderness
Size: 122,797 acres
Designated: 1980
Elevations: 8,000' to 14,007'
Miles of Trails: 164
Game Management Units: 44, 45, 48, 444
Latitude:

39.466944°N

Longitude:

106.481667°W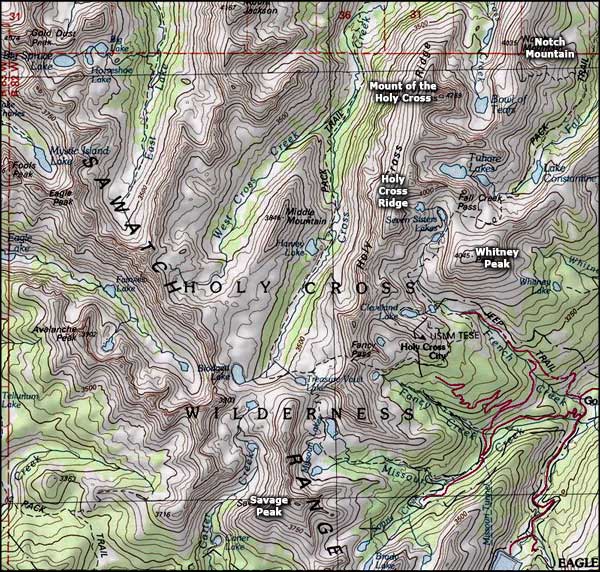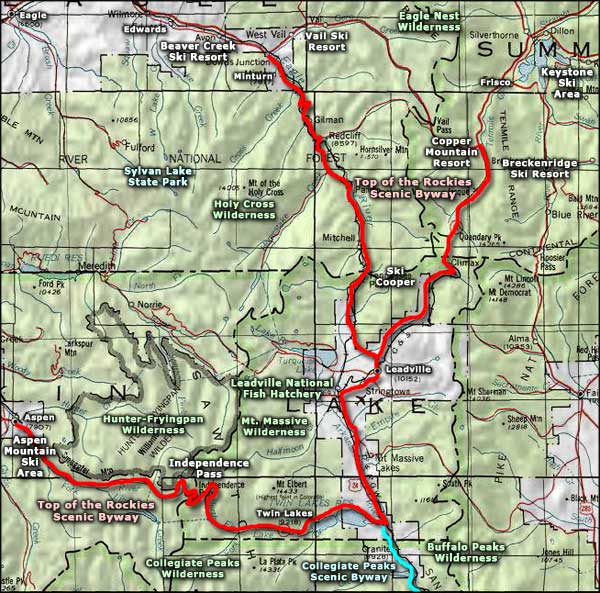 Related Pages
Map courtesy of National Geographic Topo!