Mount Massive Wilderness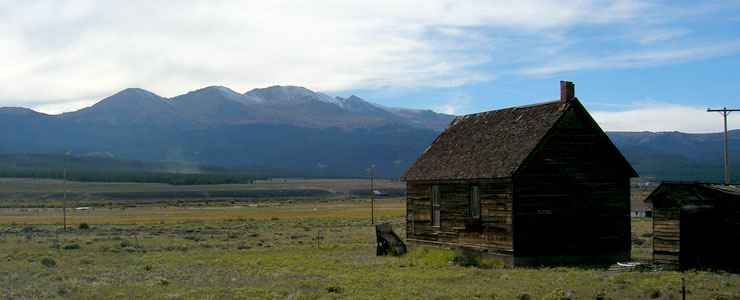 Mt. Massive in the distance
The Mount Massive Wilderness, encompassing 30,540 acres, was designated by Congress in 1980. The wilderness is located on San Isabel National Forest and abuts the Leadville National Fish Hatchery and Wilderness.
The name comes from the second highest peak in Colorado, a mountain with 7 summits over 14,000 ft. that truly lives up to its "Massive" name. With elevations between 9,700' and 14,421', much of the area is above timberline with alpine communities and a permanent snowfield. The lower slopes are forested mostly with lodgepole pine giving way to fir and spruce as you go up the hill. The western boundary of the Wilderness is against the Continental Divide, with the Hunter-Fryingpan Wilderness on the other side of that top ridge.
About 10 miles of the Colorado Trail cross the eastern portion of the Wilderness. Other than that, there's only about 10 more miles of established trails in the Wilderness, and nearly every bit of these trails are involved in somehow getting to the top(s) of Mt. Massive itself.
About 2,500 acres of the Wilderness is managed by the Leadville National Fish Hatchery. There are some restrictions on fishing and hunting in that area. Native greenback cutthroat trout have recently been reintroduced in the Rock Creek drainage, so fishing there is limited to catch and release. This includes Native Lake. No special restrictions are in place for Windsor Lake.
Recommended Maps
US Forest Service: San Isabel National Forest
Trails Illustrated: Independence Pass, Holy Cross
USGS Quadrangle: Homestake, Mt. Massive, Mt. Champion
Trailheads
Hagerman Pass Road - The Colorado Trail, Native Lake and Windsor Lake Trailhead
Leadville Fish Hatchery - The Rock Creek Trailhead
Halfmoon Creek Trailhead - Mt. Elbert/Mt. Massive Trailhead and the North Halfmoon Lake Trailhead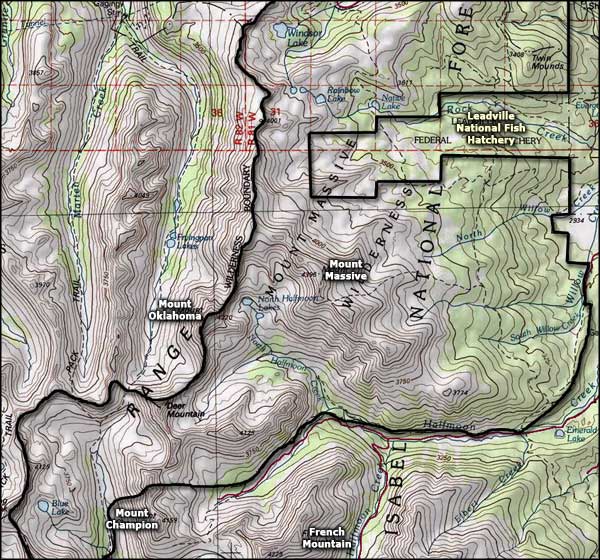 The heart of Mount Massive Wilderness
Mount Massive Wilderness
San Isabel National Forest -

US Forest Service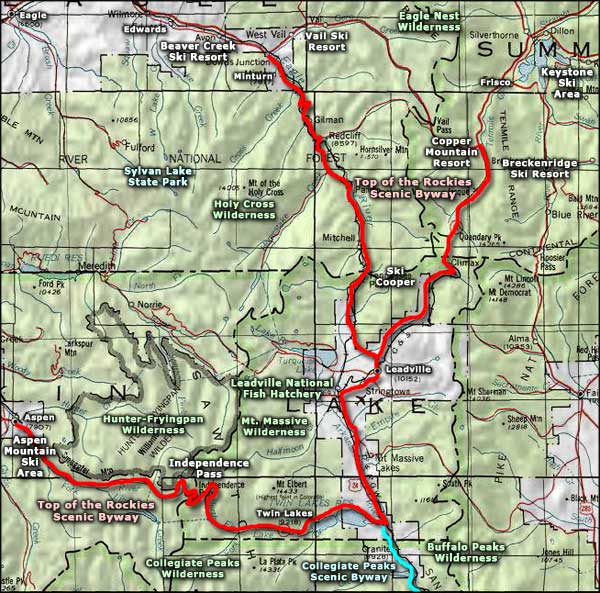 Related Pages
Map courtesy of National Geographic Topo!