Pusch Ridge Wilderness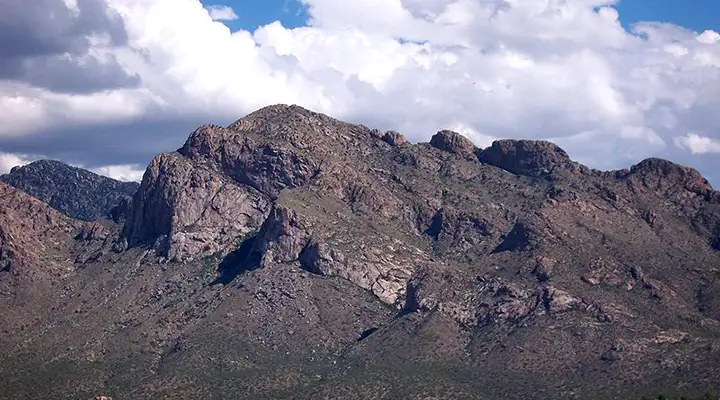 Pusch Ridge Wilderness, from Oro Valley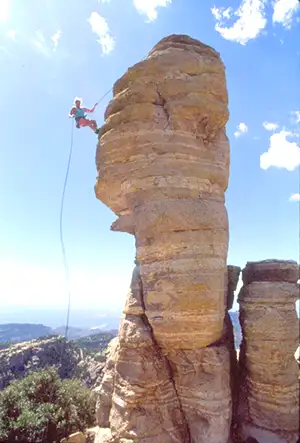 Pusch Ridge Wilderness is a 56,933-acre property in the Santa Catalina Mountains of Coronado National Forest. The wilderness rises from the desert floor at the edge of Tucson's northern suburbs (at about 2,800 feet) to more than 8,800 feet. Because of the proximity to such a major city and the view that is offered high on Pusch Ridge, Pusch Ridge Wilderness is heavily impacted by human traffic. Wildlife on the mountain is also heavily affected.
Access to Pusch Ridge Wilderness is quite easy: in many places there are parking areas at trail heads that immediately cross the wilderness boundary. Up on the mountain there are several turnouts with parking areas along the Sky Island Parkway that also give easy access to trails leading into the wilderness. On the mountain above the wilderness area is Mount Lemmon Ski Valley, probably the southernmost ski slope in North America. Catalina State Park also offers several trails that cross the wilderness boundary and lead up onto the mountain.
Life zones at Pusch Ridge Wilderness run the gamut from full Sonoran Desert to subalpine forest: saguaro/ironwood chaparral to aspen, fir, spruce and pine.
Pusch Ridge Wilderness offers an extensive network of trails. However, the Aspen Fire of 2003 had significant impact on many of the trails and in the higher elevations, there's a lot of blowdown and deadfall obscuring and blocking the trails. Because much of the terrain is extremely steep and filled with towering peaks, rocky bluffs and deep canyons, cross-country travel can be extremely difficult and dangerous. Primitive camping is allowed in most of the wilderness, the problem is finding a spot large enough to pitch a tent comfortably. Campfires are usually banned because of the generally extreme fire hazard.
Part of Pusch Ridge Wilderness is also a designated Bighorn Sheep Management Area. It's an area where the US Fish & Wildlife Service has been trying to nurture the growth of a remnant herd of bighorn sheep. There are certain extra restrictions on human use of the area however, it's been some time since anyone has seen any sheep on the mountain: many folks blame that on the huge impact all the people on the mountain have on everything.
USGS Quad Maps: Oro Valley, Mt. Lemmon, Sabino Canyon, Tucson North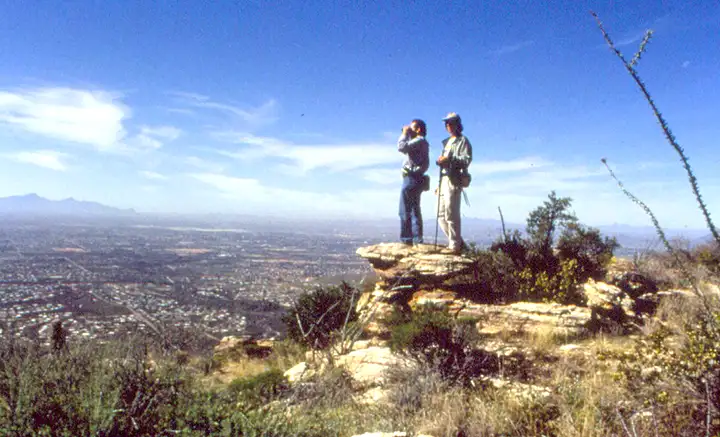 Hikers on Pusch Ridge Wilderness enjoying the view over Tucson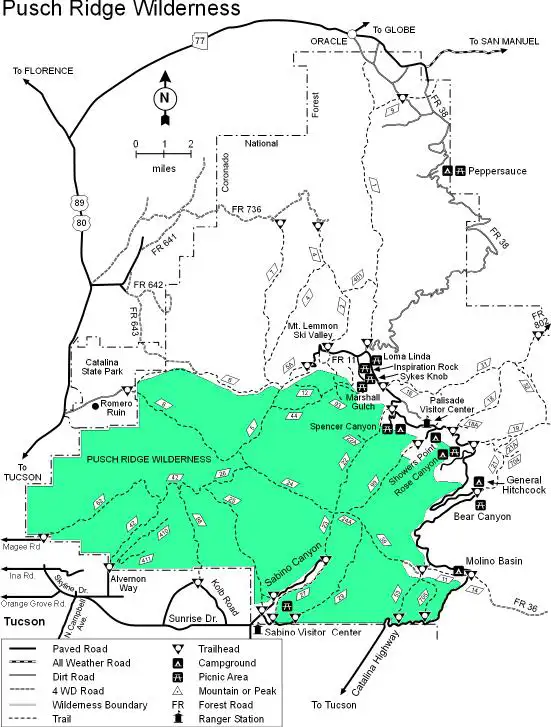 Pusch Ridge Wilderness
Coronado National Forest -

US Forest Service

Photos of Pusch Ridge Wilderness area and trail map courtesy of the US Forest Service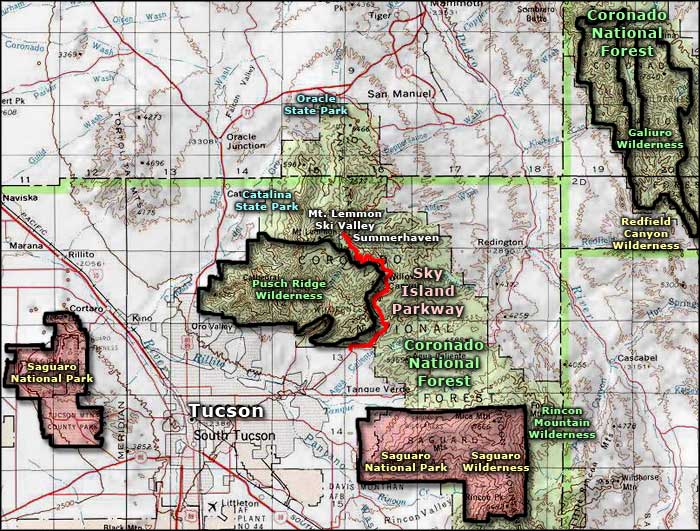 Related Pages
Map courtesy of National Geographic Topo!