Rincon Mountain Wilderness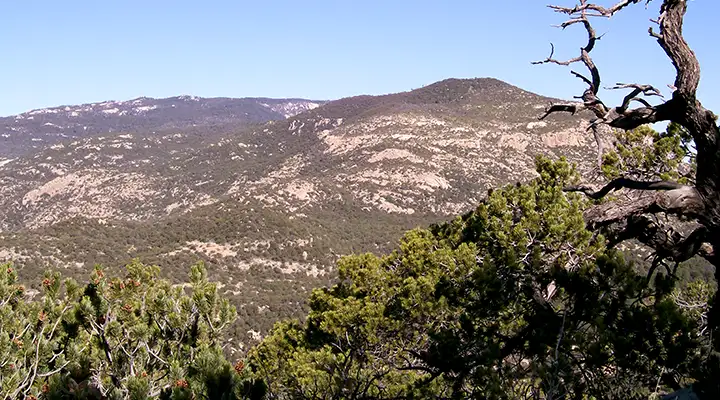 Rincon Mountain Wilderness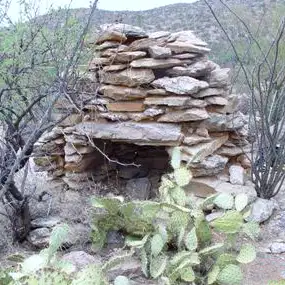 All that's left of a pioneer's efforts
Rincon Mountain Wilderness is a 38,590-acre property in Coronado National Forest that wraps around three sides of Saguaro National Park & Wilderness. Because of the location, Rincon Mountain Wilderness is quite remote. There is foot access via a couple of trails in the national park while road access is limited to a few nasty 4WD roads on the northwest side and a couple of foot trails leading in from the Mescal Road (FR 35) on the east side.
Rincon Mountain Wilderness offers rocky ridges rising steeply above deep canyons. Elevations range from about 3,880 feet to 7,325 feet. The views in the trees up top are excellent, down below you're in the Sonoran Desert. Sections of the wilderness are hard to reach on foot, many areas are impassable on horseback. Vegetation varies with elevation: low areas are desert grassland, cactus and scrub, higher areas offer pinion-juniper-scrub oak woodlands. There are a couple of streams on the property that flow enough to support riparian corridors along them. This is where you might come across black bear, mule deer, coyote, javelina, bobcat, mountain lion and coatimundi.
Camping is allowed everywhere in Rincon Mountain Wilderness (as long as you stay at least 1/4 mile from any water sources) but if you cross the line into Saguaro National Park, you'll need a permit to camp there (and permits there are very limited).
USGS Quad Maps: Happy Valley, Soza Canyon, Rincon Peak, Galleta Flat West, Piety Hill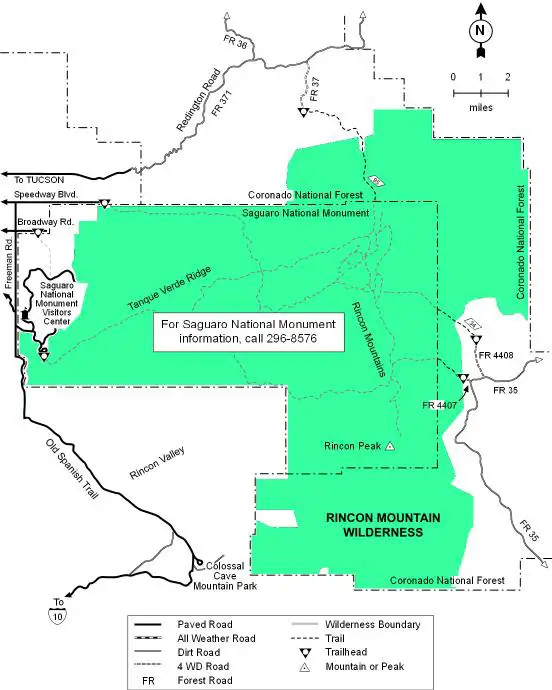 Rincon Mountain Wilderness
Coronado National Forest -

US Forest Service
Photos courtesy of the National Park Service
Map courtesy of the US Forest Service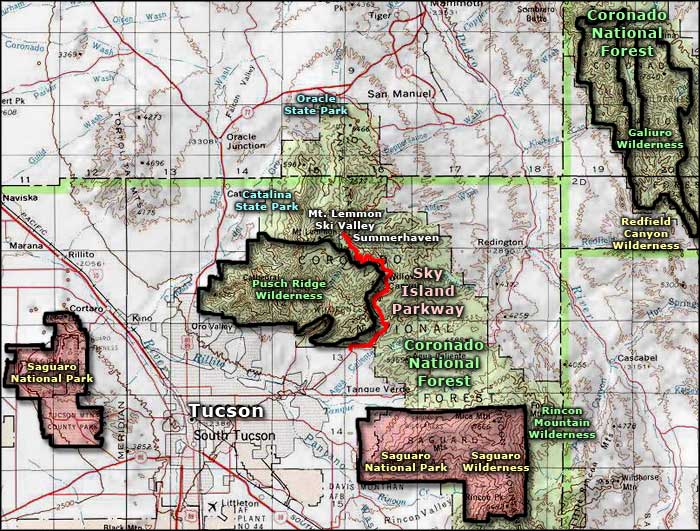 Related Pages
Map courtesy of National Geographic Topo!