Saguaro National Park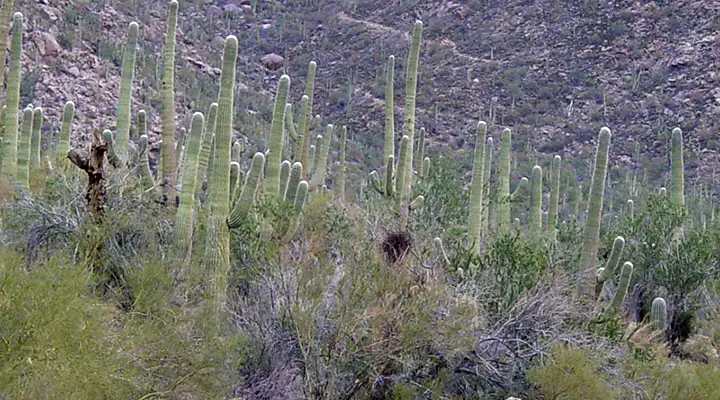 The saguaro forest at Saguaro National Park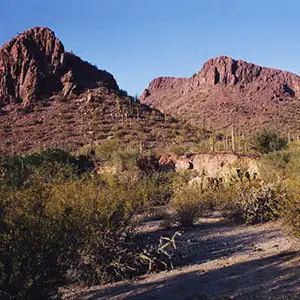 Saguaro National Park was designated to preserve and protect an area where you'll find the most impressive forests of giant saguaros in the United States. The Park is divided into two sections: the Rincon Mountain District and the Tucson Mountains District. In between is the metropolis of Tucson.
Both properties offer hiking trails: Rincon Mountains has about 77 miles worth, Tucson Mountains another 40 miles-or-so. Some of the Rincon Mountain trails connect with other trails in Rincon Mountain Wilderness and in Coronado National Forest. Camping is allowed in the back country, just get a permit and use an already established campsite (fair warning: there are only six so-designated campsites in the whole wilderness).
There was a time when a lot of the countryside that is now Saguaro National Park was owned by homesteaders... and pioneers tried to make a living out here in the saguaro forest. Some of the back country trails lead to or past several of the old homesteads in the Rincon Mountain District. Depending on the season, you might also come across some of the waterfalls that the district is famous for. I remember as a teenager, taking a hike in the Tucson Mountain District and being treated to a very flamboyant Arizona sunset while gazing across the valley toward Kitt Peak. But there was no surface water anywhere and wherever I was out there, the only evidence of past human use (that I saw) was part of an old mine dig. The Rincon Mountain District has a varied topography with elevations rising from 2,800 feet to 8,666 feet at the top of Mica Mountain. The Rincon Mountain District also has various rock forms that have developed tinajas (potholes) that can hold water long after a rain sometimes. The Tucson Mountain District is almost flat in comparison.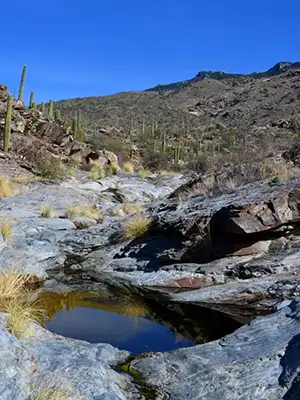 Metamorphic rock forming a tinaja
Saguaro Wilderness is a 57,930-acre property in the Rincon Mountain section of Saguaro National Park. It is bounded on three sides by the Rincon Mountain Wilderness, a 38,590-acre piece of Coronado National Forest.
To get there: Rincon Mountain District: Go east from Tucson on Speedway or Broadway to Freeman Road and go south to Old Spanish Trail. At Old Spanish Trail go left about 1/4-mile to the park entrance. Or exit Interstate 10 at exit 279 and go north for 3.5 miles to Pistol Hill Road. Turn left and go 2 miles on Pistol Hill Road to Old Spanish Trail. Turn left on Old Spanish Trail and go eleven miles to the park entrance.
Tucson Mountain District: Go west on Speedway Boulevard. The name will change to Gates Pass Road, keep on for four miles from that point. Gates Pass Road will end at Kinney Road, turn right and go three miles to the park entrance.
Both districts of Saguaro National Park are open from 7 am to sunset daily. The visitor centers at each district are open from 9 am to 5 pm daily except Christmas Day.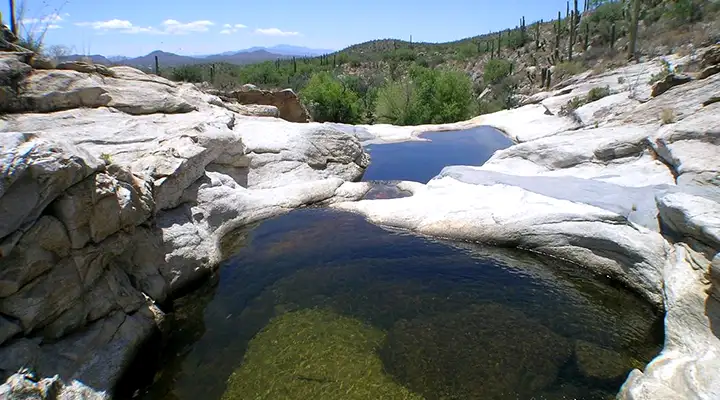 The Madrona Pool, a tinaja in the Rincon Mountains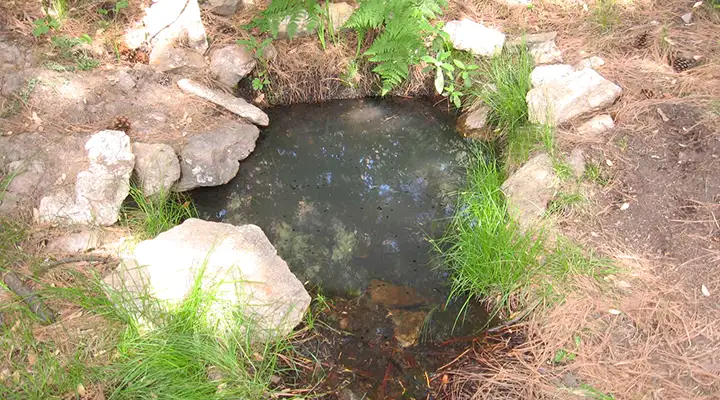 The source of Spud Rock Spring in the Rincon Mountains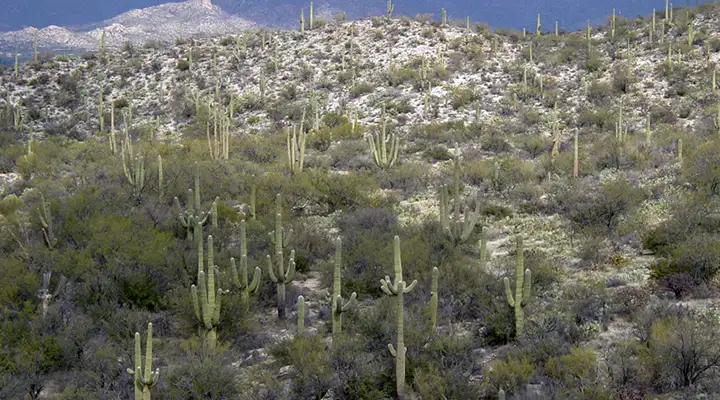 Saguaros, saguaros and more saguaros

Photos courtesy of the National Park Service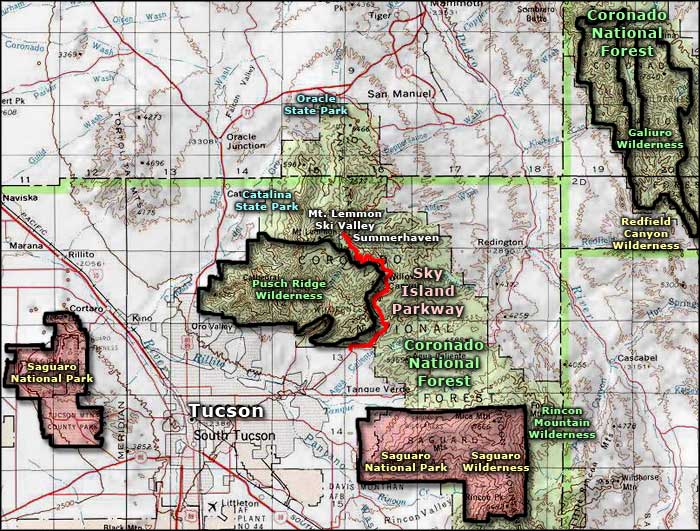 Related Pages
Map courtesy of National Geographic Topo!