Clear Springs Wilderness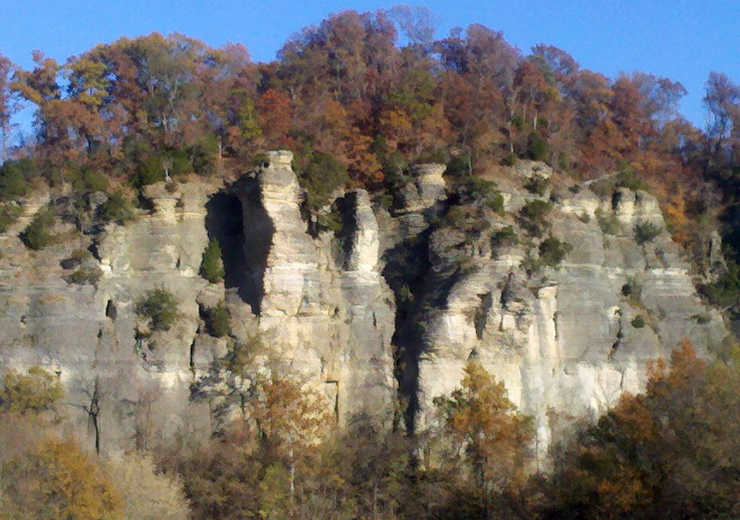 The La Rue Pine Hills Bluffs, on the west side of Clear Springs Wilderness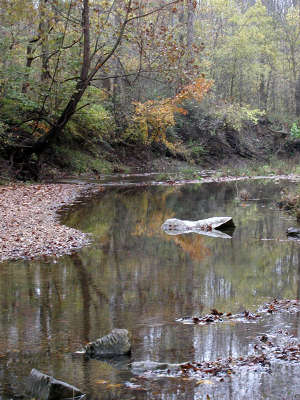 Hutchins Creek
Clear Springs Wilderness is a 4,730-acre roadless area on Shawnee National Forest. Across Hutchins Creek to the south and east is Bald Knob Wilderness.
The countryside is rugged, composed of limestone bluffs eroded by waterflows over the millenia. The west side of the wilderness is perched atop the La Rue Pine Bluffs, a limestone bluff rising as much as 400 feet above the Mississippi and Big Muddy Rivers below. The hiking in between isn't bad in the valleys but climbing the slopes (some as much as 70°) can be hard. There are several crystal clear springs in the wilderness, the largest being the one that creates Clear Creek itself. At the juncture where Clear Creek meets Hutchins Creek you'll find the remains of an old homestead, built back before the days when the Federal government condemned all the land in the area and began allowing the forest to recover itself (virtually every bit of forest in Illinois is second-growth).
The west side of Clear Springs Wilderness can be accessed via a knuckle-biting hairpin-twisted road that snakes its way up the bluffs above the rivers near the ghost town of La Rue. However, the road is bad and is often closed to vehicles because of the huge number of snakes (both venomous and not) that use the route during their seasonal migrations.
The forest is mostly deciduous and harbors a good population of deer, wild turkey and many smaller mammals. The River to River Trail crosses Clear Springs Wilderness in its journey across southern Illinois between the Ohio and Mississippi Rivers.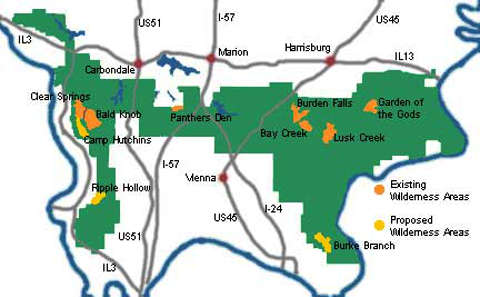 Shawnee National Forest Wilderness Areas