Mount Logan Wilderness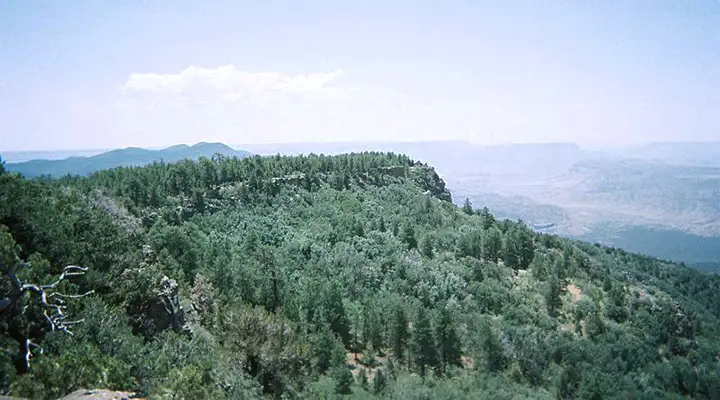 The view south from the top of Mount Logan Wilderness
Mount Logan Wilderness is a 14,650-acre property on the northern side of the Grand Canyon. The area was volcanically active relatively recently with a series of cinder cones and lava flows scattered around, although the slopes here are not as sharp and steep as those of Mount Trumbull (just to the north and slightly older, volcanically speaking). But in the upper reaches, the wilderness offers a large series of basalt ledges interrupting the old-growth Ponderosa forest. On the lower slopes you'll find pinion and juniper woodlands. Mount Logan itself rises to 7,966' in the northern section of the property. The western side of the mountain is occupied with a large colorful eroded amphitheater named Hells Hole. The east and south boundaries of the wilderness are contiguous with Grand Canyon National Park.
For wildlife you might come across mule deer, mountain lions, coyotes, bobcats, Kaibab squirrels, wild turkeys, skunks, porcupines and other small mammals. There are hawks, owls and eagles in the air with the usual assortment of Arizona reptiles, insects and arachnids everywhere.
Most folks come to climb the mountain and enjoy that southern view across the Grand Canyon without having to deal with large herds of people. At Big Spring there is a parcel of private land inside the wilderness boundary.
To get there: Follow the Mount Trumbull Road (Mohave County Roads 109 and 5) from State Road 389. Then, just south of Mount Trumbull, turn and go south on BLM Road 1044 to Mount Logan Wilderness boundary. You can also get there from St. George by following the Quail Hill Road (BLM Road 1069) from St. George to Mohave County Road 5 and then going east to the intersection with BLM 1044. It would probably be good if you had a copy of the Arizona BLM Strip road map with you.
Mount Logan Wilderness is deep inside Grand Canyon-Parashant National Monument. It can get real lonely if you have a problem. Carry plenty of extra food, water, clothing and equipment, a full tank of fuel, a good map, a compass or GPS device and maybe even an extra spare tire.
7.5-Minute Topo Maps: Cold Spring, Mount Logan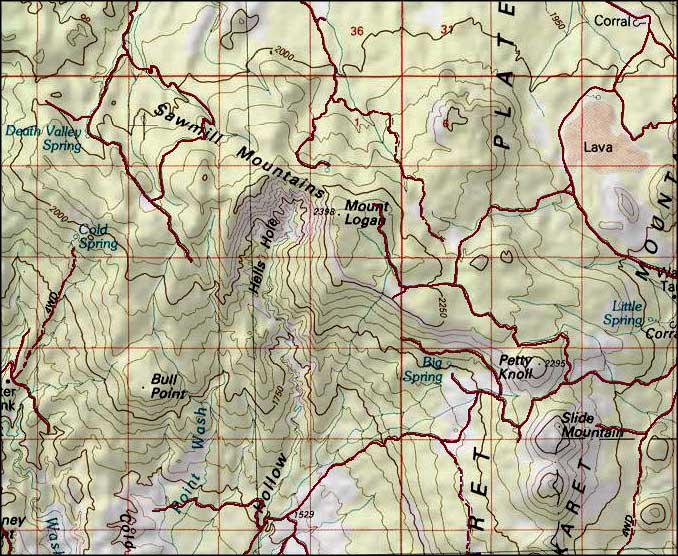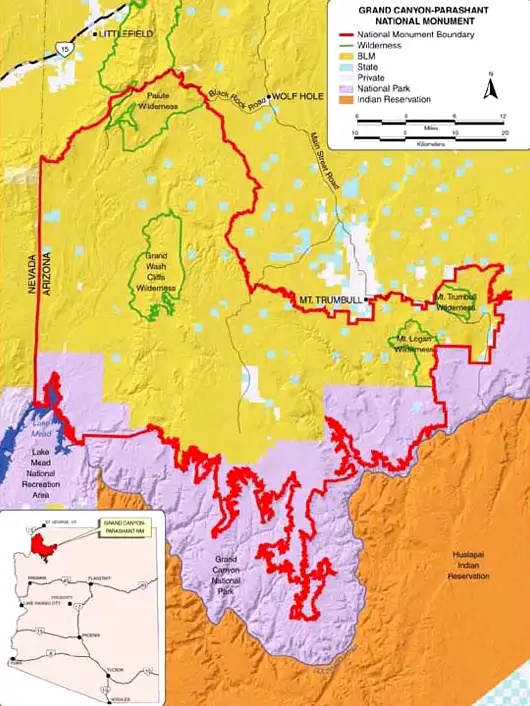 Mount Logan Wilderness
Bureau of Land Management

- Grand Canyon-Parashant National Monument
345 East Riverside Drive

,

St. George

,

UT

84790-6714
435-688-3200
Photo of Mount Logan Wilderness courtesy of Wikipedia userid Tainter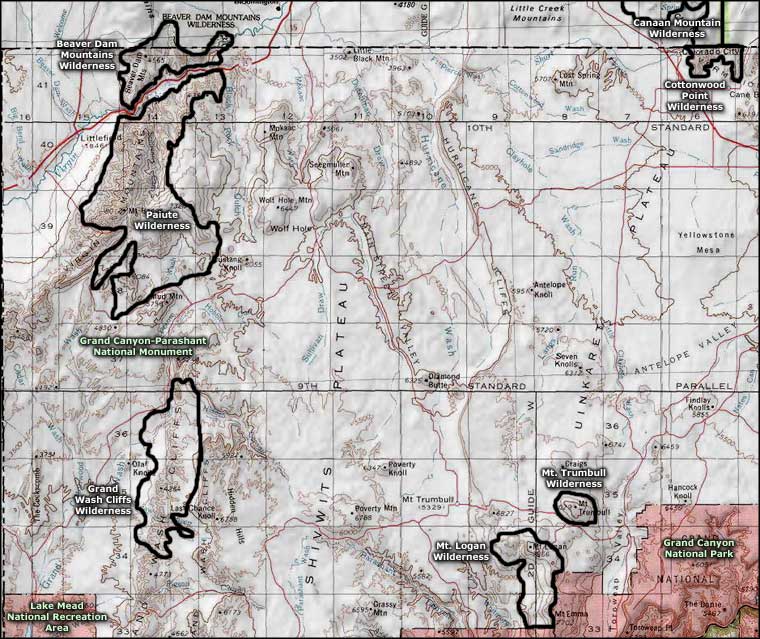 Related Pages
Map courtesy of National Geographic Topo!