Trilobite Wilderness

Trilobite Wilderness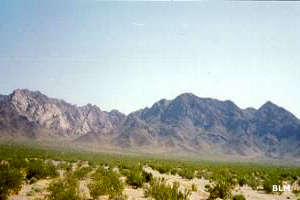 Trilobite Wilderness is a 37,308-acre property containing most of the Marble Mountains and their surrounding bajadas in the Mojave Desert of southern California. The Marble Mountains got their name from the tilted dark and light brown striations in the rock, makes the mountains look "marbled." There are several prominent yellowish sandstone peaks with large talus slopes in the heart of the range, visible from most directions. The mountain range occupies the western section of the refuge, the east being a collection of low rolling hills and sloping bajadas.
Vegetation is mostly a creosote bush scrub that changes to a mixed desert scrub as the elevation rises. Wildlife in the area includes coyote, black-tailed jackrabbit, ground squirrel, kangaroo rat, quail, roadrunner, rattlesnakes and several species of lizards. The mountains are high enough to support a population of about 150 bighorn sheep. The eastern half of the wilderness is also classed as critical habitat for the threatened desert tortoise.
To get there: about 28 miles east of Ludlow take the Kelbaker Road exit and go south about 1 mile to a dirt road along a pipeline right-of-way. Turn east and go about 1 mile to the wilderness boundary. The road forms the northern boundary of Trilobite Wilderness for the next 11 miles. You'll want a high clearance 4WD vehicle for this.
Camping is permitted with a 14-day stay limit. After that, the campsite needs to be moved at least 25 miles away.
Across the pipeline/powerline right-of-way to the northeast is Clipper Mountain Wilderness. Trilobite Wilderness was included in Mojave Trails National Monument when that was designated in February, 2016.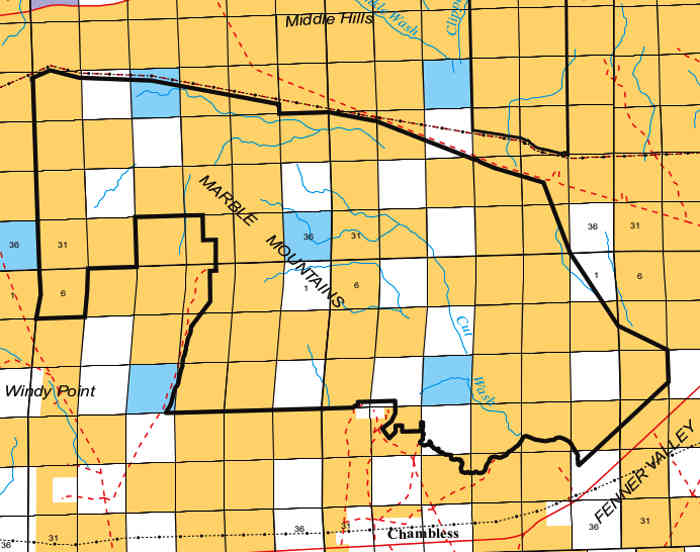 Trilobite Wilderness
Bureau of Land Management

- Needles Field Office
Photos and map courtesy of the Bureau of Land Management