Clipper Mountain Wilderness

Clipper Mountain Wilderness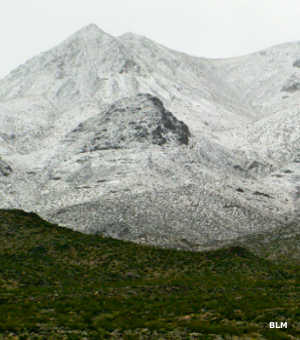 Snow on the Clippers
Clipper Mountain Wilderness is a 35,731-acre property situated between Interstate 40 and old Highway 66 about 50 miles west of Needles. The volcanic Clipper Mountains are a rugged range characterized by yellow and dark brown horizontally striped mesas. Clipper Mountain itself is the high point (4,625') of a long narrow ridge that drops off dramatically on both sides. The wilderness area contains many deep canyons and several hidden springs and seeps.
Vegetation in the area is sparse but typical Mojave creosote bush scrub in the lower regions and mixed desert scrub in the upper regions. Wildlife includes a herd of bighorn sheep, coyotes, bobcat, cougar, black-tailed jackrabbit, kangaroo rat, quail, roadrunner, ground squirrel, rattlesnakes and several species of lizards. The entire area is considered critical habitat for the threatened desert tortoise. Some of the washes are wet enough to support stands of brittlebush, palo verde, catclaw and ocotillo.
Many people get to the wilderness via Historic Route 66. East of Ludlow they take the Danby Road north about 2.3 miles to the dirt road next to a gas pipeline. That pipeline corridor runs along the southern boundary of the wilderness but parking in the pipeline right-of-way is not allowed. The actual wilderness boundary is set back 30 feet from that road.
To the southwest across a pipeline/powerline corridor is Trilobite Wilderness. Clipper Mountain Wilderness was included in the Mojave Trails National Monument when that was created in February, 2016.

Another view of Clipper Mountain Wilderness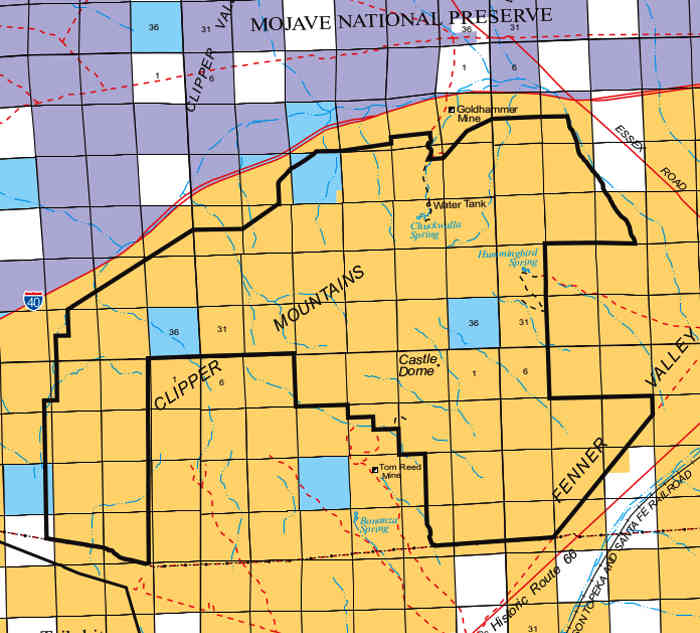 Clipper Mountain Wilderness
Bureau of Land Management

- Needles Field Office
Photos and map courtesy of the Bureau of Land Management