Picacho Peak Wilderness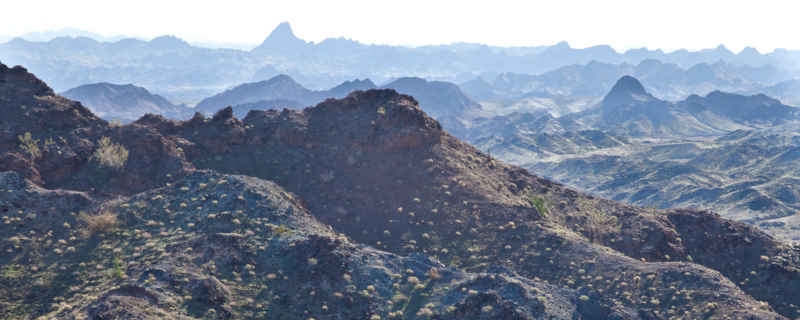 In the northeastern part of Picacho Peak Wilderness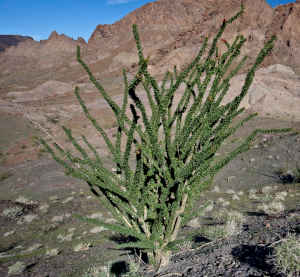 Ocotillo
Picacho Peak Wilderness is an 8,860-acre property in southeastern California. Indian Pass Wilderness is to the east. Imperial National Wildlife Refuge is east of Indian Pass. To the north is Gavilan Wash. Most folks access Picacho Peak Wilderness via the Indian Pass Road (off SR 24 - the Ogilby Road - running north-south between SR 78 and Interstate 8). The Indian Pass Road runs east from the Ogilby Road to the boundary of Picacho Peak State Recreation Area. The route passes through Gavilan Wash, the wilderness boundary is set back about 300 feet from the pavement on the south side of the road.
The south side of the wilderness can be reached via the Hyduke Road, accessible via either the Ogilby Road or the Picacho State Park Road.
Picacho Peak Wilderness is small, encompassing some of the dark gray mountains extending southeast from Indian Pass. The high point is Mica Peak at 1,499 feet. The low points are in Gavilan Wash to the north and Carrizo Wash on the east. South of the mountains the land falls away in a series of benches that have been heavily cut into by deep, steep canyons. The northeastern section of the wilderness contains a series of small peaks rising above open basins and large washes.
In Carrizo Wash there's a natural rock tank that holds rainwater runoff. It sits at the foot of Carrizo Falls, a site where the runoff tumbles 40 feet over a series of rock ledges into a pool rimmed with cattails. That pool supports most of the desert bighorn sheep, wild burros and desert tortoise in the area.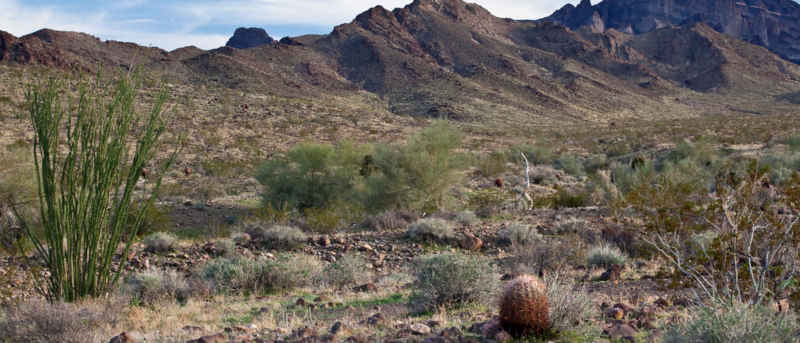 Ocotillo, barrel cactus and a sharp ridge at the edge of the Chocolate Mountains
Picacho Peak Wilderness
Bureau of Land Management