Glacier View Wilderness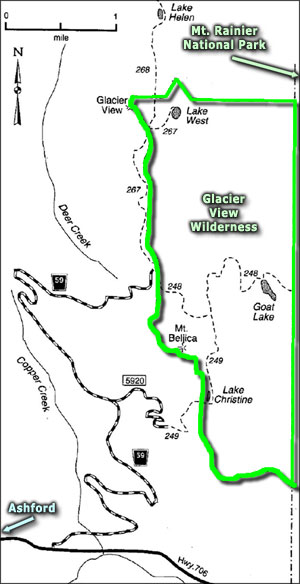 Glacier View Wilderness is a 3,123-acre property established as wilderness in 1984. Relatively speaking, Glacier View Wilderness is a bit small and probably only got the designation because it's suitable property that lies directly against the boundary of the Mount Rainier Wilderness area in Mount Rainier National Park. Glacier View Wilderness is administered by Gifford Pinchot National Forest and folks who wish to access the wilderness area need to get a Northwest Forest Pass from one of the Gifford Pinchot Ranger stations.
Most folks who go to Glacier View Wilderness get to the property line by taking SR 706 east from Ashford for about 5 miles, then turning north onto FSR 59 and following the signs to the end of the road. A spur route (FSR 5920) also leads to trailheads giving access to southern sections of Glacier View Wilderness.
Because of the excellent views of the glacier-covered west side of Mount Rainier (hence the name), Glacier View Wilderness offers several good hiking trails, all with overlooks into Mount Rainier National Park. Probably the most spectacular overlook is to be found on the summit of Glacier View (5,450 feet) in the northwest corner of the wilderness area.
Annual snowfall can exceed 25 feet. That means snow cover can be a problem into June and July. The majority of the property drains to the South Puyallup River, filling nine small alpine lakes along the way. The majority of Glacier View Wilderness is contained in a lush meadowed basin with high ridges on both sides. The forest cover is thick with pine, firs, mountain hemlock and cedar. The understory is often thick with mosses, ferns. trillium, beadlily and other wildflowers. Among the mammals on the property are deer, elk, black bear, bobcat, mountain goat, coyote, gray wolf, pine marten and lynx.
Map courtesy of the US Forest Service