Boulder River Wilderness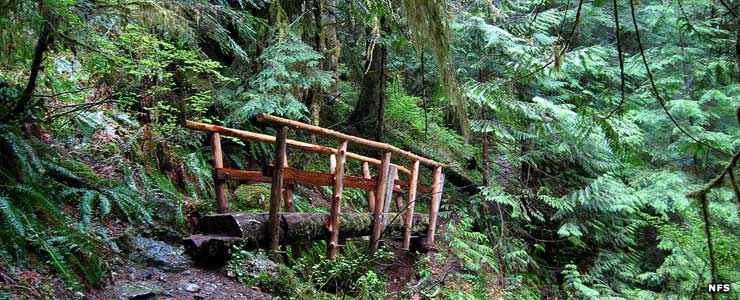 Bridge on the Boulder River Trail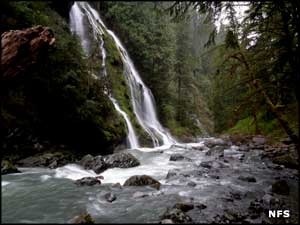 Boulder River Wilderness is a 48,674-acre property on Mount Baker-Snoqualmie National Forest. Most of the wilderness area is densely forested with true fir, Douglas fir, western red cedar, western hemlock, alder, willow, bigleaf maple and devil's club. In the lowest elevations along the Boulder River are a few small stands of Sitka spruce. Most of the wilderness is too rugged to be logged so there's lots of old growth forest in the area. Some of the trees are old enough to have passed 100 feet in height.
Boulder River Wilderness is nestled among a series of steep ridges that drop to the west and east from the summits of Three Fingers and Whitehorse Mountains. Three Fingers is actually a high ridge with several summits strung out along it. Elevations range from a low around 1,000 feet in the Boulder River Valley to a high on the summit of South Peak (the southernmost of the Three Fingers) at 6,850 feet. On South Peak is also what remains of a precariously perched fire lookout tower from the days before the wilderness declaration.
The center of Boulder Creek Wilderness is rough and essentially trailless but around the edges are about 25 miles of trail. A 4.3-mile trail does run up the bottom of Boulder River Canyon through some magnificent old-growth forest. There are three trails that head off that to climb to Boulder Ridge but none quite makes it all the way up. There is another trail in the northeast corner of the wilderness that passes over Squire Creek Pass and offers outstanding views of Boulder Ridge and the Three Fingers.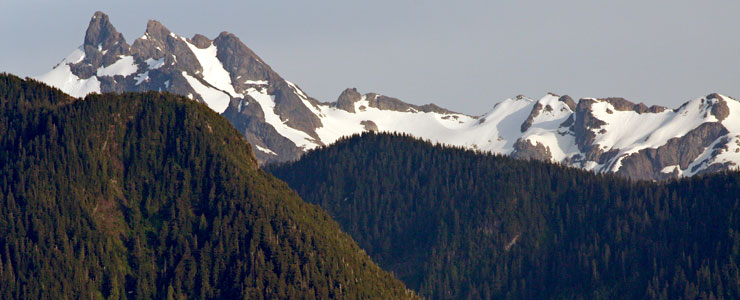 Three Fingers and Boulder Ridge