Black Creek Wilderness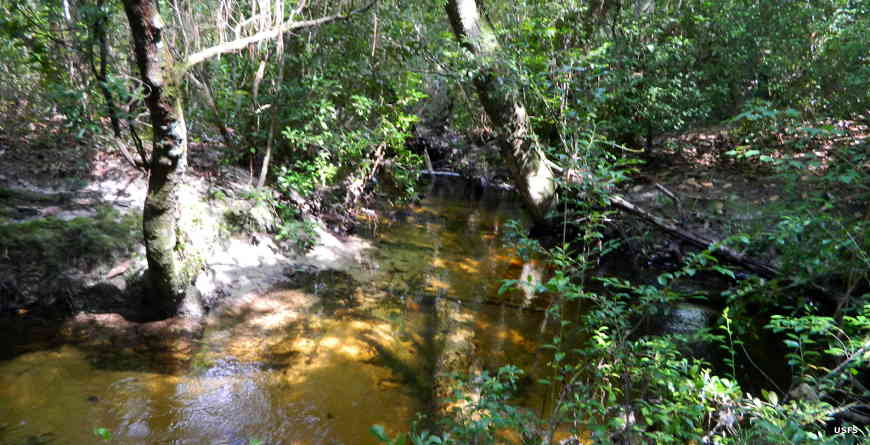 Black Creek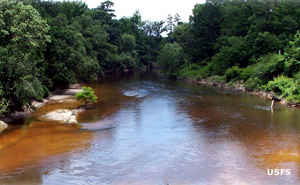 At 5,052 acres, Black Creek Wilderness is the largest wilderness area in Mississippi. Most of that acreage is within the valley of Black Creek. 21 miles of Black Creek itself have been designated a Wild & Scenic River, with the focus on "scenic."
Upland areas of the wilderness are covered with significant areas of longleaf pine forest. The landscape is a mix of low rolling hills and a few moderate ridges. As the elevation drops into the valley, the pines give way to bottomland hardwoods (sweet gum, red maple, oak, pine, bald cypress and sweet bay) before reaching the slow moving creek. The creek is lined with sand bars between 5 and 20 feet in width, offering plenty of spots to pull out and enjoy lunch or set up camp.
The 41-mile Black Creek National Recreational Trail (foot-traffic only) spends about 10 of those miles crossing Black Creek Wilderness as it makes its way along the Black Creek drainage. That said, Hurricane Katrina destroyed some major areas on the Forest and still today there are 11 miles of trails closed from that event.
Black Creek Wilderness is administered as part of DeSoto National Forest.

Photos courtesy of the US Forest Service