DeSoto National Forest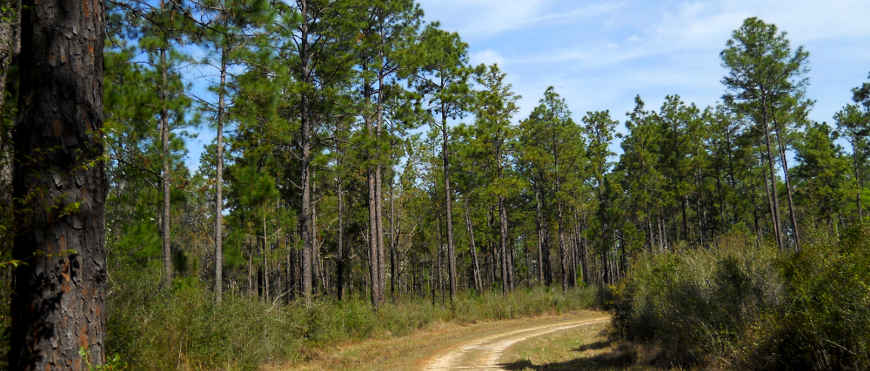 DeSoto National Forest
DeSoto National Forest is a 518,587-acre property in southwestern Mississippi. In 2005 Hurricane Katrina damaged everything along the Gulf Coast up to 60 miles inland and DeSoto National Forest was hit hard. Sections of the Forest have still not recovered and some of the human amenities may never be rebuilt.
The landscape is a gently rolling terrain with dry, sandy longleaf pine/scrub oak ridges, often-flooded tupelo/bald cypress swamps, upland hardwood forest and Buttercup Flats: a vast savanna populated heavily with pitcher plants (pitcher plants grow in soil that has no nutrients). Streams on the Forest tend to be tea-colored as a result of all the decaying vegetation around (this is typical of Coastal Plain forests).
About 21 miles of Black Creek in the forest have been designated the Black Creek Wild & Scenic River (with the focus on "scenic"), the only Wild & Scenic River in Mississippi. Black Creek bisects Black Creek Wilderness on its way to its confluence with the Pascagoula River. There are 2 private outfitters licensed to provide canoe and kayak rentals on Black Creek. There are 5 developed landings along Black Creek and multiple other landings for use as needed. Be prepared to see deer, birds, wood ducks and river otters along a float downstream. There might even be a black bear or two...
The Black Creek National Recreation Trail (foot-only) runs for 41 miles across the Forest, about 10 miles of it in Black Creek Wilderness.
Black Creek creates a broad floodplain area with oxbow lakes and thick stands of red maple, oak, pine, bald cypress, sweet gum and sweet bay. This is how much of the Gulf Coast forests were before the Euro-American invaders arrived: spring flooding and summer drought controlled water levels and water levels determined the distribution of species.
The total elevation variation across DeSoto National Forest is about 170 feet with the highest point being about 270 feet above sea level. Clear-cutting of the timber and decades of bad agricultural practices changed the face of the South, and not generally for the better. In most cases, Forest Service properties east of the Mississippi River were assembled from land that had been heavily worked over and almost destroyed before being abandoned.
Recreation Areas
| Recreation Area | Amenities |
| --- | --- |
| Airey Lake Recreation Area | Camping, Picnicking, Hiking, Fishing |
| Ashe Lake | 43 mile lake, Disc Golf, Picnicking, Nature Trail, Fishing |
| Bethel OHV Trail | 43 miles of Trail, Parking, Primitive camping |
| Bethel Bicycle Trail | 19 miles of Trail, Parking |
| Big Biloxi Recreation Area | Camping, Picnicking, Interpretive Trail, Swimming, Fishing |
| Big Creek Landing | Camping, Picnicking, Hiking, Boat Launch, Wild and Scenic River |
| Big Foot Horse Camp and Trail | 23 Mile Horse Trail, Horse Camp |
| Black Creek Hiking Trail | 42 Mile National Recreation Hiking Trail |
| Cypress Creek Landing | Camping, Picnicking, Boat Launch, Wild and Scenic River |
| Fairley Bridge Scenic Landing | Camping, Picnicking, Boat Launch, Hiking, River |
| Janice Landing | Camping, Picnicking, Boat Launch, River |
| Moody's Landing | Camping, Picnicking, Canoe Launch, Scenic River |
| P.O.W. Lake Recreation Area | Camping, Hiking, Historical Site, Fishing |
| Rattlesnake Bay OHV Trail | 31 Mile OHV Trail, Parking |
| Tuxachanie Hiking Trail | About 14 Miles National Hiking Trail |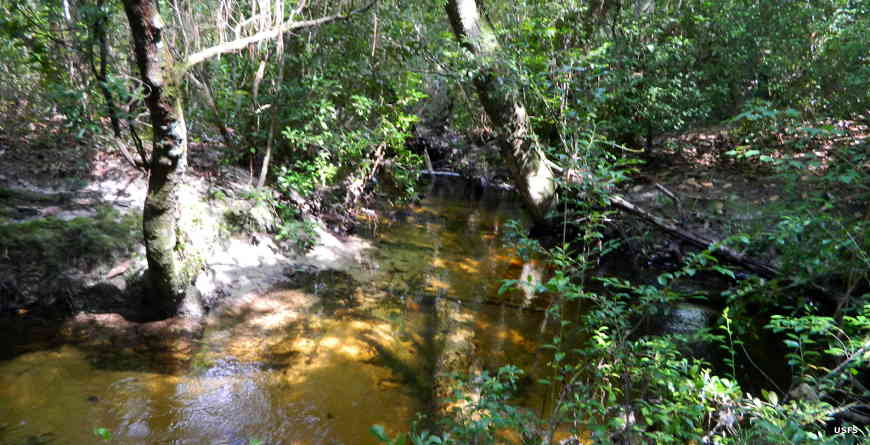 Along Black Creek Wild & Scenic River

Photos courtesy of the US Forest Service