Leaf Wilderness

Thick cypress swamp in Leaf Wilderness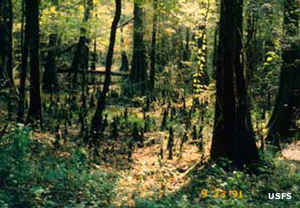 Located just north of Black Creek Wilderness on DeSoto National Forest, Leaf Wilderness is a 993-acre property that lies almost entirely on the floodplain of the east-flowing Leaf River.
Almost the entire wilderness area is a mix of oxbow lakes, meandering sloughs and spruce-pine flatwoods or oak-gum-cypress bottomland hardwoods. The understory is dense with dogwood, persimmon, redbud, honeysuckle, blueberry and poison oak.
There used to be a 1.3-mile Leaf Trail that crossed the wilderness but Hurricane Katrina destroyed the footbridges and walkways in 2005 and nothing has been rebuilt since. Most human traffic these days has come after someone bags a white-tailed deer or wild turkey... After all, Leaf Wilderness is also embedded in the 42,000-acre Leaf River Wildlife Management Area.

Upper photo is in the public domain
Upper left photo is courtesy of the US Forest Service