Sleeping Bear Dunes National Lakeshore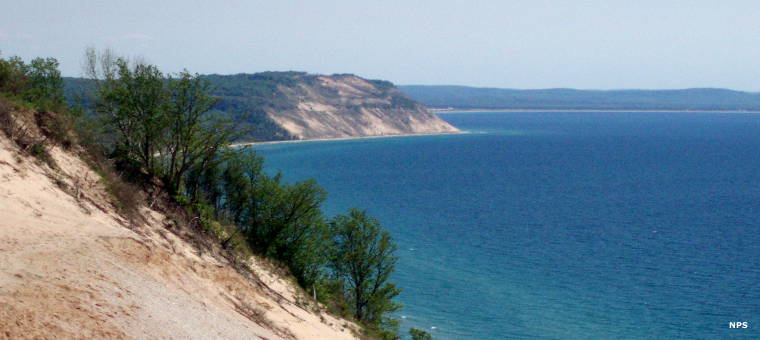 Sleeping Bear Dunes National Lakeshore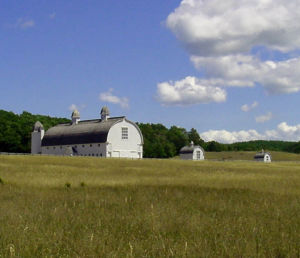 Historic Glen Arbor Farm
Sleeping Bear Dunes National Lakeshore stretches out along the northeastern coastline of Lake Michigan for about 35 miles. The property includes North and South Manitou Islands, both located just offshore in the lake. The landscape rises almost directly from the lake shore, some bluffs rising as much as 450 feet above the water. There are strands of sandy beach in some areas but in some, the dunes rise from the water at a steady steep slope. On top the land is gently rolling with wetlands in some areas and thick hardwood and conifer forest in others.
The park was created in 1970, setting a precedent wherein private land can be acquired by the Federal government to be added to public land in order to create a park. Local residents had long believed they were adequate stewards of the land and resented government intrusion into their area. To assuage the complaints about tax revenue loss, Congress agreed to support the local school system.
In 2011, Good Morning America named Sleeping Bear Dunes National Lakeshore the "Most Beautiful Place in America." Today the park is probably the most popular camping destination in Michigan. The park also offers more than 100 miles of hiking trails which are also popular for snowshoeing and Nordic skiing in winter.
In 2014 the Sleeping Bear Dunes National Lakeshore Conservation and Recreation Act gave about 32,500 acres of the park full wilderness designation. That part of the park had been managed as wilderness since 1981. The wilderness area includes significant stretches of lake shoreline, dunes and inland wetlands and uplands in the Platte Bay, Sleeping Bear Dunes and Good Harbor Bay areas.
The park is open 24/7/365. The Philip A. Hart Visitor Center in Empire is open every day of the year except closed on Thanksgiving, Christmas and New Year's Days. Hours: Memorial Day Weekend through Labor Day Weekend: 8 am to 6 pm; Labor Day to the Thursday before Memorial Day Weekend: 8:30 am to 4 pm.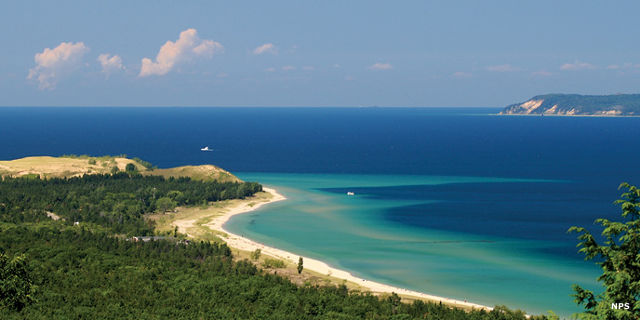 Platte Bay
Sleeping Bear Dunes National Lakeshore
Upper left photo courtesy of Cody Pope,
CCA-by-SA 2.5 License
Other photos and maps courtesy of the National Park Service