Yolla Bolly-Middle Eel Wilderness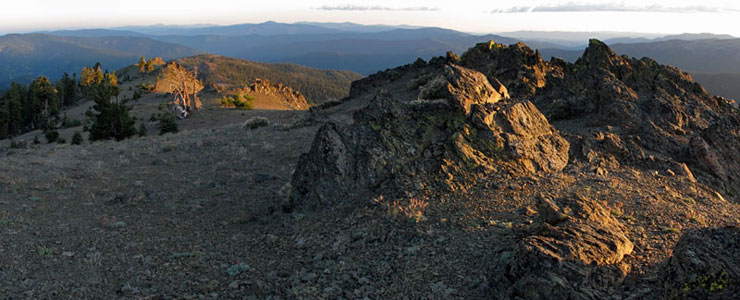 Mt. Linn on Yolla Bolly-Middle Eel Wilderness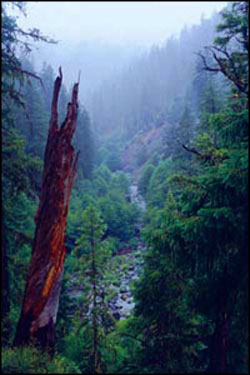 The name "yolla bolly" comes from the Wintun Native American language and means "snow-covered high peak." Yolla Bolly-Middle Eel Wilderness was created by the 1964 Wilderness Act and was enlarged by the California Wilderness Act of 1984 and again by the Northern California Coastal Wild Heritage Wilderness Act of 2006 to the present size of about 180,877 acres. Most of that is spread between Mendocino, Shasta-Trinity and Six Rivers National Forests, but about 7,879 acres is on Bureau of Land Management property. The wilderness is located in the Northern Coast Ranges of California, south of the Trinity Alps in the Yolla Bolly Range of the Klamath Mountains.
Elevations on Yolla Bolly-Middle Eel Wilderness range from a low of about 2,700 feet to 8,092 feet at the summit of Mount Linn. A good part of the wilderness area is high enough to receive fairly heavy snowfall in winter. The topography is very rugged with high hills and deep canyons. The wilderness contains the headwaters of the Middle and North Forks of the Eel River (both of which have Wild and Scenic River designations), the Mad River and the South Fork of the Trinity River (also a designated Wild and Scenic River). Near the highest peaks is evidence of glacial activity with several small lakes in cirque basins. Below the ridgetops you'll find numerous small springs.
The forest is mostly coniferous, a mix of western white pine, sugar pine, foxtail pine, red and white firs, Ponderosa pine, incense cedar and Pacific yew. In wetter areas you'll find oak and cottonwood. Lower elevations offer ceanothus, chamisa and manzanita. Among the mammals on the property are black bear, gray fox, mule deer, bobcat, mountain lion, martin, fisher, northern flying squirrel and coyote. Among the birds you might see eagles, owls, hawks, turkey vultures, grouse, quail and pigeon. Most of the larger streams offer rainbow trout and, while the fishing is restricted, the Middle Fork Eel River has steelhead in summer and winter and a spring-run of chinook salmon.
Except during whitewater rafting season, the rest of the year sees very few people on the property at any one time. And the rafters tend to stick very close to what some folks consider "the finest long whitewater run in California." The largest human impact on the rest of the wilderness comes with deer hunting season in the fall.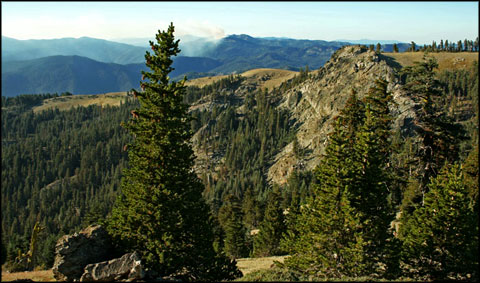 A fire in the distance on Yolla Bolly-Middle Eel Wilderness
Yolla Bolly-Middle Eel Wilderness
Mendocino, Shasta-Trinity & Six Rivers National Forests


US Forest Service & BLM
Upper left photo courtesy of Wade Belew
Other photos courtesy of Michael Kauffmann,
CCA 3.0 License