Shasta-Trinity National Forest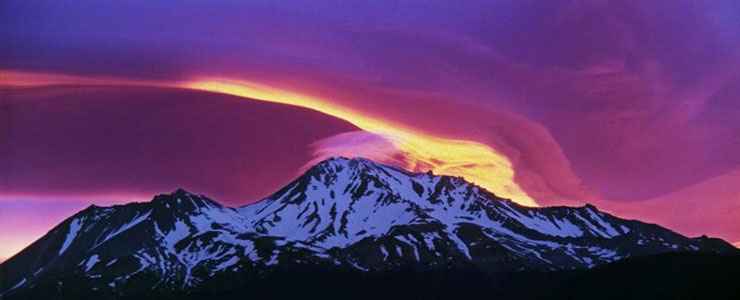 Sunrise over Mount Shasta, Shasta-Trinity National Forest
With 2,210,485 acres, Shasta-Trinity National Forest is the largest national forest in California. On the forest are all (or parts of) five wilderness areas, 6,278 miles of streams and rivers and hundreds of mountain lakes, including Shasta Lake (the largest man-made lake in California) and Mount Shasta (14,179 feet) itself. This iteration of the forest came into being in 1954 when the Shasta and Trinity National Forests were combined administratively. The former Trinity National Forest was primarily located in the eastern portions of the California Coast Ranges in the northern part of the state. The former Shasta National Forest was composed of lands located between California's Central Valley and the Shasta Valley to the north.
Shasta-Trinity National Forest is located at the juncture of the Eastern Klamath Mountains and the Southern Cascades. While the area is mostly forested with large trees, at low elevations there are areas of pinon-juniper woodland, oak chaparral and open grasslands. In higher elevations, the forest gives way to montane chaparral, subalpine woodlands and alpine tundra and krummholtz.
A good section of the forest is contained within the Whiskeytown National Recreation Area and there are major reservoirs scattered throughout the forest. The forest offers more than 460 miles of trails, including about 154 miles of the Pacific Crest Trail. Shasta-Trinity is also crossed by the 500-mile Volcanic Legacy Scenic Byway, an auto tour that begins at Crater Lake National Park in Oregon and travels south past Mount Shasta to end in Lassen Volcanic National Park. The Modoc Volcanic Scenic Byway also begins in the eastern part of the forest and travels to Medicine Lake, Lava Beds National Monument and ends at Tule Lake.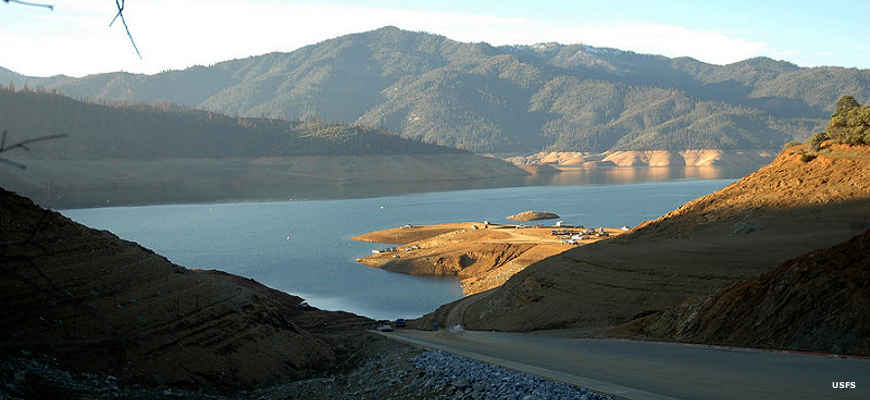 A boat ramp on Lake Shasta
Top photo courtesy of Michael Zanger,
CCA-by-SA 2.0 License
Lower photo courtesy of the US Forest Service