Whiskeytown National Recreation Area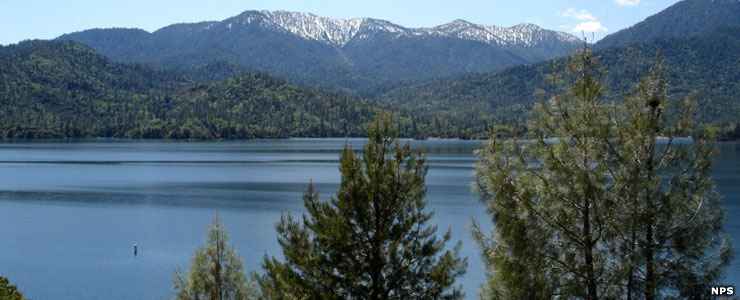 Whiskeytown Reservoir, Whiskeytown National Recreation Area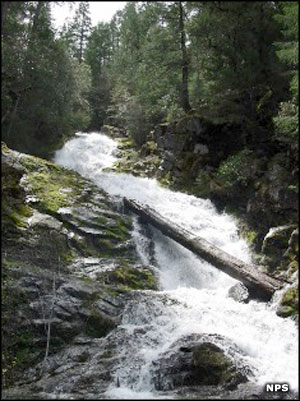 Whiskey Falls
Whiskeytown National Recreation Area is one of 18 National Recreation Areas managed by the National Park Service. It is composed of some 39,000 acres surrounding the Whiskeytown Reservoir in northern California. Nearby are the Trinity and Shasta National Recreation Areas, both also centered around large reservoirs but both surrounded (and administered) by Shasta-Trinity National Forest.
Whiskeytown National Recreation Area offers the usual array of water sports that come with a large lake but also offers four beautiful waterfalls, several pristine mountain creeks, more than 70 miles of developed hiking trails and multiple opportunities to explore the history of the 1849 California Gold Rush (which is how the area got the name).
The Whiskeytown Visitor Center offers exhibits about the history and development of the Whiskeytown area and the rangers there answer questions in regard to gold panning and historic mine tours in the area. The Visitor Center is open daily except Thanksgiving, Christmas and New Year's Days, Memorial Day to Labor Day from 9 am to 5 pm, the rest of the year from 10 am to 4 pm. The park itself is open 24/7/365.
Most folks come for the cool, clear waters. Beaches are at Brandy Creek, Oak Bottom and East Beach. There are lifeguards at the Brandy Creek Beach in the summer months only, no lifeguards at the other beaches ever. Still, there's lots of swimming, wading and scuba diving happening when the water is warm enough.
Oak Bottom Campground has a tent area separate from the RV area.Both areas offer central restrooms and running water but hot showers are only available at the Oak Bottom beach restrooms and cost a bit. Lakeside tent sites are $22 per site per night, other tent sites $20. RV sites are $18 per site per night, no hookups. 6 people maximum per site. Pets are allowed in the campgrounds for $2 per pet per night. Pets are not allowed on any of the beaches. (Fees subject to change)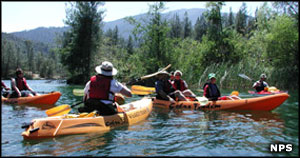 Rangers leading a kayak tour
Brandy Creek offers an RV-only campground: no hookups or restrooms. The sites are essentially paved parking spots along an access road and cost $14 per site per night in the summer, $7 per site per night in winter. (Fees subject to change)
There is a group campground at Dry Creek, just beyond the Brandy Creek Beach day use area. There are two group sites and the camping is tents only. Each site offers two large serving tables, a large charcoal grill, a cleared fire pit area, vault toilets, drinking water, bear-proof food storage lockers and numerous picnic tables. Each site is good for a minimum of 20 people, maximum of 50 people. Rent: $75 per site per night, reservations required when the sites are open, April 1 through October 31. (Fees subjest to change.)
There are several designated primitive campsites located away from the lake on dirt access roads. Each has a fire ring, picnic table, bear-proof food storage locker and vault toilet. First-come, first-served only, $10 per site per night. You'll need a Back Country Use Permit from the Visitor Center. (Fees subject to change)
All campers have to pay the day use pass entry fee, too.
Whiskeytown National Recreation Area
Highway 299 & JF Kennedy Memorial Drive

,

Whiskeytown

,

CA

96095
530-246-1225

Photos courtesy of the National Park Service