Castle Crags Wilderness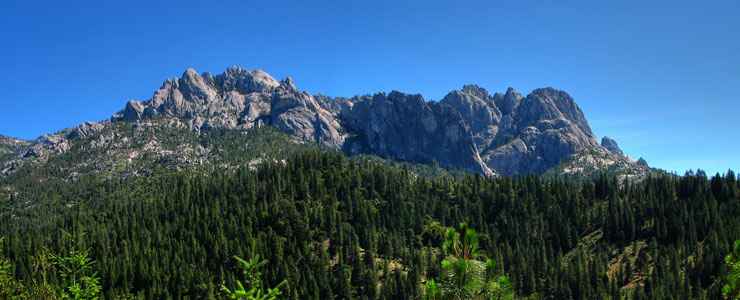 The Castle Crags in Castle Crags Wilderness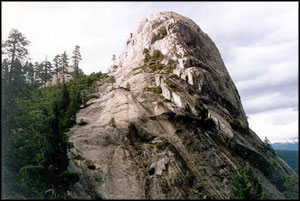 Castle Crags Wilderness is an 8,627-acre property in the Trinity Mountains on Shasta-Trinity National Forest. Elevations on the wilderness area range from about 2,500 feet to around 7,300 feet among the crags themselves. The Castle Crags are prominent granitic spires in the southeast area of the wilderness and are similar to some of the granite landscape found in Yosemite National Park. The northern part of the wilderness shows more evidence of glacial activity with several prominent cirques in the area.
Northwest of the wilderness is a 1,732-acre roadless area where you'll find the site of the Modoc War's 1855 Battle of Castle Crags. California Historic Landmark No. 16 marks the spot on a ridge saddle between Castle Lake (the largest of the glacial cirque lakes in the area) and what is now known as Battle Rock. It was white miners intruding on the sanctity of Castle Crags that initiated the battle and the Modoc War that followed.
At the base of the crags themselves are several mineral springs that were frequented by Native Americans for many years before the Euro-Americans arrived. Early fur traders in the area visited the springs and when the Southern Pacific Railroad came through, the tracks were built close enough that several health resorts sprang up. It was the Southern Pacific that first founded Sunset Magazine as a vehicle to promote areas like this in the western states where the railroad had land to sell...
With the railroad came loggers and miners and some mining in the area continued into the 1950's. It was a push by concerned citizens in the area that made nearby Castle Crags State Park a reality. Then President Ronald Reagan signed the California Wilderness Act in 1984 that created the Castle Crags Wilderness. About 480 acres of Castle Crags State Park is overlain by the wilderness boundaries and five of the nine trailheads giving access to the wilderness are within the state park.
The Pacific Crest National Scenic Trail crosses Castle Crags Wilderness for 19 miles and intersects with several trails leading into the state park area. Of the 27.8 miles of trails available on the property, not a one leads to the crags themselves.
While the granite spires, buttresses, sheer cliffs and crags of Castle Crags are massive and inviting, exfoliation makes most areas of the exposed rock unstable for climbers. That said, there are more than a few opportunities for Class 5 to Class 5.13a climbing in the area.
Most of the landscape below the crags is covered with fields of brush and oak chaparral. The east, west and north slopes of the crags are forested in mixed conifers. The south slopes offer stands of live oak with a thick understory of poison oak. Black bear, rattlesnakes, mule deer and squirrels are plentiful, as are ticks.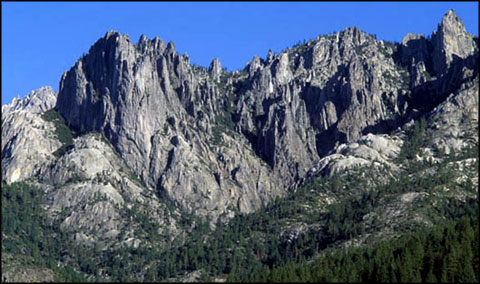 The Castle Crags
Top photo courtesy of Logan Williams,
CCA-by-SA 3.0 License
Upper left photo courtesy of Peter Druschke, via Wilderness.net
Lower photo courtesy of George Wuerthner, via Wilderness.net