The Brothers Wilderness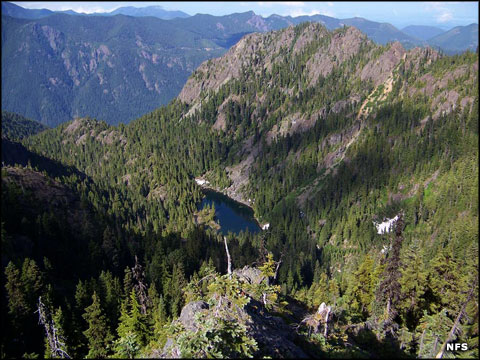 Jupiter Lakes on Jupiter Ridge in The Brothers Wilderness
The Brothers Wilderness is a 16,682-acre property located on the eastern side of Olympic National Forest with Olympic National Park immediately to the west. Across a road corridor to the north is the Buckhorn Wilderness. The majority of The Brothers Wilderness is "precipitous" with the only relatively gentle landscape being in the vicinity of the East Fork of Lena Creek.
Elevations on The Brothers Wilderness vary from a low of 699 feet near the Dosewallips River to the summit of The Brothers at 6,866 feet. The lower slopes of the wilderness area are dominated by a forest of western red cedar, Douglas fir and western hemlock. Upper elevations are covered with mountain hemlock and Pacific silver fir until the vegetation changes to subalpine fir among wildflower-strewn meadows and rock outcroppings in the alpine zone.
Most trailheads require that users have a Northwest Forests Recreation Pass in their possession before heading into the woods. Open fires are prohibited above 3,500 feet and in the vicinity of the lakes and ponds on Jupiter Ridge but camp stoves are allowed. The only major stream flowing through The Brothers Wilderness is the Duckabush River.
Most trails on The Brothers Wilderness are rated as moderate to strenuous and give access to multiple rock climbing routes along the way. A popular destination on the wilderness is the Jupiter Lakes area on Jupiter Ridge, reached via the Mt. Jupiter Trail #809. The Mt. Jupiter Trail is a strenuous 7.9-mile slog up the hill and along the crest of Jupiter Ridge to the summit of Mount Jupiter at 5,701 feet. As The Brothers Wilderness is in the rain-shadow of the Olympic Range, this trail can be very hot and dry in summer. Most parts of the wilderness never see temperatures above 80°F. Along the rivers it hardly ever gets below freezing but the high elevations do collect some deep snow in the winter.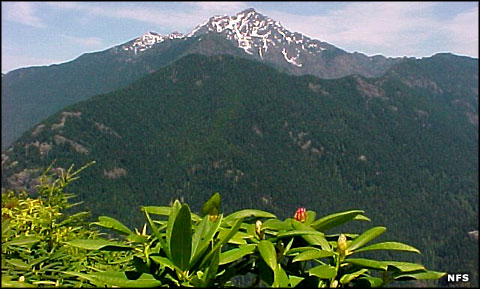 The Brothers, of The Brothers Wilderness fame
Photos courtesy of the US Forest Service