Olympic National Forest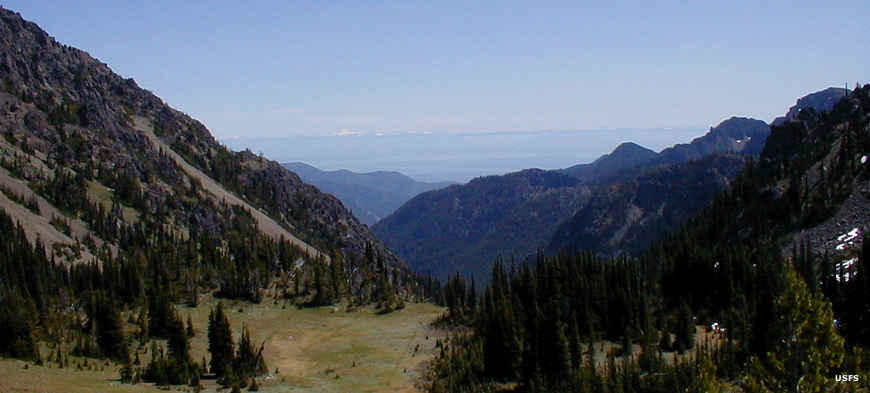 Olympic National Forest: Looking east from the top of Marmot Pass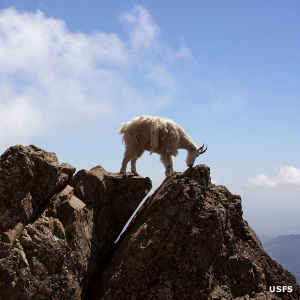 Olympic National Forest is a 628,115-acre property on the Olympic Peninsula in northwestern Washington. This is an area that sees an average of 220 inches of precipitation every year, an area where the forest is classed as a temperate rainforest, an area where the landscape changes from temperate rain forest to rain shadow, from snow-capped mountains to saltwater beaches to mountain tarns and large lowland lakes. Olympic National Forest nearly encircles both Olympic National Park and the Olympic Range.
1897 saw the creation of the Olympic Forest Reserve. That became Olympic National Forest in 1907. The 1984 Washington Wilderness Act set aside some 88,265 acres (about 14% of Olympic National Forest) as five separate wilderness areas. These five wilderness areas were all natural extensions of conditions inside the boundaries of Olympic National Park (which every one of the wilderness areas abut). In 1993 a Forest Service survey estimated that 266,800 acres of Olympic National Forest might consist of old growth trees, probably because the topography was simply too rugged for the loggers to deal with...
Wilderness Areas on
Olympic National Forest
Olympic National Forest offers 16 developed campgrounds with overnight prices ranging from $5 to $20. Most sites have cooking grills and picnic tables with drinking water and toilets nearby. Each campground also offers activities like boating, swimming, hiking or fishing. Not all campgrounds have garbage pickup... but all campgrounds/campsites are available strictly first-come, first served.
The Forest offers more than 250 miles of hiking trails, maybe half of which are at low elevation and can be enjoyed year round. There are also eight developed/interpretive Nature Trails, each addressing unique features or stories of the Olympic. The Nature Trails are generally located near other developed recreation areas like picnic areas or campgrounds.
Virtually all areas of the Forest can be reached via Highway 101. Highway 101 is a loop road that encircles the Forest, the National Park and the Peninsula, giving access to mountains, temperate rain forest, saltwater beaches, rocky bluffs, large lowland lakes and cascading rivers.
The Pacific Northwest National Scenic Trail crosses Olympic National Forest east/west through Buckhorn Wilderness to Olympic National Park.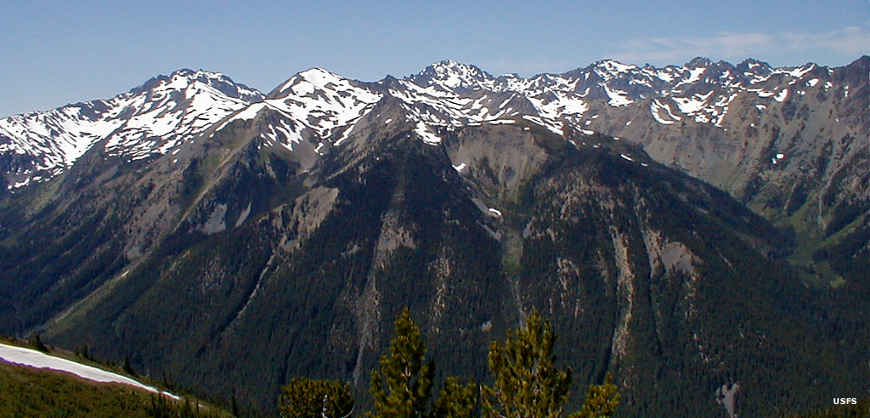 Olympic National Park from the top of Marmot Pass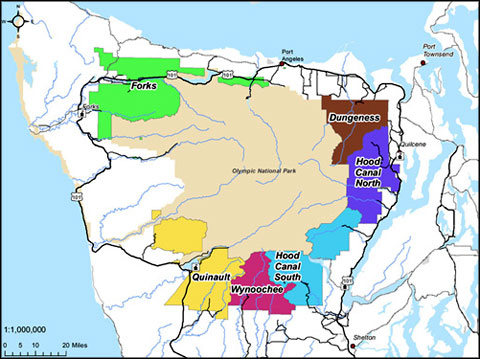 Olympic National Forest
US Forest Service
1835 Black Lake Boulevard SW

,

Olympia

,

WA

98512
360-956-2402
Photos and map courtesy of the US Forest Service