Buckhorn Wilderness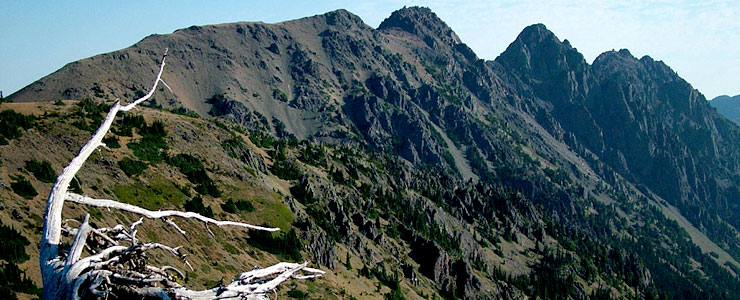 Buckhorn Mountain
Buckhorn Wilderness is a 44,258-acre property in the northeast corner of Olympic National Forest against the border of Olympic National Park and Olympic Wilderness. Buckhorn Wilderness was established in 1984 to protect virgin forest on the northeastern Olympic Peninsula. Olympic Wilderness is to the west, The Brothers Wilderness to the south.
This is a heavily forested and very rugged mountainous area in the rain shadow, for the most park, of the Olympic Range. That means the climate is a bit drier than the Olympic rainforest but below 4,000 feet, the forests are still filled with old growth stands of western hemlock, western red cedar and Douglas fir with an understory of ferns, fungi, mosses, salal, devil's club and thimbleberry. In wetter areas above 6,000 feet, alpine vegetation takes over. Some slopes above treeline are arid and relatively barren because of sunny exposure, fast-draining soils and low summer precipitation.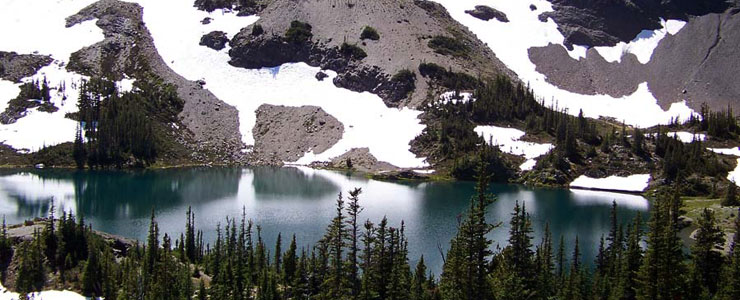 Goat Lake
Elevations range from a low around 1,000 feet at the Gray Wolf River to 7,139 feet at the summit of Mount Fricaba on the boundary of Olympic National Park. Buckhorn Mountain (6,988 feet) is the highest point wholly within the wilderness area. It's in the Dungeness River drainage near the base of Buckhorn Mountain that you'll find the remains of the Tubal-Cain Mine, a copper dig begun in 1902 and abandoned about 20 years later after producing no discernible profit. Camps were built nearby at Copper City and Tull City but all that remains now are some nails, wire, metal boilers and old cabin foundations.
Buckhorn Wilderness offers some 58 miles of trail, most of them open to pack and saddle stock. Most trails are rated as moderate but some are downright strenuous. Some trailheads require you to have a valid Northwest Forest Recreation Pass before heading into the woods.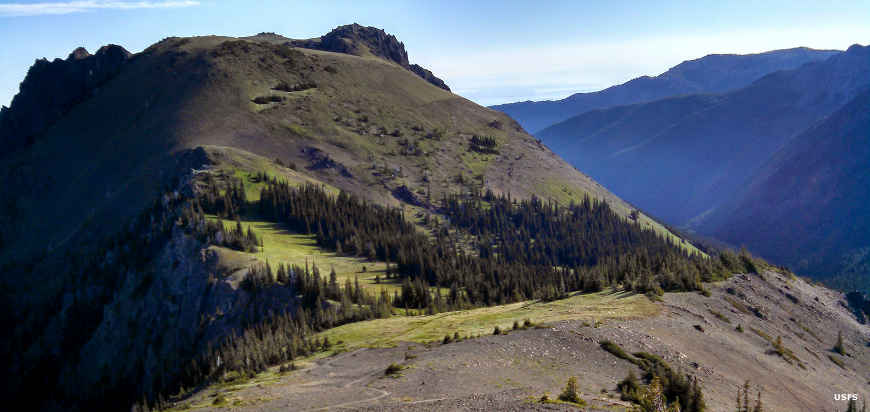 In Buckhorn Pass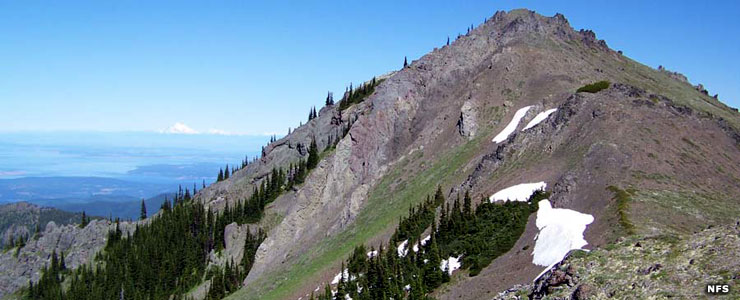 Mount Tyler
Photos courtesy of the US Forest Service