Sanhedrin Wilderness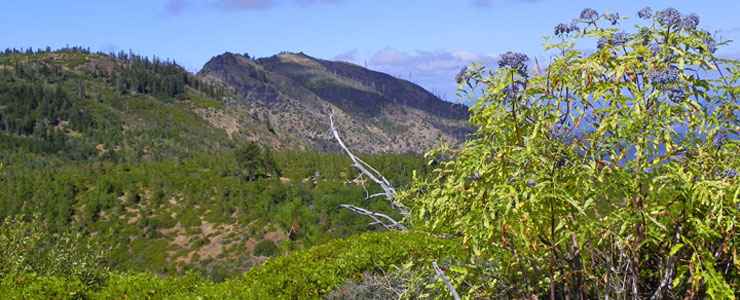 Sanhedrin Wilderness
Sanhedrin Wilderness is a 10,571-acre property wholly contained within the boundaries of Mendocino National Forest. The wilderness came into existence when the Northern California Coastal Wild Heritage Wilderness Act was signed into law by President George W. Bush on October 17, 2006.
Sanhedrin Wilderness is centered around the Sanhedrin Mountains, which are basically a long high ridge. The wilderness area extends down the western side of the main Sanhedrin ridge, in many areas to the edge of the National Forest. The name comes from the "Great Sanhedrin," the supreme council of the ancient Hebrews. The terrain is steep and rugged and nearly all covered with vegetation. The tree cover is mostly pristine old growth and provides critical habitat for the northern spotted owl. There are areas of oak woodlands and extensive meadows and barrens where the blue-green (highly mineralized) soil is so poor in nutrients that only specially adapted species can survive. In that respect, Sanhedrin Wilderness provides pristine habitat necessary for the survival of at least five unique and rare plant species.
Elevations vary from about 1,600 feet along Thomas Creek to 6,175 feet on the summit of Big Signal Peak. The wilderness is managed by the US Forest Service but encloses some areas of private land which are accessed via roads cherry-stemmed into the wilderness. On the north side of the wilderness is an impressive geologic formation named "Impassable Rock." In the southern portion is an active fault line that has created an obvious gash in the Earth. From the top of Big Signal Peak, you can see the Pacific Ocean, the San Francisco Bay area and Mount Shasta on a clear day.
There are no developed trails in Sanhedrin Wilderness. Most folks access the property by driving up to the end of the road at the foot of the lookout tower on Big Signal Peak at the end of FR 20N04. There are a few other old roads and cattle trails in the area but nothing is managed or maintained.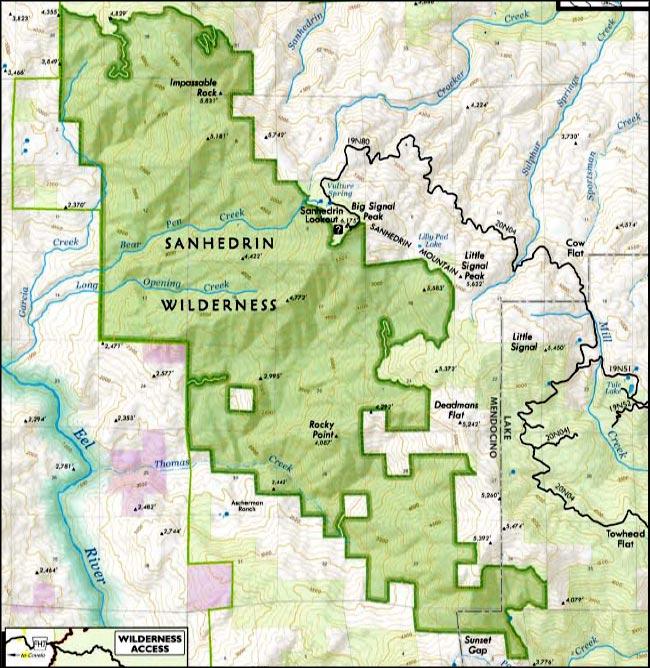 Sanhedrin Wilderness
Mendocino National Forest -

US Forest Service
Top photo courtesy of Sarah Wilson via Wilderness.net
Map courtesy of the US Forest Service