Wild River Wilderness
An aerial view of Wild River Wilderness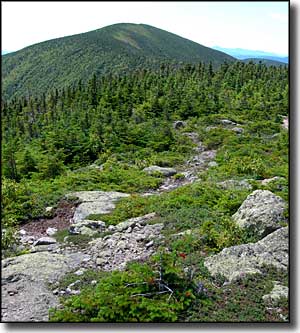 The Wild River Wilderness in New Hampshire is relatively new (as a designated wilderness, that is). Congress signed off on the paperwork for this 23,700-acre property in 2006. The property was bought and added to the White Mountain National Forest back around 1914. Up to that point, big timber companies were busy clear-cutting all the forests in the area. A rail line had been built almost the whole length of Wild River and there were logging camps strung out through the valley along its route. It wasn't an easy job for the loggers or the logging company: Wild River earned its name the hard way and the rail line and logging camps were getting washed away every few years in the spring and summer snowmelt floods.
In 1903, some careless campers went fishing at No Ketchum Pond and left their fire unattended. With a severe drought going on and the countryside littered with huge piles of logging slash, the resulting fire wiped out nearly everything in the upper reaches of Wild River. It was in March of 1914 when the US Forest Service bought 41,000 acres in the area from the Hastings Lumber Company.
Today, all evidence of that earlier human occupation is disappearing and the forest has almost completely reclaimed its territory. The trackbed of the old rail line now serves as the route of the Wild River Trail, with many spurs and branch trails heading into the woods and up the hillsides along former rail spurs. The Appalachian National Scenic Trail skirts the western edge of Wild River Wilderness as it travels along the upper ridges of the Carter-Moriah Range.
Primary access is via the Wild River Campground, at the end of a 5.5 mile dirt road coming in from Maine State Road 113. As there's nothing but wilderness out there don't expect much in the way of road maintenance, and forget snow plowing.
Vegetation at the lower elevations is a mix of conifer, white birch and hardwood forest. As you go up the hill that changes over to a spruce-fir mix. At the tops of the highest ridges and peaks you might find a bit of sub-alpine tundra. Anywhere in this area you might come across moose, whitetail deer and black bear. Word is the trout fishing is pretty good, too.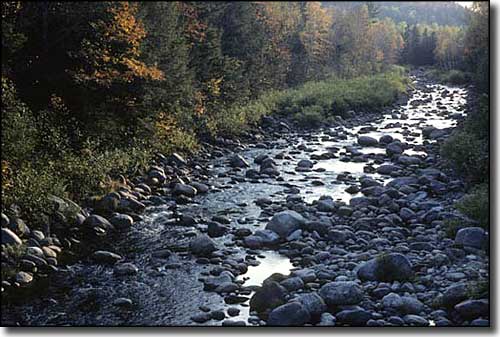 Wild River in the early fall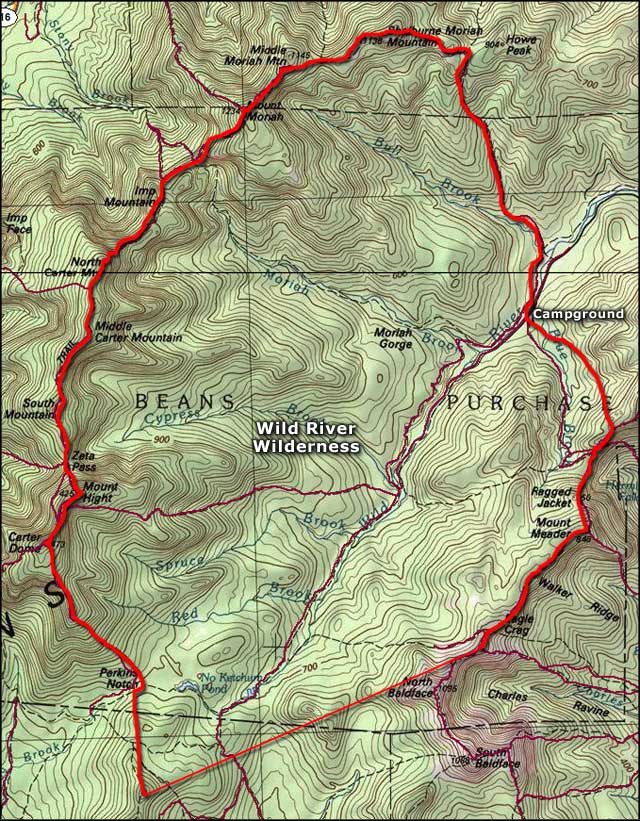 Wild River Wilderness
US Forest Service
Photos of Wild River Wilderness courtesy of George Wuerthner, via Wilderness.net
Photo of Carter Dome courtesy of Wikipedia userid Petersent
Maps courtesy of the US Forest Service