Trigo Mountains Wilderness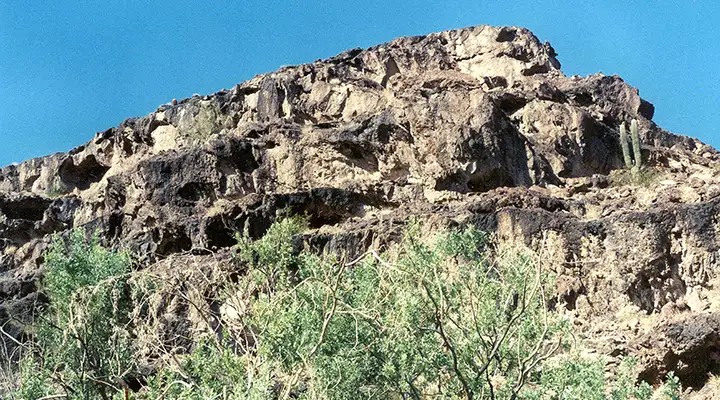 In the Trigo Mountains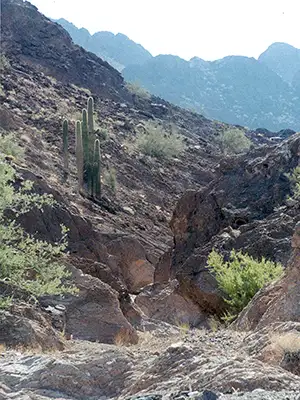 The 30,300-acre Trigo Mountains Wilderness is in southwestern Arizona, north of the Imperial National Wildlife Refuge, east of the Cibola National Wildlife Refuge and west of the Kofa National Wildlife Refuge, separated from Kofa by a wide desert bajada.
This property used to be part of the old Yuma Proving Grounds. Before it became part of the Yuma Proving Grounds, these mountains were riddled with small mining operations, which means there are quite a few old road beds through the countryside. However, these mountains in the Lower Colorado River Valley are very rugged and it's a long time since any kind of maintenance has happened here. The Trigo Mountains Wilderness got that wilderness designation in 1990 and everything "modified" by man on this property is slowly fading away.
The Trigo Mountains Wilderness is stretched out along 14 miles of the sawtoothed ridgeline of the Trigo Mountains. The mountain ridge is cut across by Hart Mine Wash in the north, Clip Wash in the center and Red Cloud Wash in the south. There are several seeps and small springs scattered through the area, supporting mule deer, desert bighorn sheep, ring-tailed cats, coyotes, and gray foxes. There are also mountain lions, bobcats, snakes, lizards and poisonous bugs.
You'll find saguaros, ocotillos, yuccas, chollas, prickly pears, mesquite and creosotebush scattered sparsely across the landscape. The wetter washes may support some ironwood and paloverde. There is enough water around that small herds of mustangs and wild burros are relatively common.
Most visitors to Trigo Mountain Wilderness come for the hiking, camping and rock climbing: this is another area of high, steep rock faces that act as a magnet for rock climbers. Some come for the solitude because there's virtually no one on the property most days. You might also come across folks out here engaged in extended horseback riding and/or backpacking trips.
Easiest way to get there: go north from Yuma on US Highway 95 to Martinez Lake Road. Turn on that and go west to the Imperial National Wildlife Refuge. There you'll find the Red Cloud Mine Road which will take you northwest to Red Cloud Wash. The closer you get to the wilderness boundary, the more you'll wish you had 4WD and high clearance. Just outside the wilderness boundary is a road junction where you have the option of taking other 4WD trails further north, skirting the edge of the wilderness itself. Other roads off US Highways 60 and 95 give some amount of access to the northern parts of Trigo Mountains Wilderness.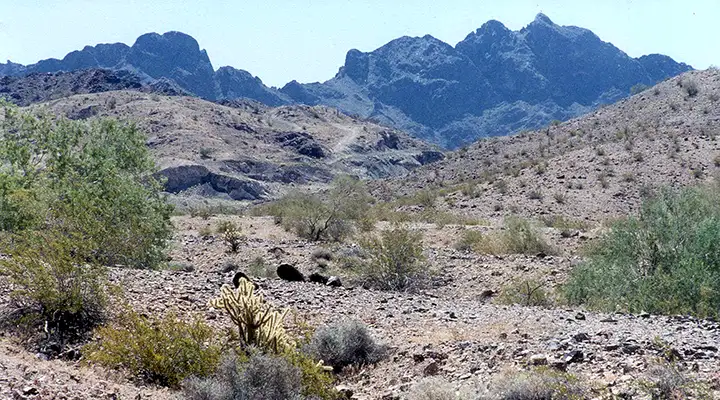 The Trigo Mountains are surrounded by bajadas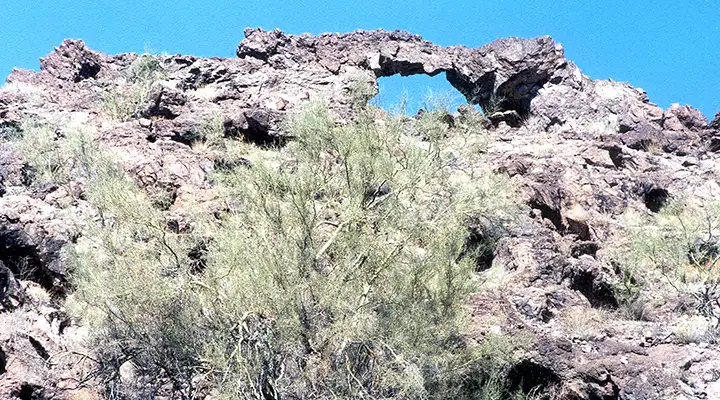 A natural stone arch in the Trigo Mountains
Trigo Mountains Wilderness
Bureau of Land Management

- Yuma Field Office

Photos courtesy of the Bureau of Land Management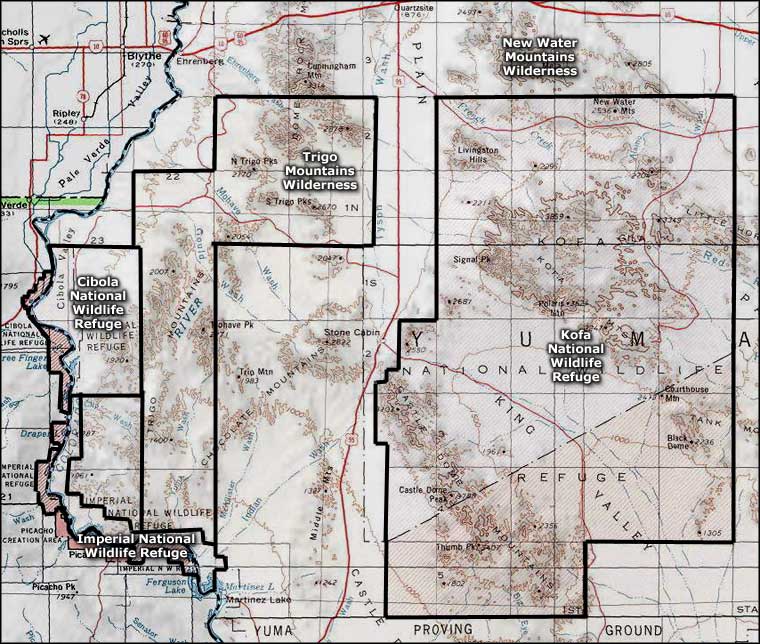 Related Pages
Map courtesy of National Geographic Topo!