Kofa National Wildlife Refuge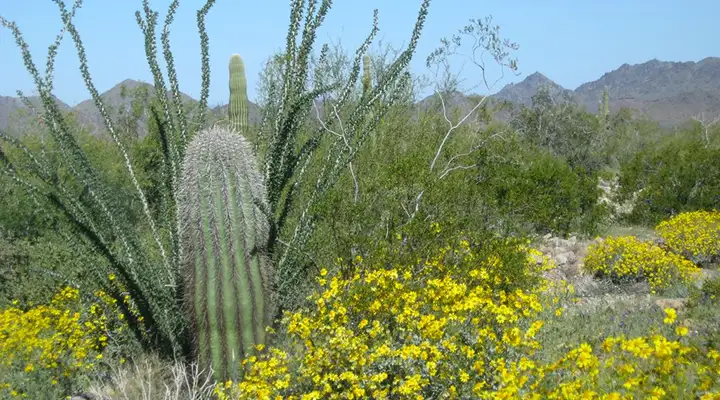 The Sonoran Desert in bloom at Kofa National Wildlife Refuge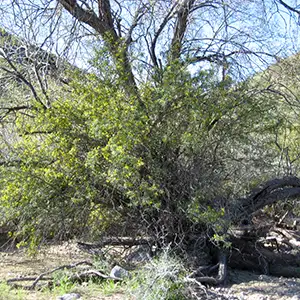 Kofa Mountain barberry
Kofa National Wildlife Refuge is a 665,400-acre property northeast of Yuma in the Arizona desert. The refuge was established in 1939, primarily to preserve and protect desert bighorn sheep habitat.
Kofa National Wildlife Refuge is mostly composed of two huge valleys separating three mountain ranges. The highest peak in the area is Signal Peak (4,877') in the Kofa Mountains. The southern edge of the refuge is in the Castle Dome Mountains, the northern edge in the New Water Mountains. This is an ancient desert: the mountains are the rugged remnants of volcanoes that erupted millions of years ago.
About 82% of Kofa National Wildlife Refuge is now designated wilderness area (some 516,200 acres). The only parts of the refuge that are not wilderness are the corridors along which the roads run. There are also some private residences in King Valley and the privately-owned area around the old King of Arizona mine.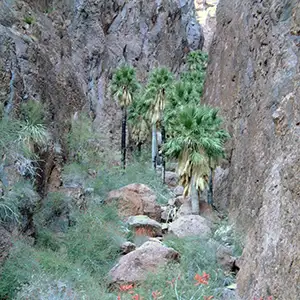 California fan palms
Once upon a time there were gold prospectors all over this property, that's why the name: King of Arizona Mine (they stamped all their property with "K of A"). It was a rich gold mine but was mostly played out by 1910. The old mine and close surroundings are still private property but there are no on-going operations. There is still a significant number of old mining roads on the property making it relatively easy for hikers and horseback riders to get around.
The effort put in by US Fish & Wildlife Service personnel to increase water availability and forage for desert bighorn sheep paid off over the long term. The Castle Dome and Kofa Mountains now support a herd of around 1,000 animals, enough so that other herds of desert bighorns can be established in other areas using transplants from Kofa.
Kofa is also home to the almost extinct California fan palm, a leftover from truly ancient times when this area was more of a tropical paradise. If you turn off Highway 95 near mile marker 85 at the sign for Palm Canyon and then go east for about 8 miles, you'll come to the parking area and trail head for the Palm Canyon Trail. About a half mile up that trail you'll come to a wooden sign pointing out the California fan palms.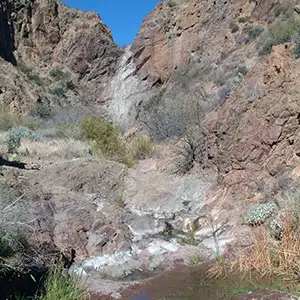 In the Kofa Mountains you might find specimens of the rare Kofa Mountain barberry, a bush that only grows in southwestern Arizona.
Camping is allowed anywhere on the refuge and wilderness area that is not private property, as long as you stay at least one-quarter mile from any water holes. The stay limit is 14 days in any 12-month period. Campfires are allowed but you might want to bring your own wood: there's not a lot of wood out in this sparsely treed Sonoran Desert.
Back in World War II, General George Patton was using this property for military training exercises. Every now and then someone will still find some kind of unexploded ordnance laying around, so you want to be careful around anything that remotely resembles a bomb or an artillery shell...
To get there: Go north from Yuma on Arizona Highway 95 until you start seeing signs for the refuge. Don't be expecting a visitor center out there... or restrooms or drinking water or trash receptacles: out there it's a true, full-blown desert wilderness and you're on your own.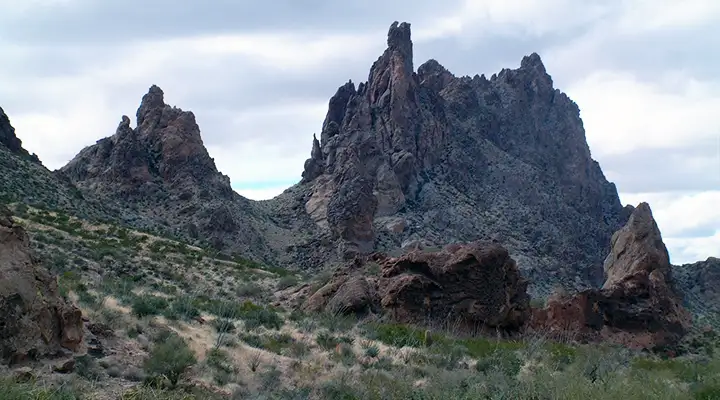 The Kofa Mountains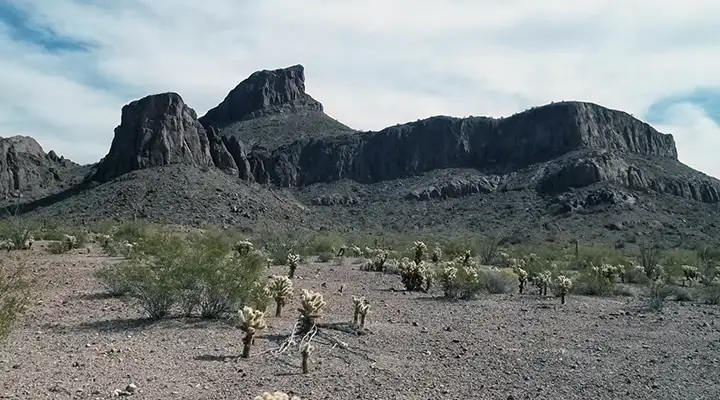 Sharks Tooth on Kofa NWR
Kofa National Wildlife Refuge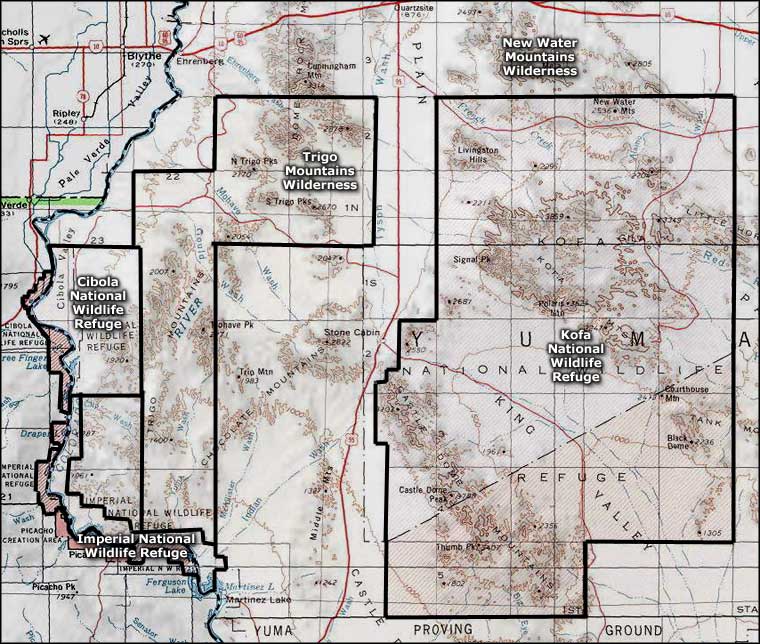 Related Pages
Map courtesy of National Geographic Topo!