Three Sisters Wilderness

Mount Bachelor, Three Sisters and Broken Top (left to right)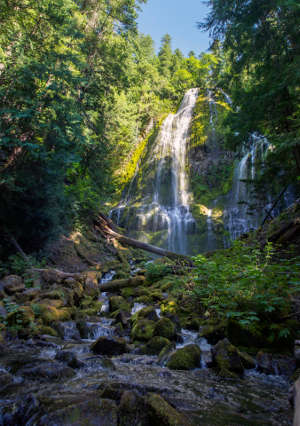 Proxy Falls
The second largest wilderness in Oregon, Three Sisters Wilderness is comprised of some 286,708 acres split between Willamette and Deschutes National Forests.
Three Sisters is probably the most visited wilderness in the state. Among the big attractions are North Sister (10, 085'), Middle Sister (10,047'), South Sister (10,358') and Broken Top (9,175'), all ancient volcanoes that show extensive signs of glaciation from the last ice age. Three Sisters Wilderness shares a southwestern boundary with the Waldo Lake Wilderness and is to the aouth across State Road 242 from Mount Washington Wilderness.

Elevations in the wilderness area vary from 2,000' to 10,358'. Tree line is right around 7,200 feet with alpine meadows and tundra above, firs, mountain hemlock, Ponderosa and lodgepole pines below. The high points in the wilderness are all former stratovolcanoes that went silent between 250,000 and 100,000 years ago. Since then they have all been carved by glaciers, Broken Top especially. There are still 14 glaciers on the four peaks with the Collier Glacier between Middle and North Sisters being the largest glacier in Oregon.
There are more than 260 miles of trails in the wilderness, including about 40 miles of the Pacific Crest National Scenic Trail. Climbing either Middle or South Sister is not technically difficult but climbing North Sister is: North Sister demands expertise and equipment.
Self-issuing trail permits (found in the registers at the trailheads) are required from Memorial Day Weekend to Halloween. Some trailheads also require a valid recreation pass. The trails to Sunshine, Obsidian, Green Lakes, Erma Bell Lakes and the trail that climbs South Sister see heavy human traffic in the warmer months.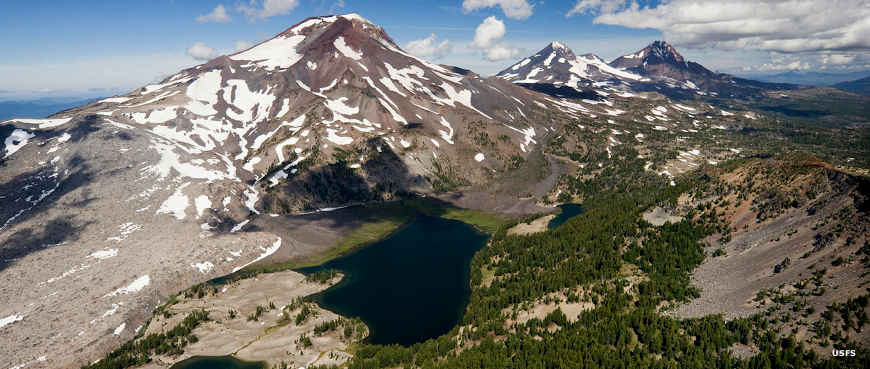 An aerial view in Three Sisters Wilderness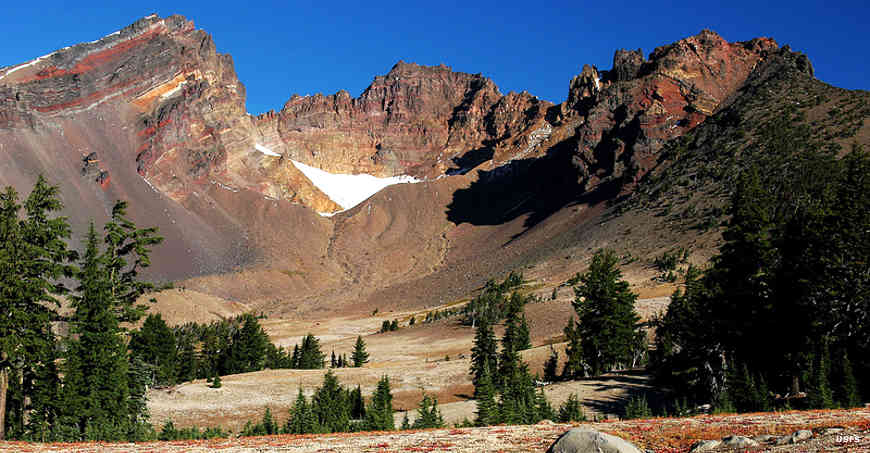 Broken Top
Three Sisters Wilderness
Willamette and Deschutes National Forests -

US Forest Service
Upper left photo is courtesy of Thomas Shahan,
CCA 2.0 License
Other photos are courtesy of the US Forest Service
Topo map is courtesy of Wikipedia userid Bourrichon,
CCA 3.0 License