Waldo Lake Wilderness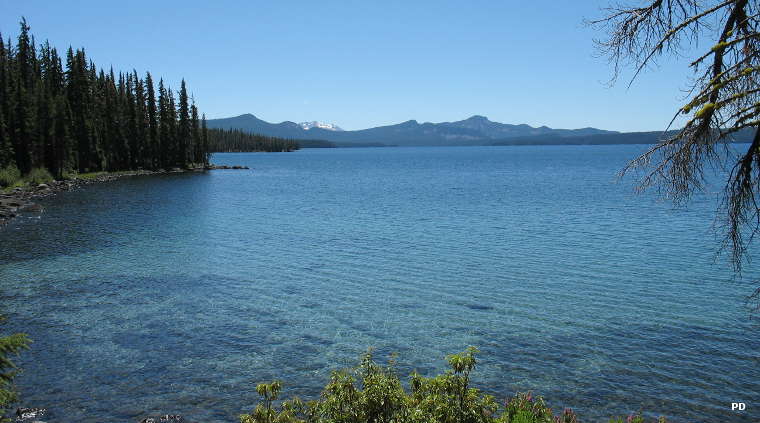 Waldo Lake itself
Waldo Lake Wilderness is a 36,572-acre property straddling the Cascade Range crest. The western portions of the wilderness area are characterized by deeply eroded steep slopes. The High Cascades portion of the wilderness has obviously been carved by the glaciers: lots of pothole lakes, rocks and open meadows among moderate-to-steep slopes. The northeastern boundary of Waldo Lake Wilderness abuts Three Sisters Wilderness.
Waldo Lake itself was scooped out by glacial activity in the last ice age. Waldo Lake Wilderness wraps around the northern, western and southern sides of the lake but does not include the lake. The lake does offer a 22-mile loop trail that connects with trails leading into the wilderness itself. Waldo Lake is about 420 feet deep and covers about 100 square miles, making it the second largest and second deepest lake in Oregon. The water is among the purest surface water on Earth: gasoline motors have been banned on the lake for years.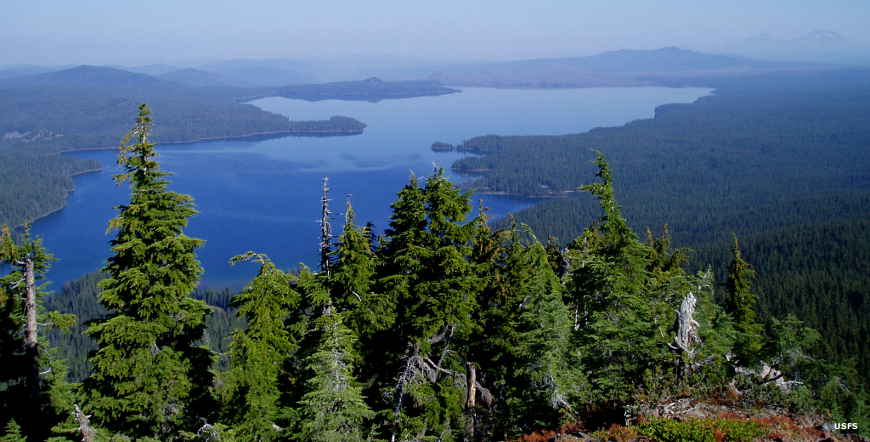 The view north over Waldo Lake
About 98% of the wilderness area is heavily forested with western red cedar, western hemlock, Douglas fir, silver fir, and lodgepole and Ponderosa pine. There are about 84 miles of trails in the wilderness, not counting the Waldo Lake Loop. Most trails are single-destination routes leading to viewpoints and small fishing lakes like the Wahanna Lakes, Quinn Lakes, Eddeeleo Lakes and the Six Lakes Basin. About 2.7 miles of the Pacific Crest National Scenic Trail cross the wilderness in the northeastern corner. The busiest trails lead to Wahanna Lakes and Six Lakes Basin.
Self-issue permits (available at the trailhead registers) are required in the wilderness from Memorial Day Weekend to Halloween. Some trailheads require a recreation pass. To get there: take State Highway 58 to Oakridge. From Oakridge take FSR 24 (the Salmon Creek Road) to trailheads for Trails #17 and #5897.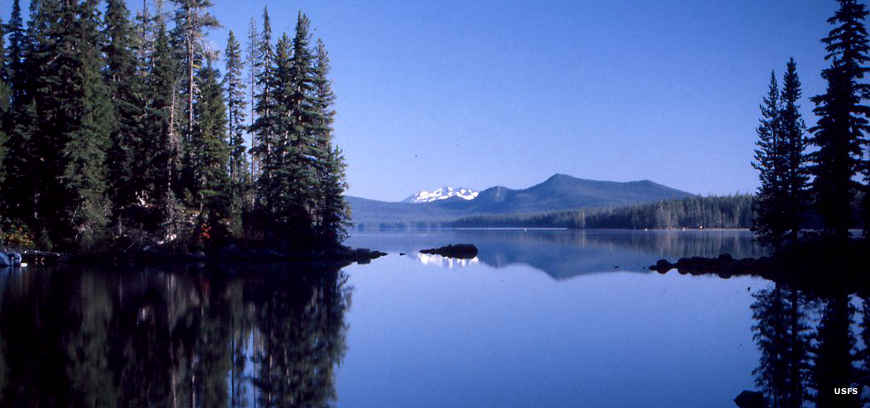 A lake other than Waldo Lake in the wilderness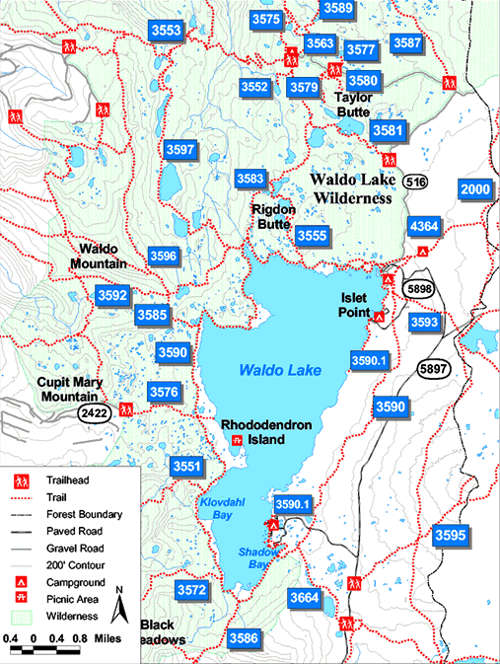 Waldo Lake Wilderness trail map
Waldo Lake Wilderness
Willamette National Forest -

US Forest Service

Upper photo is in the public domain
Other photos and map courtesy of the US Forest Service