Leatherwood Wilderness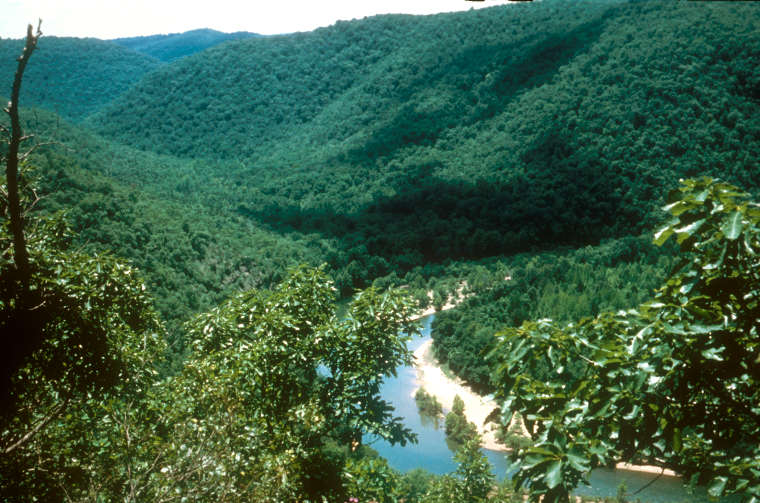 Leatherwood Creek in Leatherwood Wilderness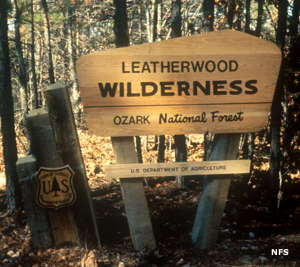 At 16,838 acres, the Leatherwood Wilderness is the largest wilderness area in the Ozark-St. Francis National Forest. The wilderness area sits against the boundary of the National Forest and the Lower Buffalo Wilderness, about 20 miles northwest of Mountain View and 15 miles south of Mountain Home, AR. Except for that strip of boundary shared with Buffalo National River, Leatherwood Wilderness is outlined by four ridgetop roads.
Topography in the area is rugged. Elevations range from a low of about 420 feet where Leatherwood Creek exits the wilderness to a high around 1,300 feet on several different ridgetops. Of the six streams in the wilderness area, Leatherwood Creek is the largest. Each stream is separated from the others by high granite ridges in between. The valleys are V-shaped, often with sheer rock walls rising in discrete steps from the streambed to the ridgetop.
The forest is mostly oak, gum and hickory with stands of cedar and short-leaf pine scattered throughout. Among the wildlife are black bear, wild turkey, white-tailed deer, bobcat and coyote. At one time most of the area was homesteaded and those hardy pioneers left cabins, barns, corrals and roads behind. While all of the human stuff is slowly fading back into the undergrowth, the old roads are today's trails as no other developed pathways exist. Camping and hiking are allowed virtually everywhere. I'm told the fishing is very good, especially in the White River area.
Most folks access Leatherwood Wilderness via FSR 1100 (Push Mountain Road). The wilderness abuts the road between FSR 1118 (Rand Road) and FSR 1116 (Brush Creek Road). There are several trailheads and a parking area along Push Mountain road and those two Forest Service gravel roads give access to the north and south sides of the wilderness area.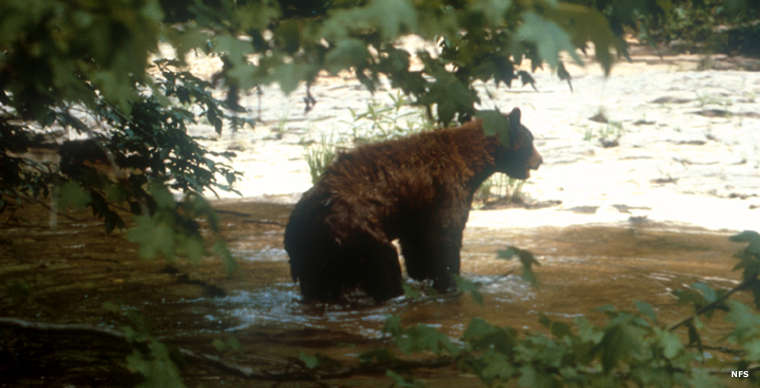 A black bear in the wilderness
Leatherwood Wilderness
Ozark-St. Francis National Forest -

US Forest Service

Photos courtesy of Robert and Pat Momich, US Forest Service