Ozark-St. Francis National Forest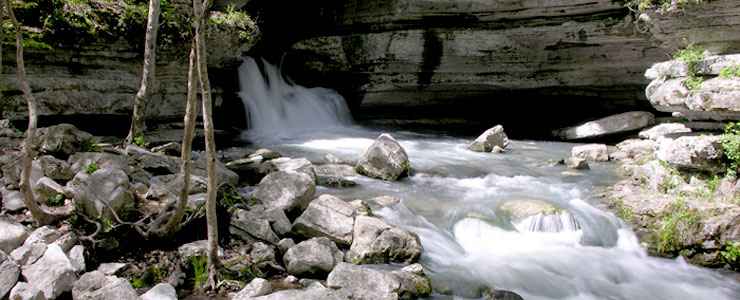 Blanchard Springs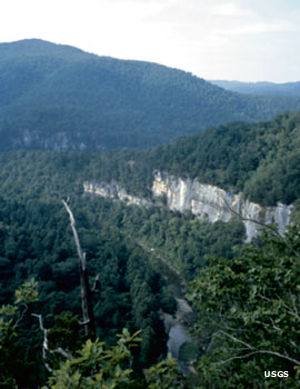 The Ozark and St. Francis National Forests have been combined administratively but the two forests are quite different from each other. Between the two forests there are six National Scenic Byways, 9 swimming beaches, more than 200 camping and picnic sites, 5 wilderness areas, 11 special interest areas, more than 400 miles of hiking, biking and horseback riding trails plus thousands of acres of lakes and streams.
Ozark-St. Francis National Forest is not nearly a contiguous property with parcels stretching from the Mississippi River on the east across central and northwest Arkansas into the Ozark Mountains on the west. In addition to all the beautiful countryside above ground, Ozark-St. Francis National Forest is also home to the spectacular cave formations of Blanchard Springs Caverns.
St. Francis National Forest is a 20,946-acre property in eastern Arkansas. Most of St. Francis National Forest lies along the high country of Crowley's Ridge but there is a section in the low, flat lands between the St. Francis and Mississippi Rivers. This is one of the only areas where public land touches the Mississippi River bank. It also contains the only segment of the Great River Road that isn't paved.
Ozark National Forest covers some 1.2 million acres, mostly in the Ozark Mountains of northwestern Arkansas. Mount Magazine, highest point in Arkansas, is on Ozark National Forest.
Scenic Byways
Ozark Highlands Byway
Sylamore Scenic Byway

In St. Francis National Forest
Recreation Areas with Campgrounds
Bear Creek Lake Recreation Area
Blanchard Springs Caverns Recreation Area
Brock Creek Lake Recreation Area
Cove Lake Recreation Area
Fairview Recreation Area
Gunner Pool Recreation Area
Haw Creek Falls Recreation Area

Horsehead Lake Recreation Area
Huckleberry Mountain Horse Trail
Lake Wedington Recreation Area
Long Pool Recreation Area
Moccasin Gap Horse Trail
Ozark Highlands Trail
Ozone Recreation Area

Redding Recreation Area
Richland Creek Recreation Area
Shores Lake Recreation Area
Spring Lake Recreation Area
Syllamo Mountain Bike Trail
White Rock Mountain Recreation Area
Wolf Pen Recreation Area
Recreation Areas with Hiking Trails
Alum Cove Natural Bridge Geological Area
Barkshed Recreation Area
Bayou Bluff Recreation Area
Bear Creek Lake Recreation Area
Blanchard Springs Caverns Recreation Area
Brock Creek Multi-Use Trail System
Cove Lake Recreation Area
Fairview Recreation Area
Gunner Pool Recreation Area
Haw Creek Falls Recreation Area
Huckleberry Mountain Horse Trail
Lake Wedington Recreation Area
Long Pool Recreation Area
Mill Creek Recreation Area
Mocassin Gap Horse Trail
North Sylamore Creek Trail
Ozark Highlands Trail
Ozone Recreation Area
Pedestal Rock Scenic Area
Redding Recreation Area
Richland Creek Recreation Area
Salt Fork Walk-In Turkey Hunting Area
Shores Lake Recreation Area
Syllamo Mountain Bike Trail
Whitaker Point
White Rock Mountain Recreation Area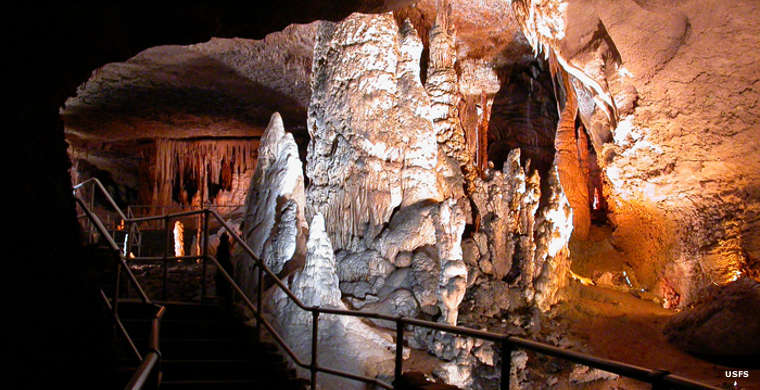 The Ghost Room in Blanchard Springs Cavern
Ozark-St. Francis National Forest
US Forest Service

Upper left photo courtesy of the US Geological Survey
Other photos courtesy of the US Forest Service