Hurricane Creek Wilderness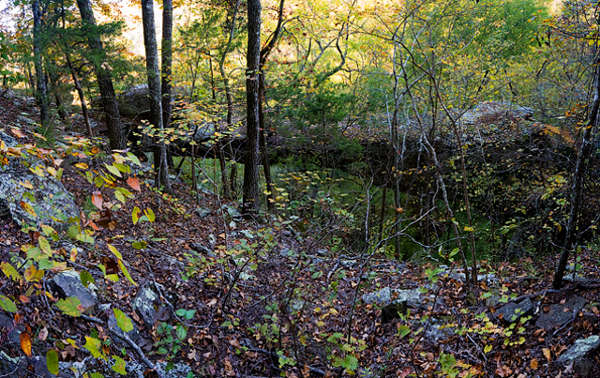 A view in the Hurricane Creek Wild and Scenic River area
The centerpiece of the 15,307-acre Hurricane Creek Wilderness is the Hurricane Creek Wild and Scenic River. The wilderness area was designated by Congress in 1984 in order to provide a higher level of protection for the river. The wilderness area is crossed northeast-southwest by the Ozark Highlands Trail, a 19.5-mile trail created partly of old roads in the area. At one time the Hurricane Creek Valley was homesteaded and those pioneers left long ago, leaving behind old cabins, barns, corrals and roads. The only maintained trail in the area is the Ozark Highlands Trail but there are old traces leading off of it into other sections of the wilderness. At one point the OHT crosses Hurricane Creek on a natural rock bridge but most crossings of the creek require getting wet.
The canyons and valleys are maybe 100' deep at most but the higher elevations are above 2,300 feet, which means snow sometimes. The forest is mostly oak and hickory with an understory of redbud, dogwood, witch hazel and serviceberry. Among the wildlife are black bear, white-tailed deer, wild turkey and coyote.
To get there: go west from Pelsor on Arkansas Highway 123 for about 14 miles. Near the Piney Creek Bridge is the Fort Douglas Trailhead for the Ozark Highlands Trail.
Hurricane Creek Wilderness
Ozark-St. Francis National Forest -

US Forest Service