Middle Santiam Wilderness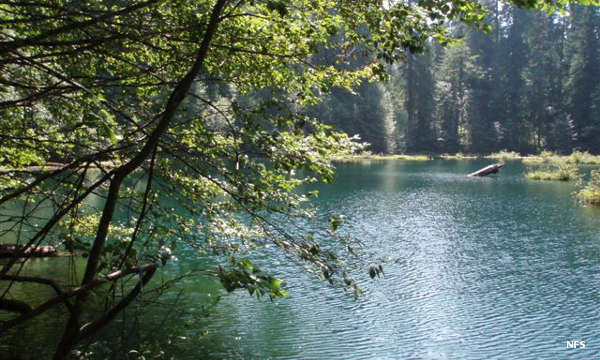 Donaca Lake in Middle Santiam Wilderness
Middle Santiam wilderness is an 8,900-acre property in Willamette National Forest. Elevations range between 1,600 feet and 5,022 feet. The wilderness protects a large stand of old-growth western red cedar, Douglas fir and western hemlock. The landscape is a mix of low sloping benches and steep, rugged hillsides. The prominent features are Donaca Lake, the Middle Santiam River and Chimney Peak (a 4,965' lava plug in the northwestern part of the wilderness). The Santiam River slows its mad descent from the mountains here, forming small mossy pools that are teeming with fish. The Santiam is a major spawning stream for chinook salmon, in season.
Self-issue permits (free at the trailhead) are required between Memorial Day Weekend and Halloween. Some trailheads require a valid recreation pass. There are four seldom used trails in the wilderness, each going to a single destination. Loop trails would be hard to do.
To get there:
Go to the junction of US Highway 20 and Forest Service Road 11. Turn onto FSR 11 (the Quartzville Scenic Byway) and go to FSR 1142. Turn onto FSR 1142. You'll pass by the trailhead for the McQuade Trail before coming to FSR 2041. Turn on that and go to the Mid-Santiam River Trailhead.
Go to the junction of US Highway 20 and FSR 11. Turn onto FSR 11 and go north to FSR 1152. Turn onto FSR 1152 and go to FSR 640, then follow FSR 640 to the junction with FSR 642. The trailhead is at the road junction.
Go to the junction of US Highway 20 and Soda Fork Road (also known as FSR 2401). Follow FSR 2401 to FSR 646. Turn on FSR 646 and go to the trailhead at the end of the road.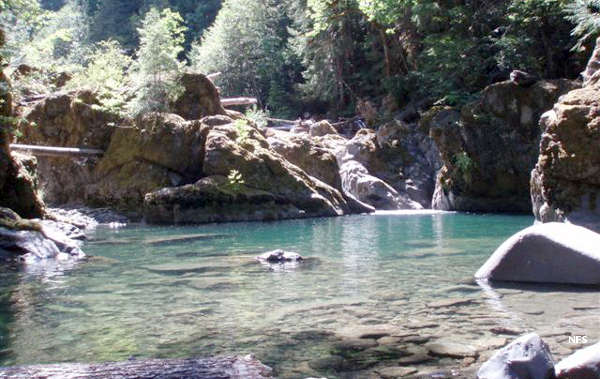 A pool in the Middle Santiam River
Middle Santiam Wilderness
Willamette National Forest -

US Forest Service

Photos courtesy of the US Forest Service