Rockpile Mountain Wilderness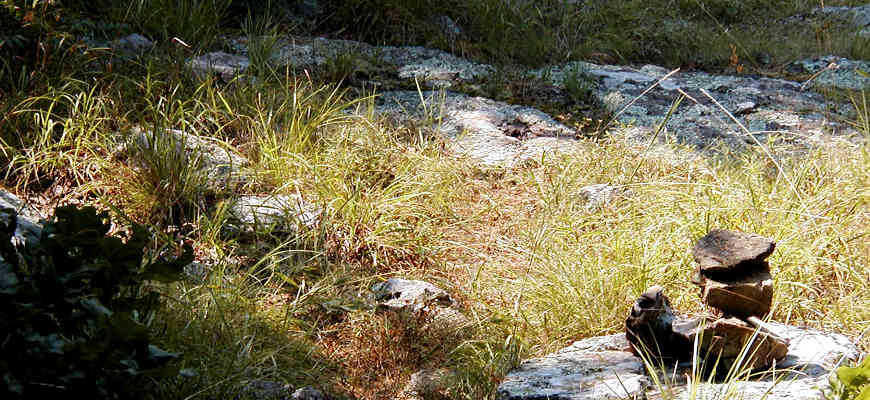 The granite circle the wilderness is named after
Rockpile Mountain Wilderness is a 4,238-acre property in the Fredericktown Ranger District of Mark Twain National Forest. The smallest of Missouri's wilderness areas is also one of the most rugged. In the Saint Francis Mountains, the elevation variation across the wilderness is close to 800'. The wilderness is primarily a broken granite ridge with steep rocky sides. At the summit a man long ago moved a bunch of granite rocks to form a stone circle. That's where the name comes from.
Unlike other Missouri wildernesses, Rockpile Mountaiin Wilderness harbors a cove of virgin hardwood timber, never logged. Among the tree species are walnut, butternut, sugar maple, basswood, Kentucky coffee tree, and white and red oak. Among the wildlife are white-tailed deer, squirrel, bobcat, fox, wild turkey, timber rattlers and copperheads.
Officially there are 2 miles of maintained trail in the wilderness but that bit of trail crossing several old roads, which lead to other old roads... and with virtually no signage it's easy to be led astray. Dispersed camping is allowed virtually everywhere with the usual setbacks for trails, water sources, etc. Group size is limited to 10 people.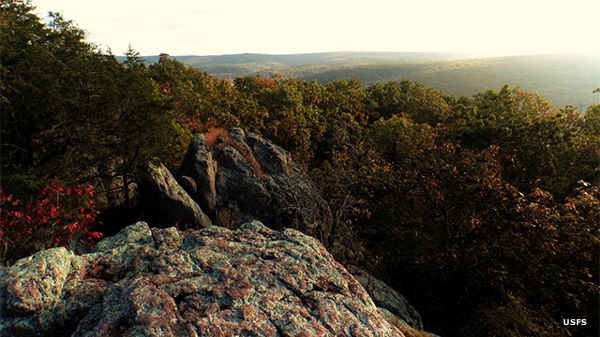 Along the granite ridge of Rockpile Mountain

Upper photo courtesy of Scott Wilmer, via Wilderness.net
Lower photo courtesy of the US Forest Service