Eleven Point National Wild and Scenic River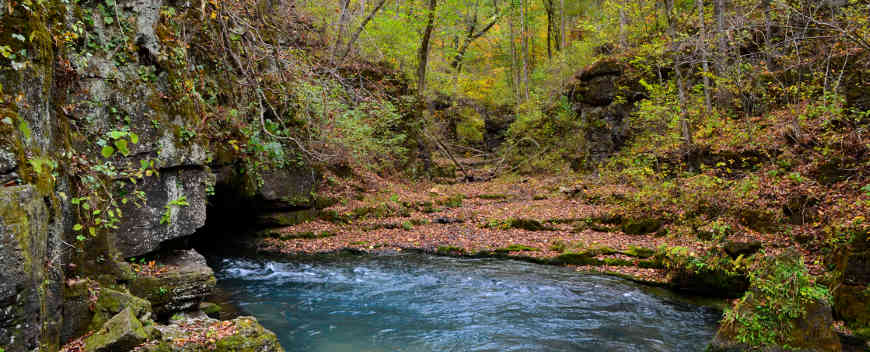 The main outlet of Greer Spring, in the headwaters of the river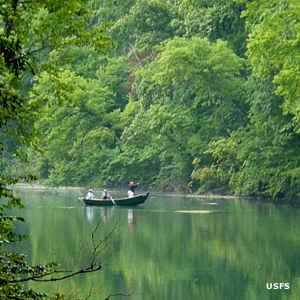 A 44.4-mile segment of Eleven Point River, from Thomasville to State Highway 142, is the designated National Wild & Scenic River section (out of a 138-mile-long river). The focus is on "scenic." This section of Eleven Point River was one of the first eight rivers included in 1968's Wild & Scenic Rivers Act. It was originally proposed to add the stream to the Ozark National Scenic Riverways but was excluded after that route was designated on the Current and Jack's Fork Rivers in 1964.
Only about half of the designated river mileage is on public land (Mark Twain National Forest and various state properties), the rest being a scenic easement on private properties that doesn't necessarily allow public access to that private property. The publicly-held part is essentially the headwaters drainage in the National Forest and it drains down to a state park that is still being developed. There was a time when a lot of that acreage was held in private farms and woodlots but the soil became depleted or the timber was logged and the land was abandoned. After the forest was formed in 1939, the old homesteads were left to fade back into nature and there isn't much left now but a few old roads and some foundations. There are also some old mills and small dams still standing on some of the river's tributaries.
Greer Spring is a first-magnitude freshwater spring that feeds into Eleven Point River, about doubling the river's waterflow at that point. The water from the spring is so cold and clear that it turns the Eleven Point River into a coldwater stream for several miles downstream from the confluence. That cold water makes perfect conditions for a trout fishery. Today, the stretch of river from the confluence of Greer Spring Race with Eleven Point River downstream for about 6 miles to Turner Mill Spring is a Blue ribbon Trout Water: flies and artificial lures only (no soft plastic and no bait) and a limit of one fish at least 18 inches in length. The Greer Spring Race was added to the National Wild & Scenic River corridor in 1980, about the same time it was designated a National Natural Landmark.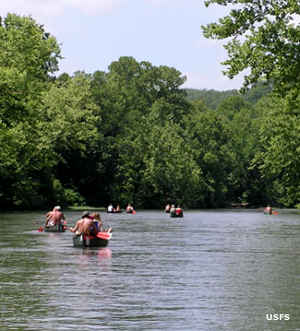 The river is hardly a stream when it leaves out the south side of Thomasville and becomes a good-sized river before it reaches State Highway 42. The route is cut beneath steep bluffs through sloping forested valleys and low-lying riparian ecosystems. The water flow comes from springs in the dolomite bluffs or it bubbles up from undergorund through an immense network of flow systems.
Most people visit the area by doing a float down the river. There are a few outfitters who offer the trip and others who rent canoes and kayaks. There are 8 minimally developed float camps along the river and dispersed camping on the sandbars is allowed.
There are 11 designated access points to the river, 7 of them maintained well enough to offer boat ramps and vault toilets. However, those are also the busiest and most crowded access points. The other 4 access points are maintained to a lower standard and see less people.
The river designation allows for motorized and non-motorized boats. Motors are limited to a max of 25 horsepower.
Eleven Point National Wild & Scenic River
Mark Twain National Forest -

US Forest Service
Upper photo courtesy of Wikipedia userid Kbh3rd,
CCA-by-SA 3.0 License
Lower photos courtesy of the US Forest Service