Ozark National Scenic Riverways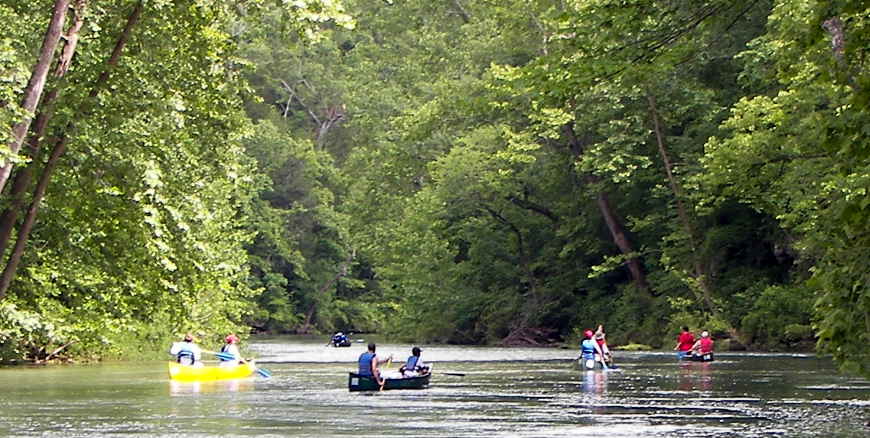 Floating the Current River, Ozark National Scenic Riverways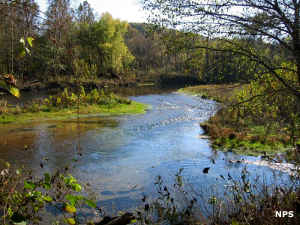 Jacks Fork River
Ozark National Scenic Riverways is an 80,000-acre property running along the corridors of the Jacks Fork and Current Rivers. Congress created the park in 1964 but it wasn't dedicated until 1971. The park was created to preserve and protect the two rivers as the Current River is probably the most popular float river in the Midwest.
The Current River is fed by the United States' largest concentration of first magnitude freshwater springs in dolomite rock, as opposed to the igneous-based springs of the Snake River Valley in Idaho or the limestone-based springs around Gainesville, Florida. A first magnitude spring is defined as having an average waterflow of 100 cubic feet per second and at least nine of them feed the Current within the park.
The US Forest Service and the National Park Service presented competing plans for the development and management of the Riverways. The Forest Service plan included the nearby Eleven Point River in the park, the National Park Service plan did not. In the end, the National Park Service plan won out and a few years later the Eleven Point National Wild & Scenic River was designated as a separate entity, managed by the Forest Service.
The Ozark National Recreation Trail crosses the Riverways north-south, passing Rocky Falls and crossing the Current River at Powder Mill on Highway 106.
The park headquarters in Van Buren offers a visitor center that is open daily from Memorial Day weekend to Labor Day and weekdays the rest of the year, from 8 am to 4:30 pm. From October to April the Visitor Information Center is closed on Federal holidays, too. The Alley Spring and Round Spring Visitor Information Centers are open 8 am to 4:30 pm from Memorial Day weekend to Labor Day only. There are no fees involved in visiting the Ozark Riverways but all camping, developed and backcountry, costs money. Picnic areas are free until you need a reservation. That reservation costs money. Tours of Round Spring Cave also cost a few bucks. As this is 2020 and President Donald Trump has been continually slashing the budget of every branch of government (except the Executive branch and the Department of Defense) I have no idea what's going to happen to the fees... or the parks. Hopefully he won't try to sell them to China or Russia...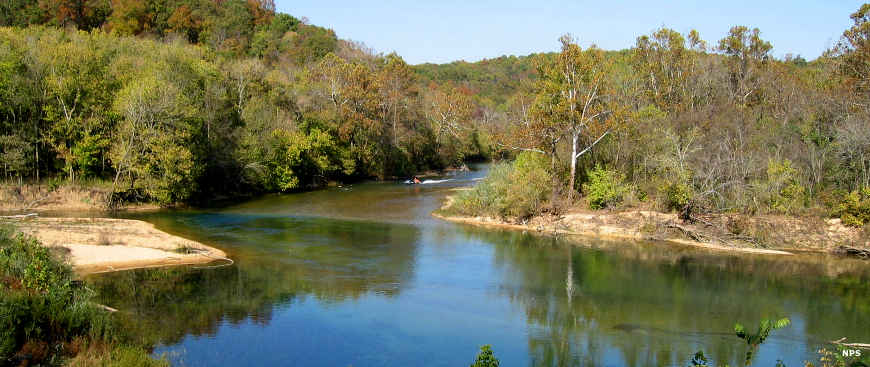 Two Rivers, the confluence of the Jacks Fork and Current Rivers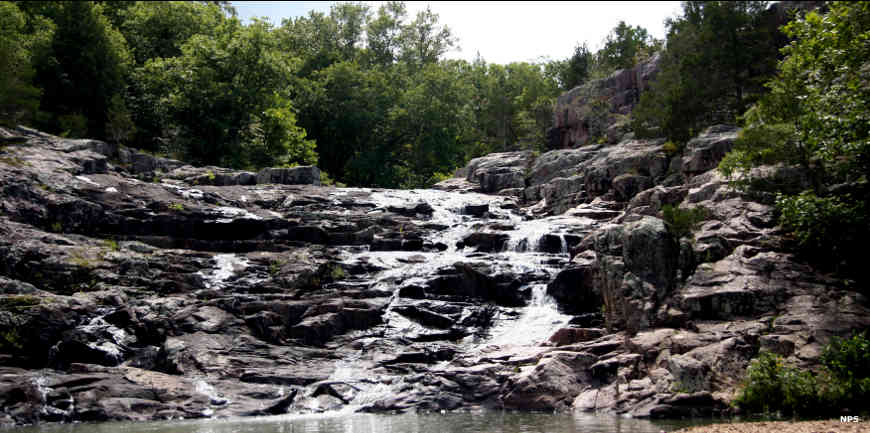 Rocky Falls on Rocky Creek
Upper photo courtesy of Wikipedia userid Kbh3rd,
CCA-by-SA 3.0 License
Other photos and map courtesy of the National Park Service