Cucamonga Wilderness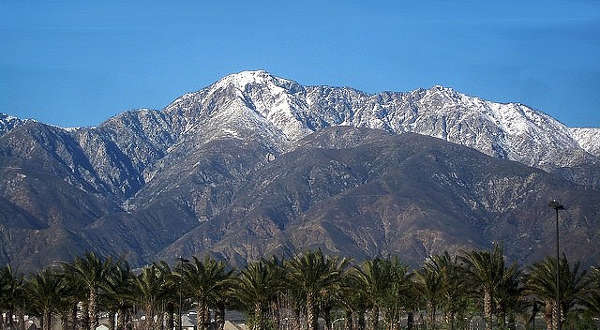 Cucamonga Peak from the Victoria Gardens area
Cucamonga Wilderness is a 12,781-acre property straddling the line between Angeles and San Bernardino National Forests. With elevations ranging from about 5,000 feet to about 9,000 feet, the wilderness area rises almost immediately at the edge of the Los Angeles metroplex in the Rancho Cucamonga area.
There are about 18 miles of hiking trails in the wilderness, including at least one that leads eventually to the summit of Cucamonga Peak. There are also three dispersed campsites in the wilderness, one on the Angeles side, two on the San Bernardino side.
Streams tend to be intermittent but wildlife that have adapted to the dry climate do well. So there are bear, deer, mountain lion and bighorn sheep in the area. Tree coverage can be dense with Ponderosa and Jeffrey pines and Douglas firs. Permits are required: they are self-issuing at the trailhead registers. You may also need to buy a Recreation Permit for the parking.
Cucamonga Wilderness
Angeles & San Bernardino National Forests -

US Forest Service