East Humboldt Wilderness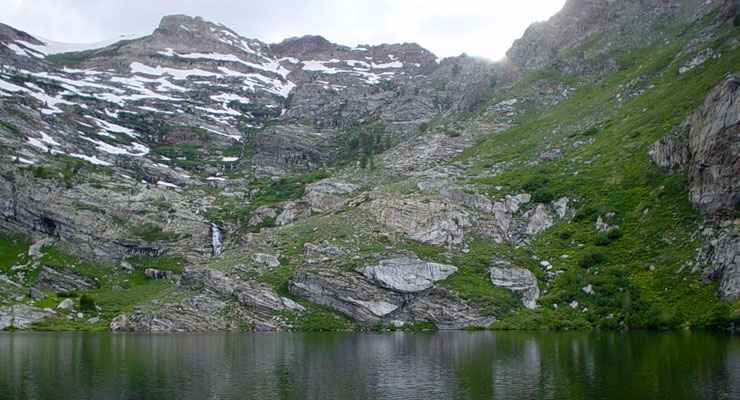 Angel Lake, at the northern end of the East Humboldt Wilderness
The East Humboldt Wilderness contains 36,670 acres in the East Humboldt Range, just southwest of Wells, Nevada. In the center of the East Humboldts Wilderness is Hole-in-the-Mountain Peak (11,306') while in the southern portion of the wilderness is 11,020' Humboldt Peak. This is a very remote and rugged area of cliffs, talus slopes and the U-shaped canyons and sharp peaks typical of a heavily glaciated area, with typical desert grasses and sage lower down and limber pine, mountain mahogany and aspen higher up. Access is very limited but if you do get in, you'll find bighorn sheep, mountain goats, deer, bobcats and mountain lions. There's also 6 fishing lakes with brook and cutthroat trout.
At the far northern end of the East Humboldt Wilderness is Angel Lake, at the foot of a classic rock-and-alpine-scrub cirque. On a nearby ridge is a gray monolith that can be seen from Wells. The campground at Angel Lake (accessible by car) also serves as the trail head for several trails that lead into and through the East Humboldt Wilderness. In hiking around you may come across prehistoric hunting blinds and much more recent mine structures and Basque tree carvings.
The Hole-in-the-Mountain Natural Research Area, designated in 1998, is partially within the East Humboldt Wilderness.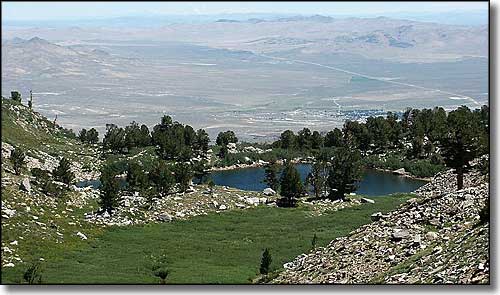 Smith Lake in the East Humboldt Wilderness
In the East Humboldt Wilderness
East Humboldt Wilderness map
East Humboldt Wilderness
Humboldt-Toiyabe National Forest - Ruby Mountains Ranger District
Photo of Angel Lake courtesy of the US Forest Service
Photo of Smith Lake courtesy of G. Thomas
Lower photo of the East Humboldt Wilderness courtesy of Debbie Knudsen, US Forest Service
Map courtesy of National Geographic Topo!