Upper Burro Creek Wilderness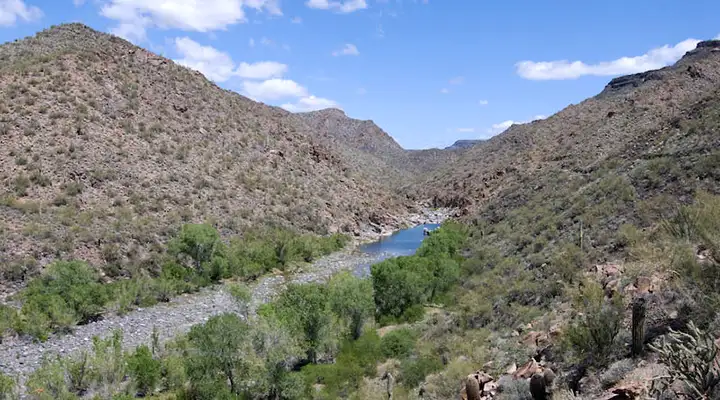 Upper Burro Creek
Upper Burro Creek Wilderness is a 27,440-acre property in the upper reaches of Burro Creek, about 60 miles west of Prescott and 60 miles southeast of Kingman, about 10 miles northwest of Bagdad. This is a broken mountain/desert countryside: deep canyons housing a perennial stream with riparian zones strung out along it like a string of pearls. The canyon is deep and narrow. There are long pools lined with marshland connected to deep blue pools by rapid stream flow and small waterfalls. There are about nine miles of Burro Creek's mainstem in the wilderness.
Once you get back from the stream corridor, the area is an expanse of black basalt mesas covered with desert grassland. In the lower areas are enough ocotillo, cholla, saguaro, palo verde and creosote bush chaparral to cover the whole area thickly, including the areas of exposed rock. As it is, you'll need to have good bushwhacking skills just to hike along the Burro Creek corridor, never mind get into any other areas.
The photos on this page were taken in 2012, during a wet spring after a wet winter. The water levels were good. At the same time, damage and destruction from illegal cattle on the property is reported to have been was extensive. In the dryness since then, conditions have probably only gotten worse. At a certain point, it may get too dry for cattle, which would solve that problem until the next wet winter...
To get there: Most folks go to the Sycamore Camp Access: Proceed to milepost 132 on US Highway 93 (this will be about 7.5 miles south of Wikieup). Turn right on the decent gravel road and head east for 7.8 miles. At the top of the ridge turn and go left on another road for 4.9 miles. You should be seeing a jeep trail dropping down into Cornwall Canyon, right at the southwest boundary of the wilderness. If you go another 3.4 miles further north, you'll come to a jeep trail that runs north along a fence line. Turn onto that and go another 4.5 miles to the next intersection. At that intersection turn right and go 1 mile to Black Willow Spring, at the western boundary of Upper Burro Creek Wilderness.
Six-Mile Crossing Access: Go to milepost 132 on US Highway 93 (about 7.5 miles south of Wikieup) and turn right on the maintained gravel road. Follow the gravel road to Six-Mile Crossing (a ford of Burro Creek), about 15 miles in. Cross the creek and pass through the steel gate. Leave the gate the same way you found it. Turn left inside the gate and go north along the fence line for about 4.5 miles. The southern wilderness boundary should be well-signed.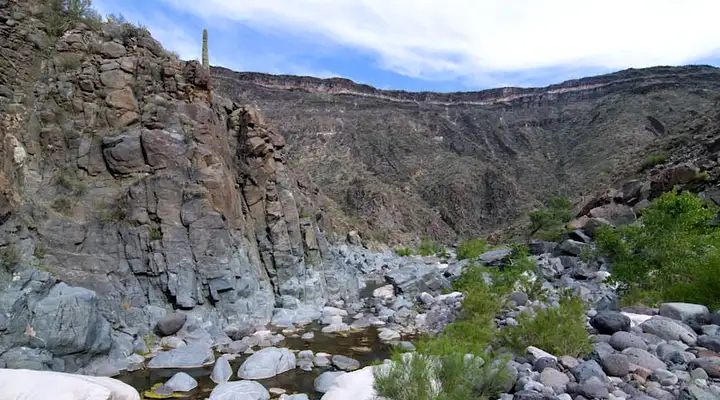 Deep in the canyon with little water yet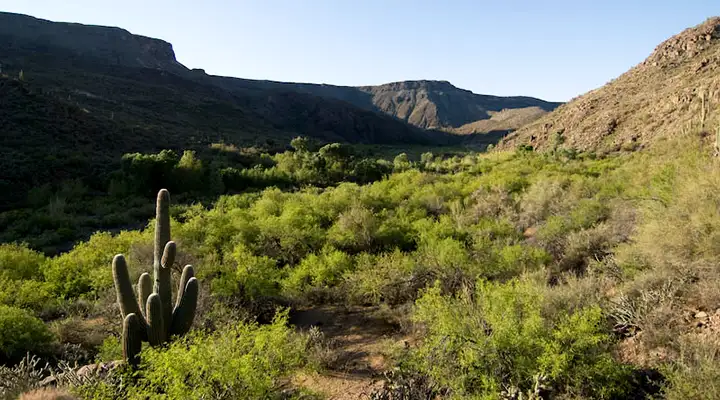 As the elevation drops the canyon opens a bit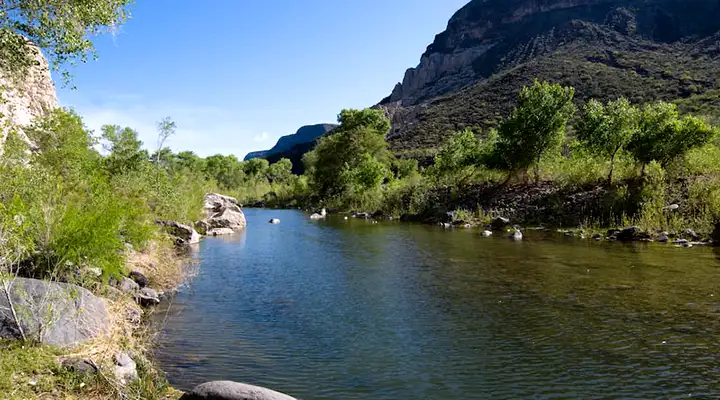 Far enough down and there's real water in the stream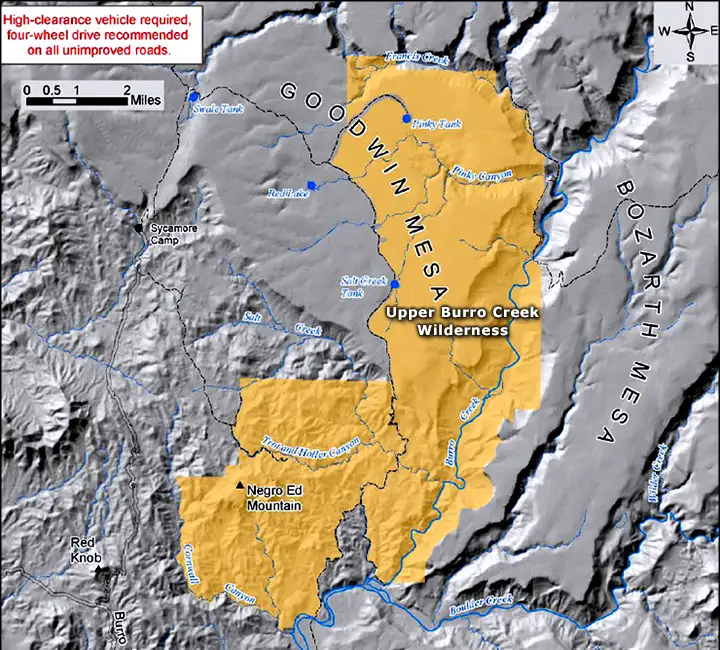 Upper Burro Creek Wilderness
, Sycamore Camp Access is on the left
Upper Burro Creek Wilderness
Bureau of Land Management

- Kingman Field Office
Photos are courtesy of
Todd Sterling
Map is courtesy of the Bureau of Land Management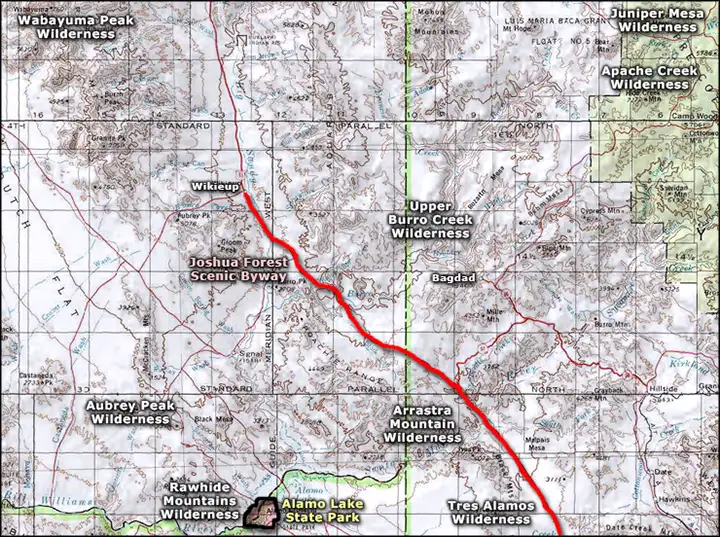 Related Pages
Map courtesy of National Geographic Topo!