Alamo Lake State Park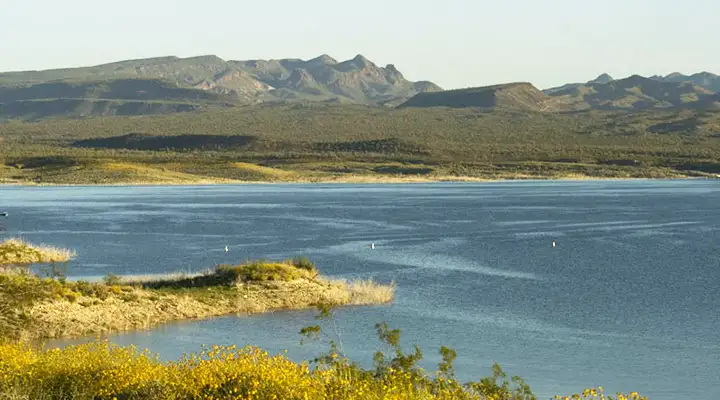 Alamo Lake
Alamo Lake State Park is located between US 60 and US 93, about 38 miles north of Wenden via paved road (access from US 93 is via graded dirt road). Alamo Lake was created in 1968 on the Bill Williams River for flood control and recreational purposes. The Bill Williams River is an intermittent (and often completely dry) tributary of the Colorado River, but when it rains, it pours, and the lake has been known to rise as much as 11 feet in a single night's rain event. The 4,900-acre state park offers developed and undeveloped campsites. The park is open 365 days per year and the ranger station sells fishing licenses, bait, camping permits, ice and firewood. Some of the developed campsites offer water and electric hookups with access to restrooms and showers. There is a dump station, 2 multi-launch ramps and a couple of fish cleaning stations. The elevation is about 1,300'.
Alamo Lake State Park is quite remote, making the property an excellent place for stargazers and wildlife enthusiasts. There's mule deer, mountain lion and bighorn sheep in the area. Arizona Game and Fish also keeps Alamo Lake stocked with crappie, largemouth bass, channel catfish, sunfish, tilapia and flathead catfish. There are often fishing tournaments held at Alamo Lake State Park and the lake has produced at least one Arizona state fishing record.
Adjacent to Alamo Lake State Park on the west side is the Rawhide Mountains Wilderness, the river portion of which is accessible just by hiking downstream from the Alamo Dam. A little further west is the Swansea Wilderness and then the Bill Williams River flows into the Bill Williams River National Wildlife Refuge before emptying into the Colorado River at Lake Havasu. The US Fish & Wildlife Service and the Bureau of Land Management are working with the Army Corps of Engineers and State of Arizona to provide a more consistent stream flow downstream from the Alamo Dam, not so much for the excellent whitewater rafting possibilities through some gorgeous (and imposing) desert countryside but for the benefit of the wildlife at Bill Williams River NWR.
Should you take the road heading east out of Alamo Lake State Park, you'll come to access roads leading to Tres Alamos Wilderness, then Arrastra Mountain Wilderness. If you head north from Alamo Lake State Park you'll come to Aubrey Peak Wilderness. Beyond that you'll come to roads giving access to Wabayuma Peak Wilderness, then you'll start to see Interstate 40 and Kingman in the distance.
Alamo Lake State Park
Arizona State Parks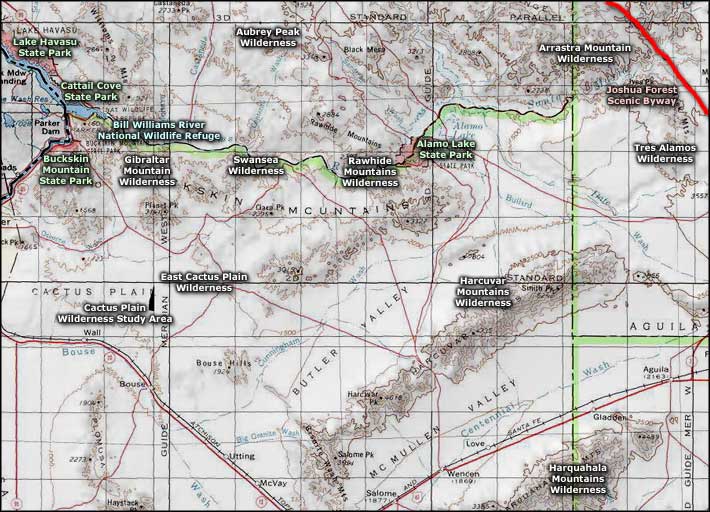 Related Pages
Map courtesy of National Geographic Topo!