Aubrey Peak Wilderness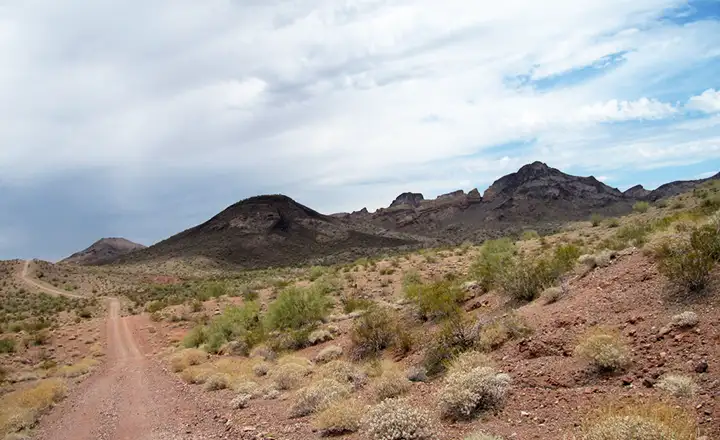 Coming up on Aubrey Peak Wilderness from the south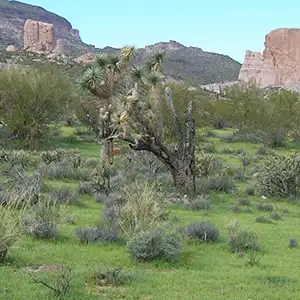 Aubrey Peak Wilderness is located in Mohave County, about 40 miles east of Lake Havasu City and 70 miles south of Kingman. Aubrey Peak itself dominates the eastern part of the 15,400-acre property. This is an area that has seen extensive volcanic activity and after millions of years of exposure, the surface has evolved into brightly colored rhyolites, tuffs and basalt. Aubrey Peak is an imposing mesa ringed with high cliffs and surrounded by buttes, other large mesas and a series of volcanic plugs. With the mix of harder basalt and rhyolite with soft tuffs, wind and water have turned the area into a highly carved and variegated playground of spires, natural windows, slickrock terraces, tufa caves and pot-holed surfaces. Depending on the season, the potholes (also known as "tinajas") may be filled to overflowing with rainwater. Depending on the season, this may also be a seriously water-starved area. The BLM has two water catchment systems set up on the property (one on the east side, one on the west side) to catch storm runoff for the use of wildlife. If you need to use water found on the property, you also need to treat that water before using it.
Vegetation here at the juncture between the Sonoran and Mohave deserts is a mix of large saguaros, ironwood, paloverde and smoke trees with ocotillo, cholla, prickly pear, yucca, barrel cactus and Joshua trees. For wildlife you might come across desert bighorn sheep, coyote, jackrabbit, Gila monster, western diamondback rattlesnake and kangaroo rat.
Aubrey Peak Wilderness is far enough out of the way that hikers, backpackers and photographers might find themselves the only folks on the property. Best time to visit: October through April. There are no official trails on Aubrey Peak Wilderness but the sand washes make cross-country travel reasonably easy. The danger comes in the rainy season.
To get there: 22 miles south of Kingman on Interstate 40 is the Yucca/Alamo Road exit. From there, follow Alamo Road south for about 44 miles. You'll come to a junction with a powerline maintenance road that follows a wooden pole power line. Go west a short distance on that maintenance road to the signed wilderness boundary. From that boundary point, jeep trails run northwest and southwest parallel to the wilderness boundary. Coming from the south and east, Alamo Road can also be reached from Chicken Springs Road off US Highway 93 near Wikieup. Aubrey Peak Wilderness is about 4.5 miles south of the junction between Alamo Road and Signal Road (a dirt road that connects with 17-Mile Road which heads southwest off US Highway 93 from south of Wikieup). You can also reach Aubrey Peak Wilderness by driving north from Alamo Lake State Park on the Alamo Road. This is an area where high clearance 4WD is very highly recommended. And if the area is wet, even that may not help... If there's water running in the Big Sandy Wash, the only viable way in is from the north on either the Alamo Road from Yucca or via the Chicken Springs Road from Wikieup (both of which avoid crossing the Big Sandy).
Related Maps: 7.5-minute topo: Signal, Centennial Wash, McCracken Peak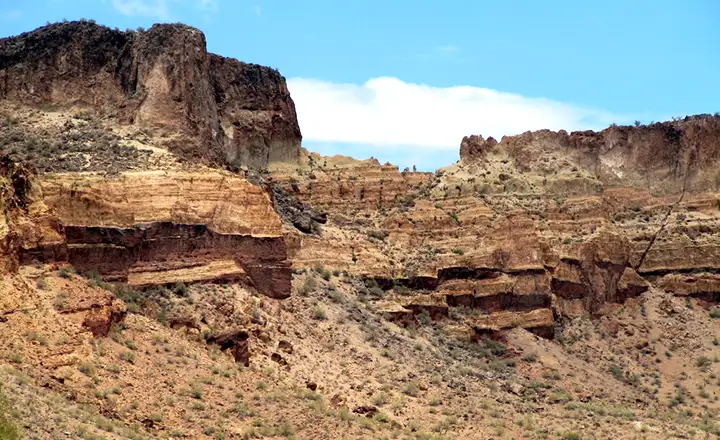 Cliff walls surround Aubrey Peak itself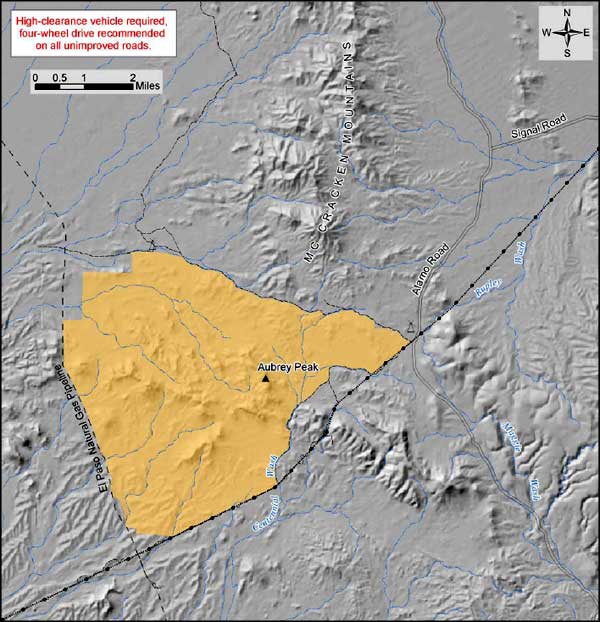 Aubrey Peak Wilderness
Bureau of Land Management

- Kingman Field Office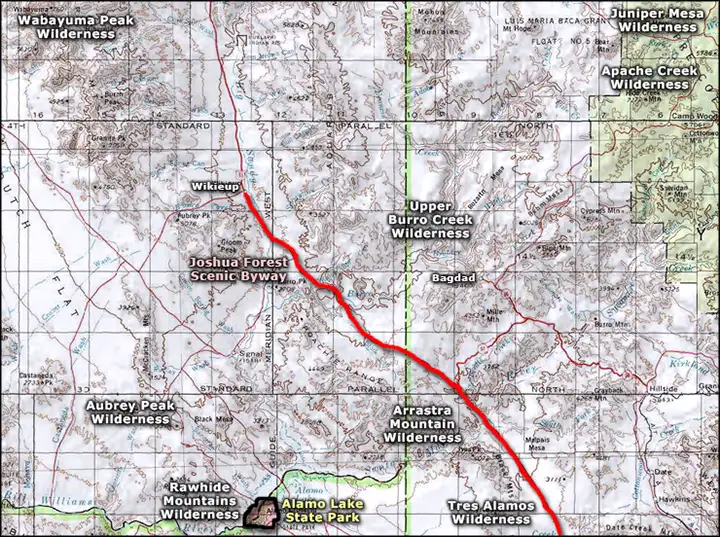 Related Pages
Map courtesy of National Geographic Topo!